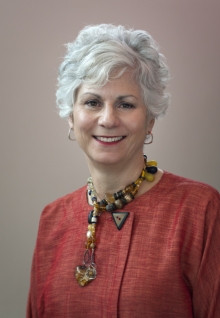 Lisa Kay, Ph.D.
Dr. Lisa Kay, Assistant Professor, earned an Ed.D. from Northern Illinois University, an M.A. in Art Therapy, and a B.F.A. in Graphic Design from the University of Memphis. In addition to teaching art education at Tyler, Dr. Kay has taught undergraduate and graduate courses in art education and art therapy at Northern Illinois University and the School of the Art Institute of Chicago. In 2011-12, she won a Fulbright Fellowship to study the work of the Bauhaus-trained artist and designer Friedl Dicker-Brandeis, renowned for her work with children at Terezin ghetto camp.
Dr. Kay is also a board-certified art therapist and a practicing artist who has exhibited both in the United States and in Europe. Her scholarly, practical and aesthetic sensibilities are the threads of the tapestry of her life. Her interest in narrative story telling - that encourages personal reflection, self knowledge, and healing in the context of making art - is evidenced in her scholarly publications, in her devotion to art education and school art therapy, her selection of focus for her Fulbright and certainly in her own art.
Her research practice involves creating mixed media works (on heavy stock 4" x 6" rag paper) whose images are evocative of the situation described in the accompanying text which appears on the verso. These works, then, serve both as art and academic analysis or documentation. A parallel can be drawn with her chosen field of art – narrative story-telling through beads and found objects.
Lisa Kay uses art as a tool in research and considers teaching as part of her art practice.  She is on the Board of the Arts and Quality of Living Research Center, Boyer School of Music, Temple and the Research Committee of the American Art Therapy Association.
Dr. Kay's research is situated at the intersections of art therapy and art education. Her areas of interests include: art for special populations, resilience, art making and adolescent girls who have experienced trauma; and arts-based research methods.