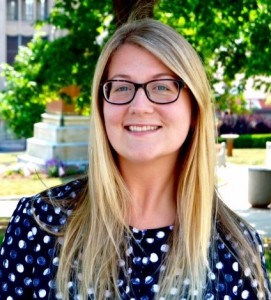 Lauren Van Dyk (MS CRP'15)
Two weeks after May graduation, Lauren Van Dyk (MCRP '15) joined the Montgomery County Planning Commission (MCPC) as a Community Planner. Lauren began a voluntary internship with MCPC in January 2015 that focused on growing Montgomery County's local food system. She jumped at the chance to apply for a full-time position upon learning of an opening in MCPC's Community Planning division.
Today, Lauren is the Community Planner for the boroughs of Ambler, Narberth and Red Hill, and is assisting Principal Community Planner Mike Narcowich in updating Upper Moreland's comprehensive plan. In addition to weighing in on various planning issues and providing County reviews for projects and ordinance changes in her communities, Lauren is also currently working on adding environmentally-focused language to an existing zoning ordinance that will address water quality, the adoption process of a new form-based zoning code and authoring an updated and more comprehensive sign ordinance to replace existing language.
Lauren feels her courses at Temple have contributed to her success thus far as a professional planner. She regularly utilizes concepts and methods learned in courses like Introduction to GIS, Planning Analysis, Planning Communications, Sustainable Community Design and Development, and Planning Studio in her work and has been able to build on those skills in the months since graduation.
"I feel strongly that Temple's focus on sustainability and ecological planning prepared me for a future in this field, as so many communities in our region have pushed those issues to the forefront of their planning goals. It gives me both comfort and confidence to know that my education has given me the tools I need to be a professional planner in our ever-evolving world," Lauren added. She also noted that the growing number of Temple graduates joining MCPC "is a true testament to the quality of Temple's planning program, and demonstrates the competence and preparedness of CRP alumni. It's great to see!"