Back to Blog
April 23, 2017
Alumna Emily Erb awarded Leonore Annenberg Fellowship
Tyler graduates continue to make major strides in their work and and forge forward in the art world. For the past 10 years, The Leonore Annenberg Fellowship Fund for the Performing and Visual Arts has given recipients a $50,000 fellowship upon being chosen. Fellows are chosen through an intense process that involves their recommendation to the council by either an established artist or arts institution, a rigorous review of their career and application. The fellowship also includes the guidance of a mentor in order to aid the fellow in their career. The foundation seeks to reflect the late Leonore Annenberg's dedication to the arts and desire invest in promising artist careers.
Emily Erb, a silk painter who graduated from Tyler in 2005 with a BFA, was among the 10 fellows selected for this highly respected fellowship. Her work is beautiful and thought-provoking, having been displayed in many venues and galleries all over the United States. Her career is taking off, and the fellowship will be a huge stride forward for her art. Erb took the time to answer a few questions about her life, her art, and her practice with me after I reached out to congratulate her on the fellowship. Her answers were inspiring, funny, and are certainly a great read for any Tyler student.
What lead you to decide to pursue your art?
I don't feel that there was ever a decision whether or not to pursue my art. I am one of those lucky people who knew what I wanted to do since I was a kid. I make art to quiet the looming questions about why I am alive on planet Earth. In other words, without art, I would have a major identity crisis on my hands.  
How would you describe your practice?
I start by collecting images to make a collage. I then transfer the collage onto silk using an ancient Indian method of silk painting. I trace the collage with a resist, creating a big outline to be filled in with silk dye. Wherever I draw a line with resist, the dye bleeds to the line and stops, hence the term 'resist'. I then roll the completed painting in paper and place it in an electric silk steamer and pray that nothing goes wrong for about an hour and a half. This permanently sets the dye. The last step is sewing a border and putting eyelets for hanging purposes. This is often followed by rolling the painting up and placing it in my closet with no clear idea of where to show it.
That final step is too relatable. What does a typical day in the studio look like for you?
Because my work is process based and involves a good deal of meticulous labor. Right now I am cutting up a book of American cars for a future collage. I usually have some sort of auditory distraction. I usually start the day off pretty gloomy with news from Democracy Now. Lately, I have been listening to Malcom Gladwell's book, David and Goliath on Audible as well as a great podcast called, 'The Hilarious World of Depression.' I also listen to as much NPR as I can take. All of this informs the work as I move forward through the process.
What was your reaction to receiving this fellowship?
I feel a great deal of responsibility. I will be reporting back to the foundation intermittently and am required to spend the entire grant on furthering my art both in the studio, and it's visibility in the world in the next year. I just got the job I always wanted, now I have to prove my ability to do that job.
Do you have any future plans for your work and/or career? Would you mind describing what's next for you?
As I mentioned before, I am currently working on a piece involving the American car industry, I intend to use the cars to talk about American values concerning oil pipelines versus rivers. I am also gathering images of pills to address the healthcare crisis in this country. So far, I have three shows coming up: a group show at School 33 in Baltimore on May 4th, the 76th annual juried exhibition at The Woodmere Museum in Philly on June 3rd, and a solo show at the Banana Factory in Bethlehem, PA on September 1st. I also plan to do a fair amount of traveling to expand my worldview and realize more opportunities for my artistic career.
It is no surprise that such a distinguished award has been given to Erb. She is an impressive person as well as an accomplished artist. Her dedication to not only creating work that is aesthetically pleasing and informative, but to expanding her view as an individual is refreshing. The fellowship is an amazing opportunity for a promising artist like her, and it serves as an example to Tyler students of the many ways that they can succeed in life after college. We can expect to see a great deal of inspiring art come from her in the upcoming years, throughout the course of her fellowship and beyond.
Though life after Tyler can be daunting, Erb is living proof of the fantastic opportunities that await you!
You can find out more about Emily Erb and her work at http://www.emilyerb.com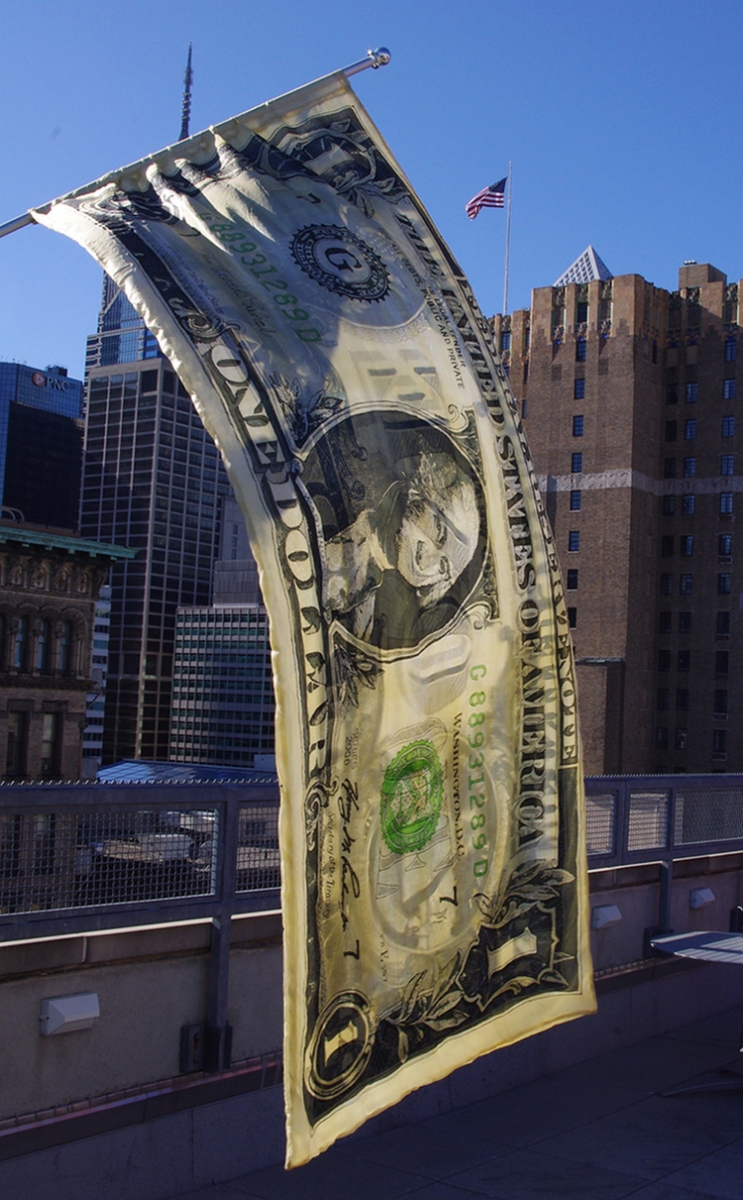 American Flag, 2011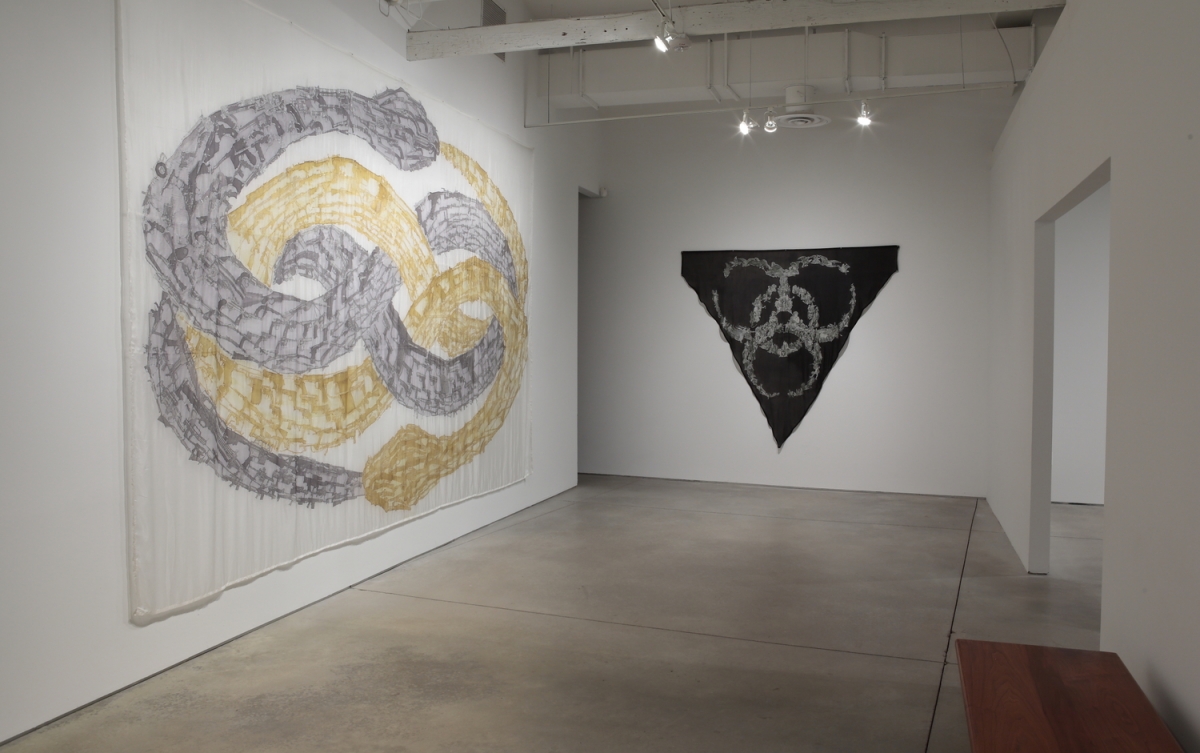 Exhibition of Erb's work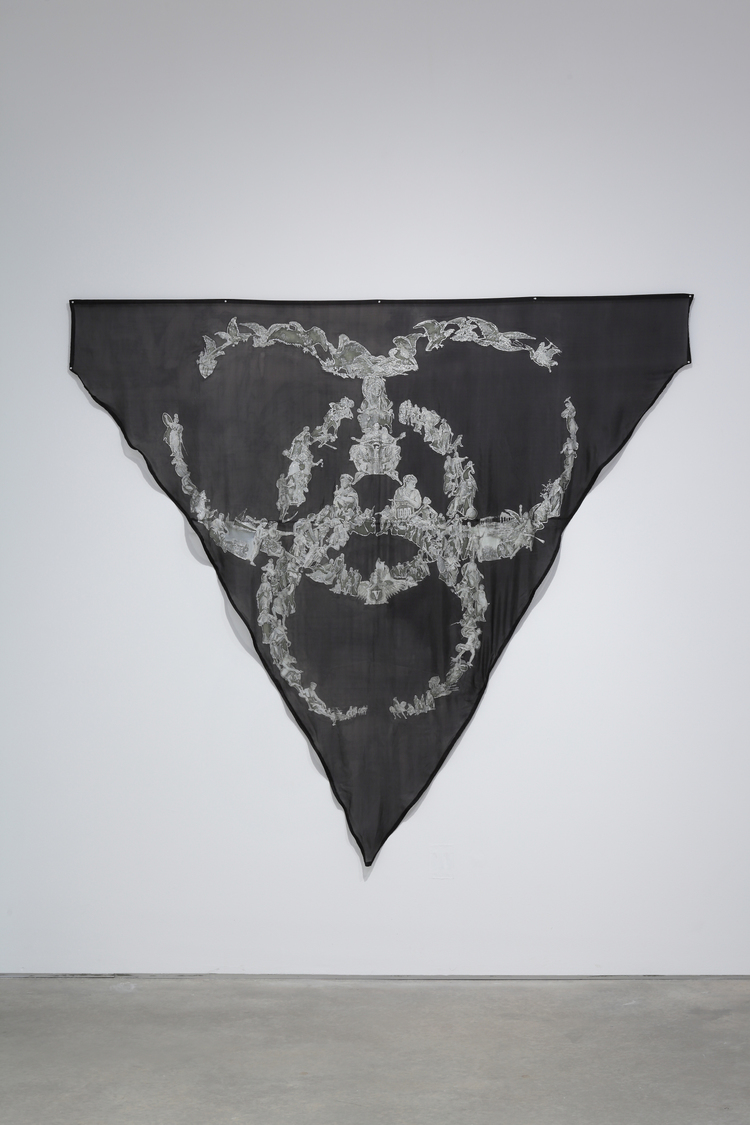 Biohazard, 104"x80", Dye on Silk, 2016