Back to Blog
January 14, 2015
Art Education Student Exhibition
People from all walks of life fill Stella Elkins Tyler Gallery within the Tyler School of Art. The walls are adorned with colorful pieces of artwork from many different schools in Philadelphia. The student teachers of Tyler's Art Education program stand in front of each area dedicated to the school that they concluded their internships at, pride evident on every face as their students and families come through to admire the artworks.
The art education program is monitored carefully by a great deal of dedicated faculty members, including  Lisa Kay, Wendy Osterweil, and  Pepón Osorio (of the community arts department). Though the student teachers spend their time educating their young pupils, in turn their students educate them and prove that there is always something new to learn. The profession of teaching is a noble one indeed, and seeing in person the effects that their instruction can have on their students is second to none.
"Getting the experience is wonderful," says Amy Mulligan, a student teacher. "But just teaching art and sharing art is the best part. When students see themselves improving over time, they see that it is a process, and that results are happening." Art is a continual process, and imparting that onto a young student is incredibly important. It can take years for a blossoming artist to understand that every doodle completed, even "failed" projects are important for personal growth both in skill and in mind. "Designing projects allows the students to express themselves in a way that they couldn't normally," says Grace Manning, another student teacher when asked about her favorite part of her profession. "They can express their own voice. There does have to be a balance between teaching art as a skill and giving my students room to explore."
Brianna Belimay, a student whose work was exhibited, answered a few questions about her personal journey with her student teacher. "Making art is just coming in at work. I guess that you don't have to be good at art to do art," she says, displaying her self portrait, a blind contour. This is an important insight for not only artists, but people to remember as they create things for themselves. Art does not require an extraordinary amount of skill or a specific kind of person. Indeed, anyone can make art. Another student, Tykira Bond, showed me her piece about her background. "My family is important to me," she says, standing in front of the work. It is her first year, stating "My favorite part about art is getting to express how you feel."
"This event is one where it feels that Tyler receives what it has been putting out to the public school community," says Professor Pepón Osorio. "You see people come from all walks of life at Tyler. The exhibition space has become space where people converge. This is a hopeful event. I believe there is an inspiring model here. Not a gallery, but a place of celebrating creativity."
A heartfelt and inspiring comment that points to an even more progressive future of art. The celebration of creativity is vital to a young artist's beginnings, and events such as the exhibition that I attended are perfect examples of what it can do for a new artist's confidence.  
Lisa Kay, the head of the art education exhibition, took some time to speak with me about her student's personal journeys as they learn to become educators. The student teachers are the curators of the exhibition. As an art teacher for students with special needs, Professor Kay has experienced firsthand the joy of teaching art, not just as a college professor. As the instructor for the student teachers, she put together the "Visual Notes" project, a project each of her students must do over the course of a semester by creating at least six 4x6 pieces that document their experiences as educators and gain insights and understanding about themselves while developing a teacher's compassion and patience. Over the semester they look at and discuss what's happening in relationship between themselves and their students, how to address puzzling behavior, and other pitfalls that exist in their profession. At the end of the semester they are required to write an artist statement. This project encourages the use of art to understand happenings. "It went from visual to performance art," says Professor Kay as we stand in front of the wall of miniature pieces created by her students.
The entire display was a sight for me to behold, and speaking with both students and teachers gave me a greater insight into how deeply this truly affected every individual in the room. An aura of joy and celebration permeated the event, and I could feel my spirits lift almost immediately upon entering. Wendy Osterweil, the undergraduate art education coordinator left me with some parting insights into the event and the student teachers: "I've had some students since their intro courses and have watched them grow. It's a gradual process of crossing over from being a student to being a teacher. Suddenly, they step outside themselves. It causes tremendous growth. This exhibition shows what they do matters. It is a cycle of giving back and seeing its effect. What they're doing has a concrete impact. It's hard, demanding work, and they have to juggle concerns and needs and a diverse student population, some on all different levels in one class. So, they stretch out into multiple dimensions. It's been wonderful to see their growth as an educator, but most importantly, I love them!"
Attending the event was both eye-opening and uplifting for me as an artist who still has a great deal to learn. This student exhibition occurs at the end of each academic semester and all who wish to share with the community a love of art and support for the creativity of young students should heavily consider attending.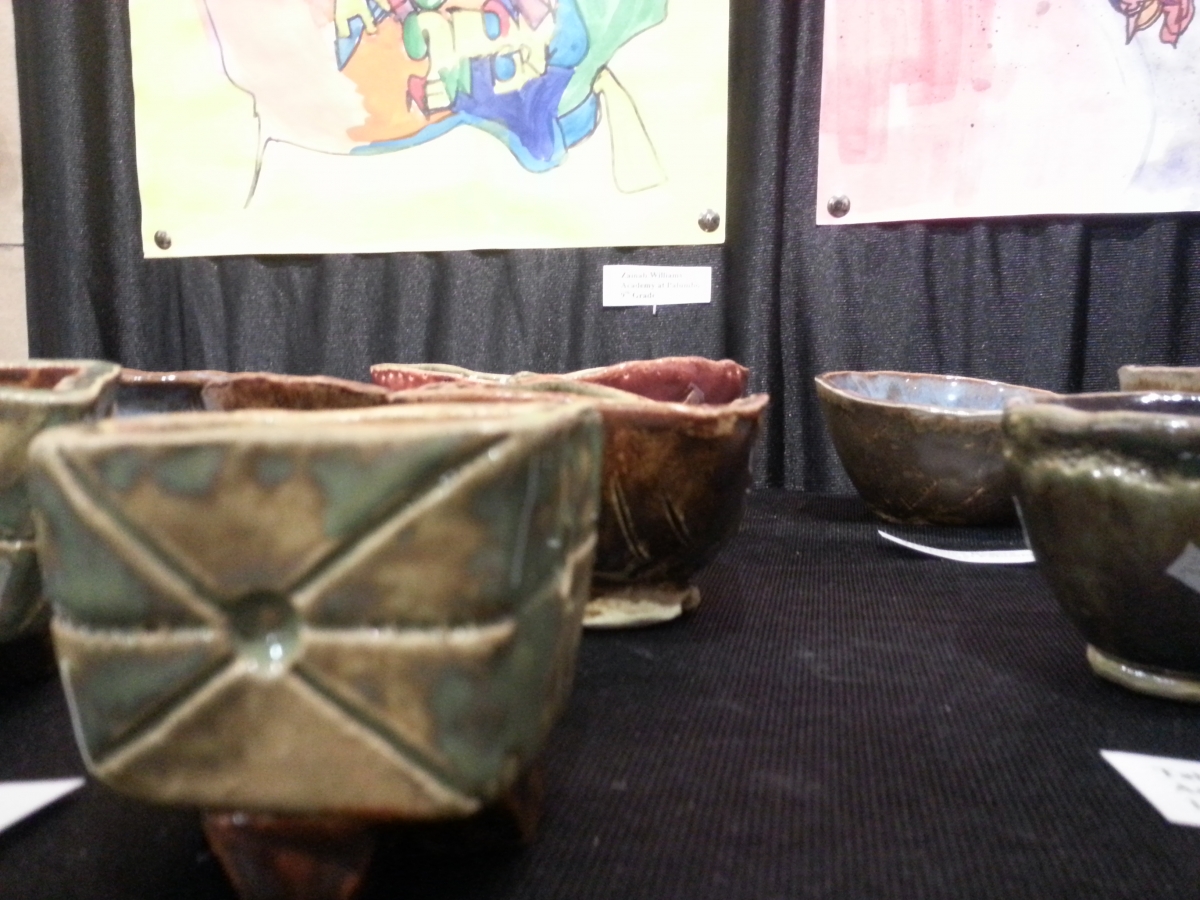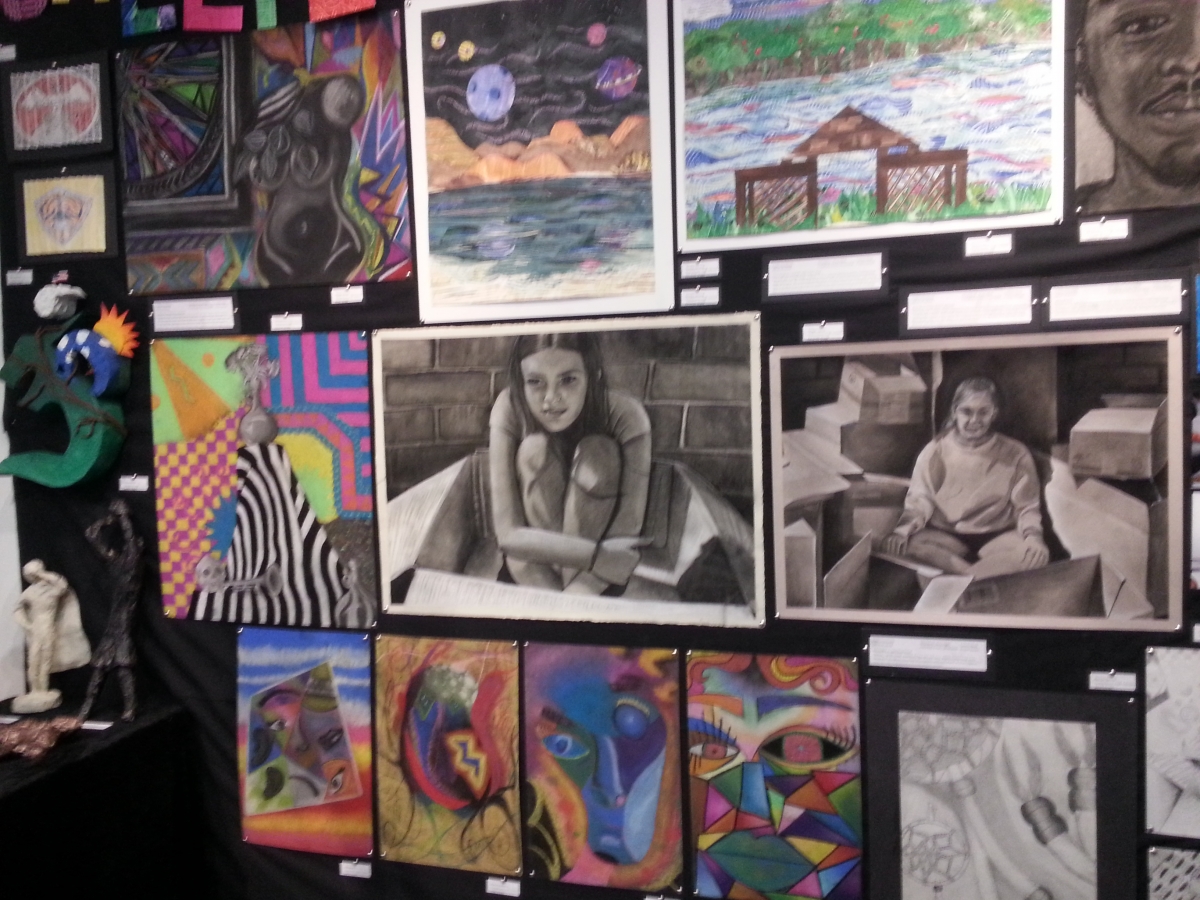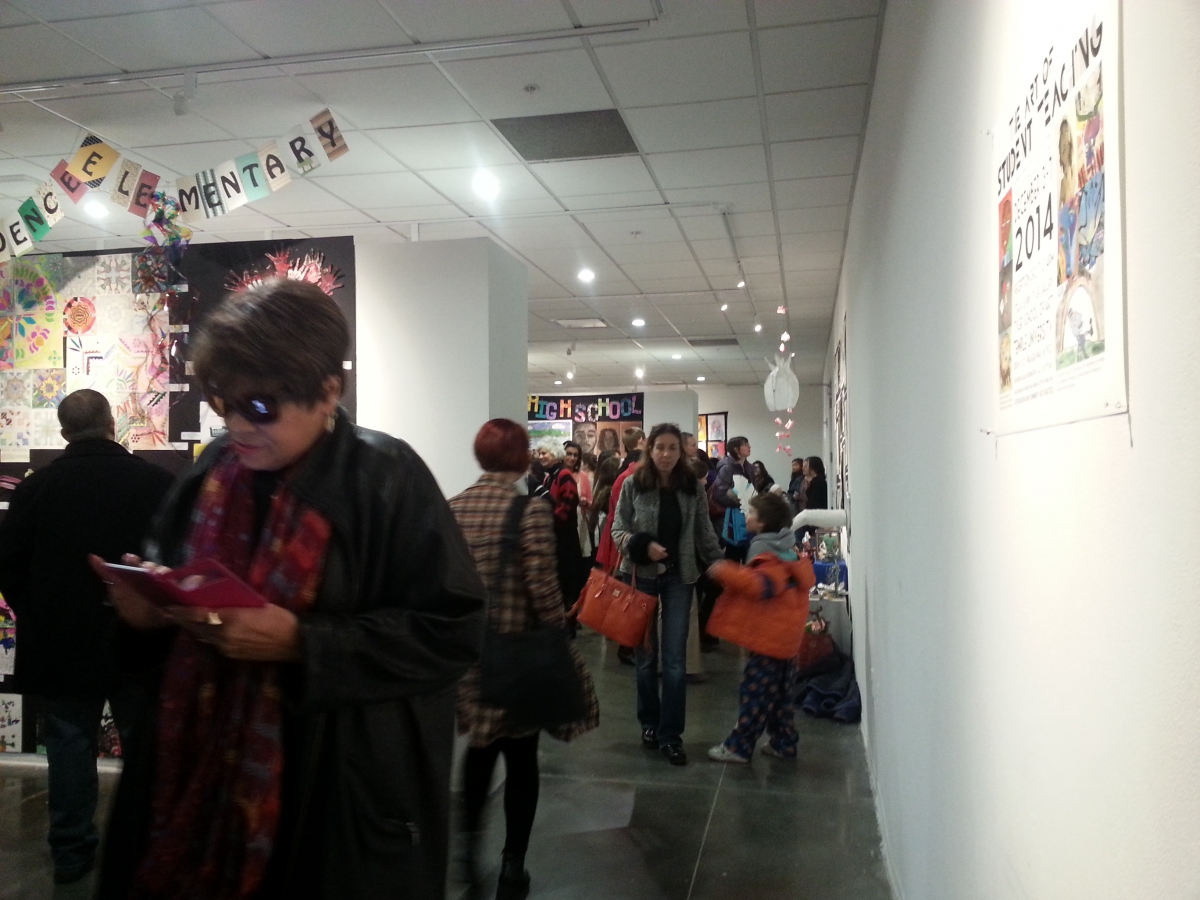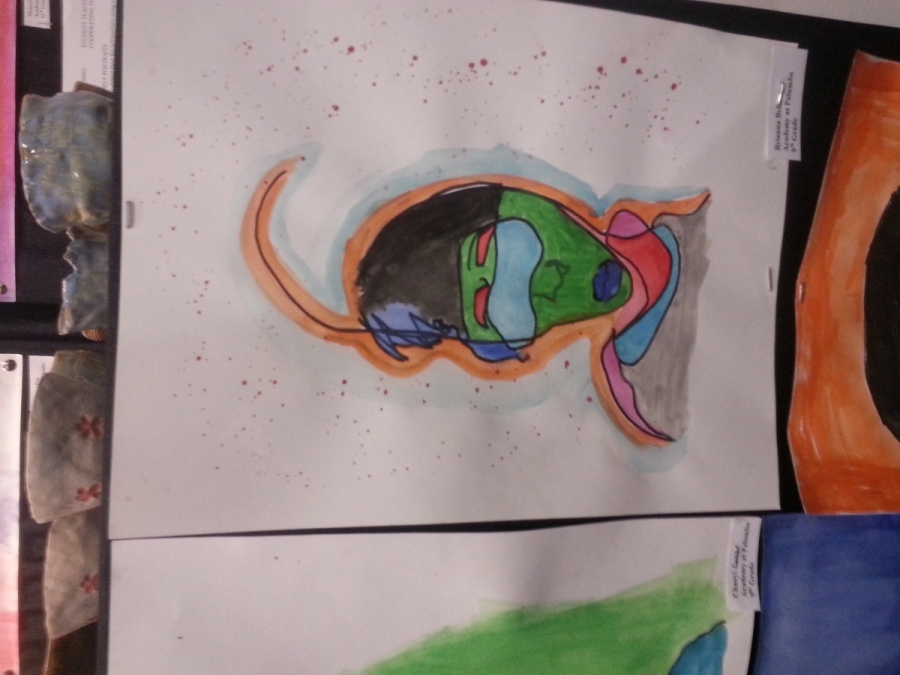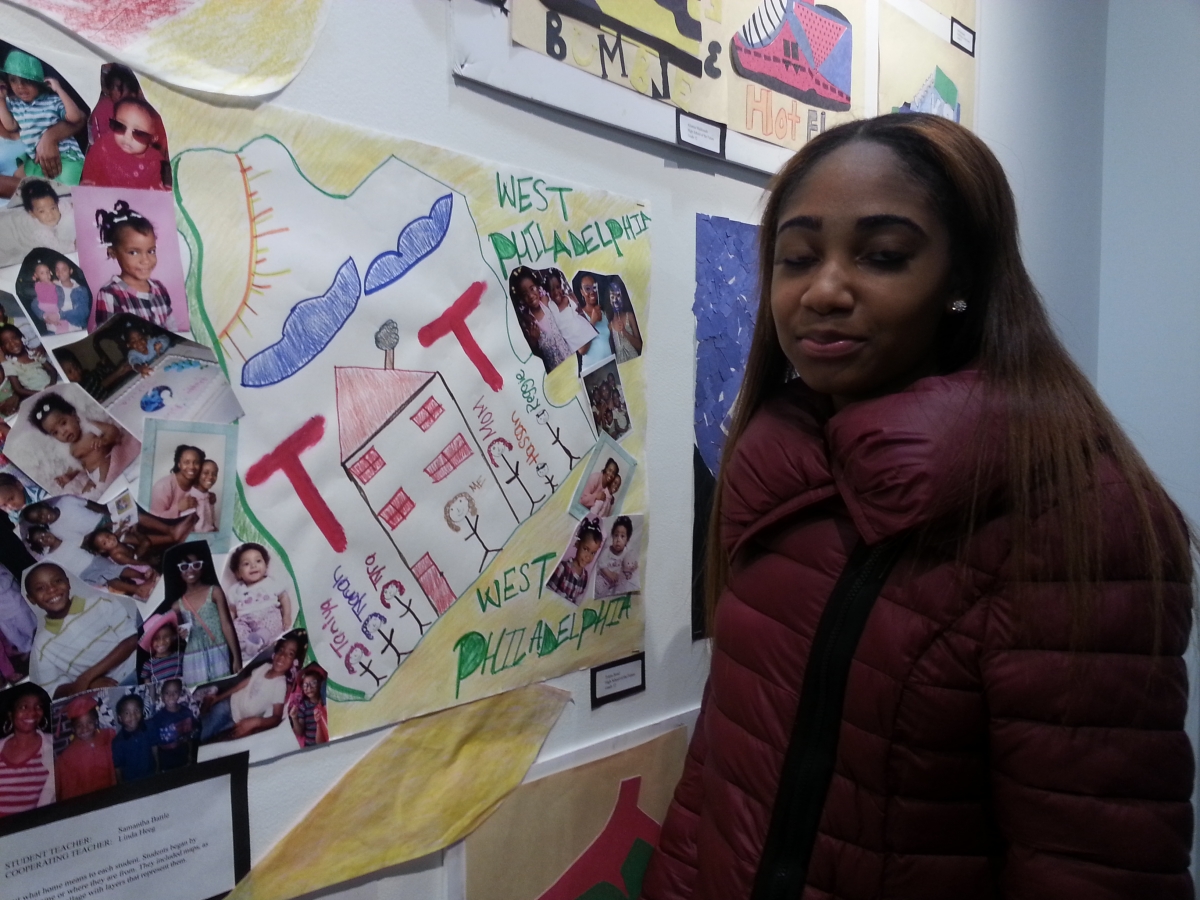 Tykira Bond in front of her artwork on display.