Back to Blog
February 26, 2016
An Interview with Bryan Kekst Brown (MFA '16)
Bryan Kekst Brown is an MFA candidate in the Metals/Jewelry/CAD-CAM program, but he's also been spending some time in the glass department doing some incredible things! His work is an excellent example of an interdisciplinary approach to making and he seeks to foster collaboration amongst his peers. I had the pleasure of chatting with him this week about his practice and his plans after graduation. Bryan will be heading to the Pacific Northwest for residencies at the Museum of Glass in Tacoma, WA and the Pilchuck Glass School in Stanwood, WA. Congratulations Bryan!
You are currently a second year in the Metals/Jewelry/CAD-CAM program, could you tell us a little about your background? How did you end up here at Tyler and what are you currently working on?
I grew up just outside of Cleveland, Ohio. I have been making things ever since I can remember, but I began to explore metal more specifically early in high school. I spent a lot of time in the metal shop. This continued through my BFA at Ohio University where I studied in the Sculpture & Expanded Practices program. I continued to work with various metals, as well as exploring different materials and processes. I was making some simple jewelry in my free time and managed to get an independent study approved to work with a local jeweler for a semester. I was introduced to CAD and more jewelry specific techniques. CAD became very interesting as a tool and an as an idea. I was working as a CNC Supervisor and finding ways to utilize the computer to be able to get the forms and accuracy I wanted.
In my last year of undergrad I knew I was interested in continuing to work at a small scale and gain technical knowledge. So, I applied to Tyler and chose to come here for its focus on CAD-CAM as well as its strong technical and traditional aspects. I was offered the position of Studio Technician/Casting Supervisor and quickly made the decision. I now work as the CAD-CAM/3D Print Lab Technician.
Currently, I am wrapping up my thesis work which is a series of 12 wearable objects each with some sort of change occurring over time in samples of various materials. Each piece interacts with the wearer physically to determine the rate at which change takes place or influence the end result. I am also finishing some research using 3D printed ZCorp plaster blow molds with metal inserts for borosilicate glass and starting to prepare for upcoming residencies.
What is your interest in glass?
Glass is an amazing material. It can hermetically isolate and contain materials and processes while still allowing heat, light, motion, and visibility to cross this barrier. There is really nothing else than can do this. I enjoy the tactility and focus that is inherent in working with glass. I came to the medium through a need to display some of the processes I had been using, such as growing crystals, electroforming, or looking at various metals change over time. The actual process taking place was more important than the material itself and I wanted this to be very apparent.
Can you speak towards the relationships you've made with students in other departments how collaborations across departments have influenced your work? Or, how you've been able to share your knowledge?
Connections I have made with other students and faculty has been a huge part of my experience here at Tyler. Aside from making some great friends, I think the most valuable thing I have gained from studio visits, critiques, hearing people talk, and seeing how others work, is different ways of thinking. It has been great to hear other people's perspective from different disciplines but to be able to view things in a different mindset and use a varied thought process is invaluable and something I can take with me.
I found myself attracted to glass and spending time in the glass studio and it has always been a very welcoming atmosphere. Many people have assisted me either with technical advice on how to make something or actually realizing a piece for me. I always try to work out some kind of trade where we are both doing some work for each other. The combination of skill sets that has occurred through this process is really tough to find any other way. This kind of trade typically ends in both parties gaining some type of knowledge or experience that benefits their practice. It becomes more of a collective learning atmosphere. 
Congratulations on your upcoming residencies at the Museum of Glass and Pilchuck! What do you hope to get out of these opportunities and what are you looking forward to most?
Thank you very much! I am very excited to continue to be able to explore the possibilities that glass presents with the assistance and facilities of Museum of Glass and Pilchuck. 
The Museum of Glass presents a unique opportunity where scale and difficulty are not limiting factors. I am planning to create vessels that are much larger than I am able to produce with more technically challenging designs. I hope to really push some of the possibilities I have been looking at with 3D printed metal cage-forms. I also look forward to scaling up the idea of an electroforming vessel and some electronics into these time and material based works. 
At Pilchuck I am really looking forward to being able to spend some time getting to a point where I understand glass as a material. With this time I hope to continue a technical and formal exploration of glass using CAD and 3D printing as a tool. I will continue to work with objects or processes that exist throughout time and will be incorporating more electronics and connections to the digital/information realm. 
I am feeling like I have just hit the tip of the iceberg with glass and its relationship to metal, CAD, and digital fabrication technologies. I hope to really investigate what is possible with this unique combination formally, technically and conceptually.
Any other thoughts that you would like to share?
I would just like to thank everyone in and out of the glass program who has helped me get my foot in the door and encouraged me to explore this medium. There has been so much support and it has been extremely helpful.
For more information of Bryan Kekst Brown, please visit: http://bryankekstbrown.com/

Oxidation 1, 2015, Canned Oxygen, Argon, Vinyl tubing, 3D Printed Stainless Steel/Bronze, Stainless Steel, Borosilicate Glass, Gold, Platinum, Silver, Zinc, Copper, Iron, Titanium, Aluminum, 12" x 7" x 16"

Growth 2, 2015, Potassium Chromium Sulfate Dodecahydrate, Potassium Aluminum Sulfate Dodecahydrate, Water, Aluminum, 3D Printed Stainless Steel/Bronze(Nickel plated), Stainless Steel, Borosilicate Glass, 6" x 5" x 7"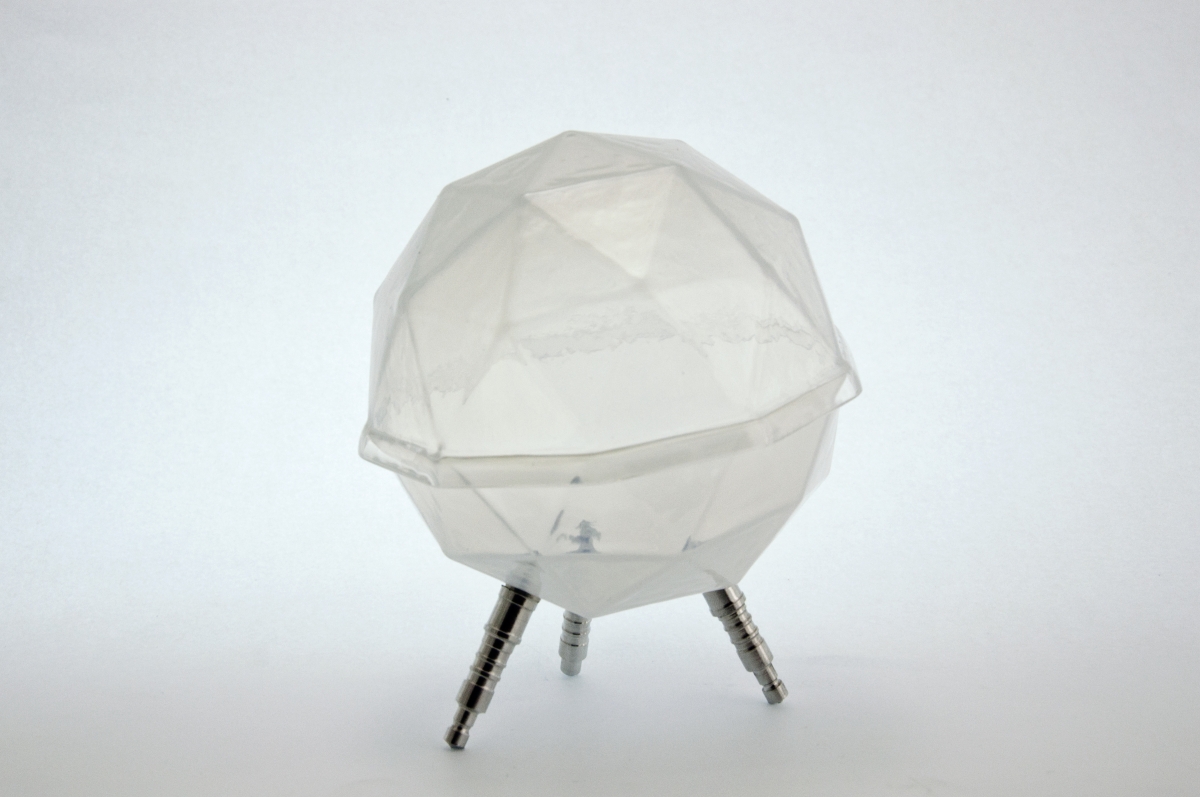 An example of some collaborative work with Bryan and Nate Riccuto (MFA '15)