Back to Blog
April 12, 2017
Renowned artist Judy Pfaff in Residence at Tyler School of Art
Pioneer inaugurated newly-endowed Jack Wolgin Annual Visiting Artists Program, worked with students
Judy Pfaff, the influential multimedia artist who pioneered what is now known as "installation art," was the first Jack Wolgin Annual Visiting Artist, a newly endowed program that was created by a gift from the late Philadelphia real estate developer, philanthropist and renowned patron of the arts. Each year, through the program a leading artist will come to campus to work directly with Tyler students for three to five days to take part in a wide variety of activities that will enrich the Tyler community, including visiting students in their studios and classes and presenting a public lecture.
 "I am delighted that Judy Pfaff, a true innovator and a born teacher, inaugurated the Jack Wolgin Annual Visiting Artist Program," said Hester Stinnett, Tyler's interim dean. "Our students learned side by side with one of the world's greatest living artists, a priceless opportunity for which the extended Tyler family will always be grateful to Jack Wolgin and his family." Pfaff visited classes, met with students individually and hosted a group of students at her studio in upstate New York.
With more than 20 solo exhibits in the last five years alone, Judy Pfaff and her work are in demand around the world. She has earned a Lifetime Achievement Award from the International Sculpture Center, an Anonymous Was a Woman Award, a MacArthur "Genius" Grant, a Guggenheim Fellowship and two grants from the National Endowment for the Arts, among others. Her commissions include installations at the Pennsylvania Convention Center in Philadelphia; GTE's corporate headquarters in Irving, Texas; and the Wacoal Art Center in Tokyo. Pfaff's work can be found in the permanent collections of museums worldwide, including the Museum of Modern Art and the Whitney Museum of Art.
Judy Pfaff's sculptures and installations meticulously piece together plastic, fiberglass, steel, and fabric to create visually complex and detailed environments. Her prints, paintings and drawings also have a three-dimensional quality; they're often layered with hand-applied materials such as fabric-dye, ink, and collage.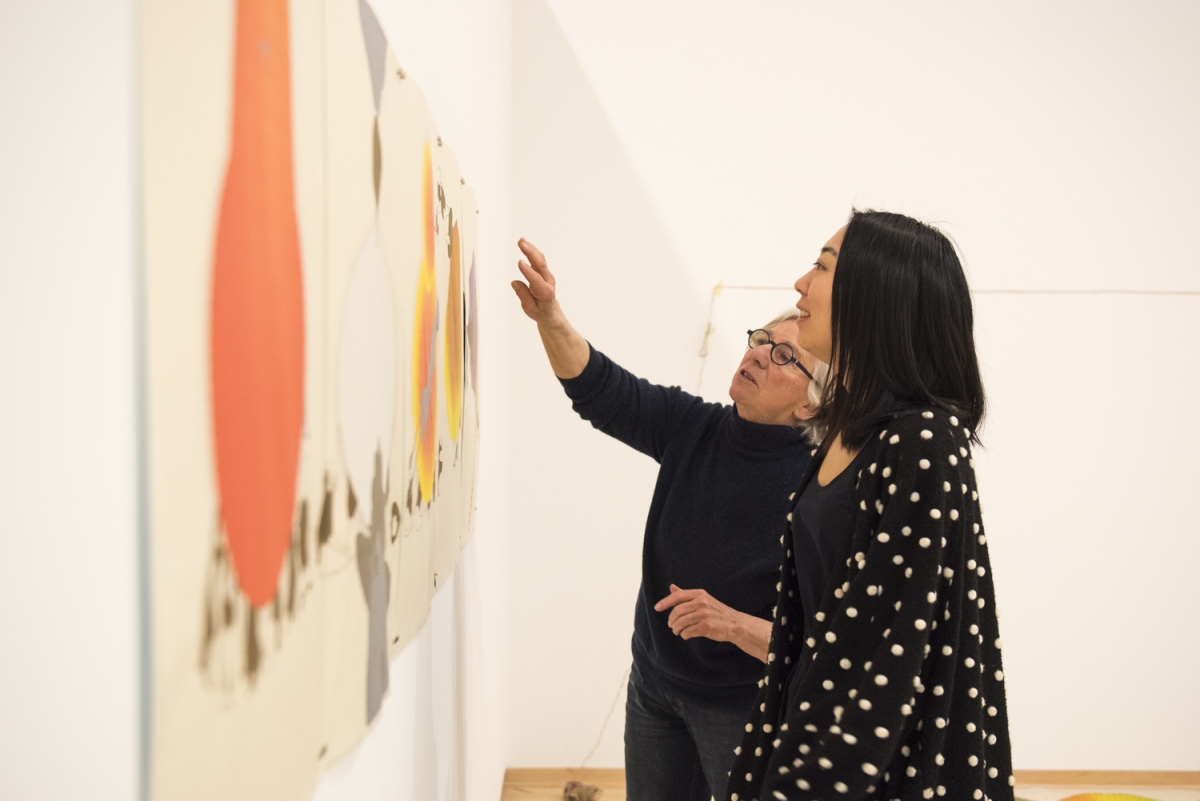 "Before Judy you had painting and you had sculpture—they were separate. Since Judy's arrival these disciplines and their materials have been literally mixed. Her installations climb up walls and explode towards us, dynamically expanding our understanding of where art belongs," said Robert Blackson, director of exhibitions and public programs at Tyler. "For a woman artist receiving her first critical acclaim in the 1970s, this was a liberating gesture and one that generations of artists have benefitted from and re-invented."
The late Jack Wolgin, the native Philadelphian and civic leader whose gift created the Jack Wolgin Annual Visiting Artist Program, was best known in the art world for his influential public art commissions in the city, including Claes Oldenburg's "Clothespin" (1976), an enormous sculpture that Philadelphia Inquirer culture writer Stephan Salisbury called "the piece that has probably done more than any other work of art or architecture to redefine the [Philadelphia] cityscape."