Back to Blog
January 24, 2014
Temple Architecture Thesis Students Receive Grants
Images above: (L to R): "Wish" by Jorge Rodriguez Gerada and "Sand Worm" by Marco Casagrande; Melhissa Carmona's Thesis: Revealing the Coffee Landscape
Temple Architecture B.Arch. thesis students, Melhissa Carmona, Carolina Giraldo and Brandon Youndt, were awarded grants by the Temple University Research Administration in collaboration with the Office of the Provost and the Deans of Temple University's Schools and Colleges.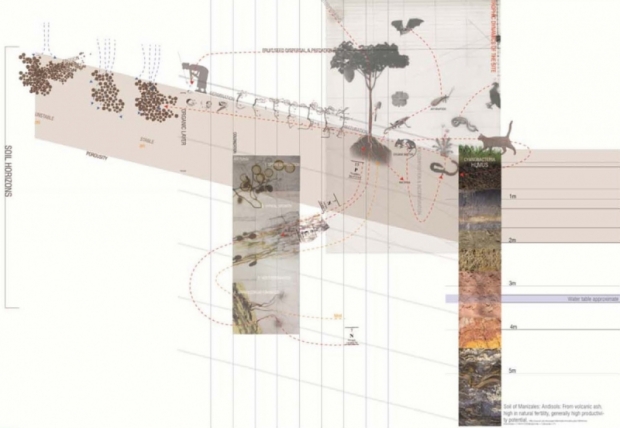 Image above: "Site Processes" by Carolina Giraldo; Thesis Title: Living Symbiotic Bonds
Melhissa and Carolina received funding through the Creative Arts, Research and Scholarship Program to travel to Colombia in support of their thesis work. Both projects examine the role of landscape within architecture. Melhissa's project explores the Colombian coffee plantation as a productive, working and cultural landscape, while Carolina's thesis questions the role of a "living architecture" within the precarious landscape of Manizales, which is prone to landslides.
Brandon received a Travel Grant to go to the Florida Everglades to observe the interconnected relationships between human and animal habitats to support his thesis project that examines the potential of post-human territory.
Images above: (L to R): "Decomposing Vessels"; "Celestial Ritual" both by Brandon Youndt; Thesis Title: ARK: Decomposing Human-Centric Space
These grants provide a funding opportunity to encourage and support undergraduate and professional students engaged in scholarly, creative and research projects that contribute to advancing their field of study.
Congratulations to Melhissa, Carolina and Brandon!