AIA WEST JERSEY + TYLER ARCHITECTURE, TEMPLE UNIVERSITY
Whether you are looking to move up in your firm, start a new practice or just become more knowledgeable about the business of architecture, this program is for you. Designed to fit your busy schedule, it is focused on business and management skills that are specifically tailored for design and construction practices. Held on Saturdays at Temple Center City Campus with fall and spring sessions, the Business of Architecture Certificate Program Offers a clear path to take in advancing your career.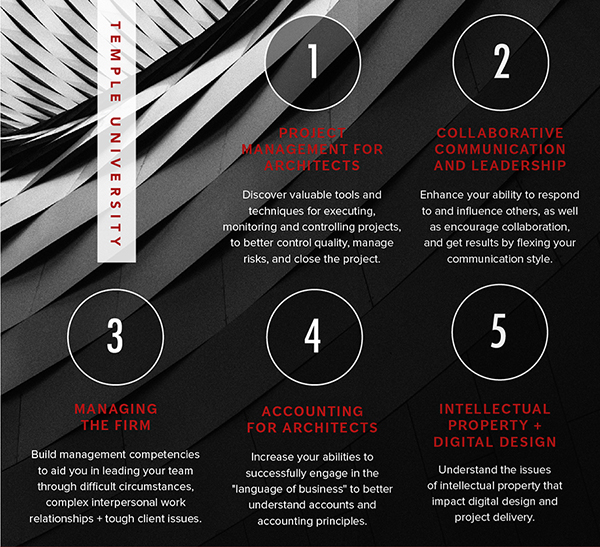 The certificate includes 5 required courses.  Each course is 3 hours and meets on Saturdays from 9:30am-12:30pm at Temple University's Center City (Philadelphia) Campus.
1. Project Management for Architects
2. Collaborative Communication and Leadership
3. Managing the Firm
4. Accounting for Architects
5. Intellectual Property + Digital Design
 
REGISTRATION & PROGRAM INQUIRIES: Temple Real Estate Institute
Email: realestateinstitute@temple.edu
Phone: (215) 204-1539