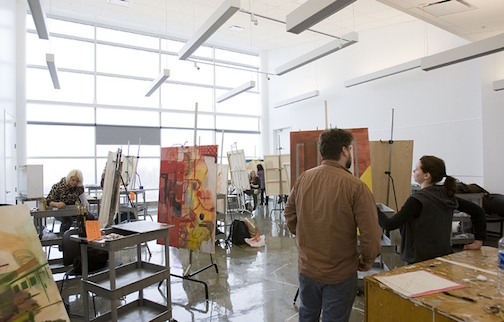 A view of our painting studios.
ABOUT THE SUMMER PAINTING INTENSIVE:
The Tyler School of Art and Architecture SPI is a four week summer immersion program run by the Department of Painting, Drawing and Sculpture for artists interested in developing their work in a challenging and supportive environment. The program is a non-credit, post-baccalaureate-style residency suitable for BA and BFA seniors and recent graduates aiming to hone their artistic and intellectual skills, for students building a portfolio for application to graduate school, as well as professional artists seeking to strengthen their abilities and expand their outlook.
The SPI program seeks to give participants a foundation in concept and craft while providing students with the tools to think critically about their own practices and art in general. Week by week, group critiques, individual studio visits and critical studies seminars form the primary support to individual studio practices. The program is led by an artist-director, and the faculty consists of Tyler's full-time faculty as well as visiting artists and critics, curators and art historians. Students will discuss their work in group settings and in one-on-one conversations with leading members of the contemporary art world. The session will culminate in a group show of student work.
Graduates of the Summer Painting Intensive have gone on to show at prestigious galleries across the U.S. and Internationally as well. Additionally former students of the program have been accepted into many prestigious MFA programs including: Hunter, Yale, RISD, UT Austin, UCLA and of course, Tyler School of Art and Architecture.
WHAT TO EXPECT FROM THE FOUR WEEKS:
-Weekly Studio Visits with the Program's Faculty
-Weekly Visiting Artists
-Weekly Seminars
-Weekly Trips to Artist Studios, Galleries and Museums
-Weekly Critiques
-Professional Practice Workshops- Applying to Graduate School, Writing Grant Proposals, Applying to Artist Residencies, etc..
-A Large Group Exhibit
-TONS of studio time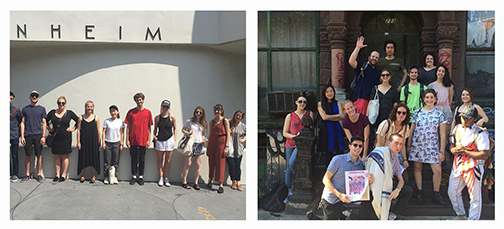 Some of our program participants from the past two summers.
FACULTY
The faculty of SPI lead seminars and workshops, discussions and group critiques, and regularly meet individually with the students to discuss their work as well as more general practical, theoretical, or historical questions. The program has the participation of Tyler's full time painting faculty as well as lectures and critiques by a significant roster of visiting artists.
FACILITIES
Tyler School of Art and Architecture is home to one of the preeminent painting and sculpture programs in the country. Graduates of the BFA and MFA programs regularly go on to illustrious careers on the international stage. In Spring 2009, Tyler School of Art and Architecture moved from its suburban campus in Elkins Park, PA, to a stunning new 160,000-square-foot building, situated in the heart of Temple University's historic campus. The $75 million building, designed by Carlos Jimenez, boasts floor-to-ceiling windows and magnificent studio space.
Philadelphia is a thriving city with a vibrant art and music scene. Innovative and historic cultural centers convenient to the new building include the Philadelphia Museum of Art, the Pennsylvania Academy of Fine Arts, the Institute of Contemporary Art, the Fabric Workshop and Museum and the Barnes Foundation.
Philadelphia is located 90 miles south of New York City, 5 hours from Boston, 3 hours from Washington DC.
SCHOLARSHIPS AND FINANCIAL AID
Scholarships are available and every applicant will be considered for a scholarship. As is mentioned above, the program is non-credit bearing, thus students will not be eligible for most standard type student loans such as Federal Student Loans or those offered by Sallie Mae, etc. Students are encouraged to speak to their home banking institution about personal loans to pay for the program that would be dispersed directly to them so they (the student) can then pay for the progra directly. Additionally, it is recommended that those still enrolled in another undergraduate institution speak to the faculty and administration at their school about possible finacial support for the Summer Intensive.
HOUSING
Housing is not included in the tuition cost of the program.
Students in the summer program who are coming from outside of the Philadelphia area encouraged to live in The Edge Student Village, a fully furnished, month by month apartment complex on the south east corner of Temple's campus. The Edge is a 5 minute walk to the Tyler School of Art and Architecture building and is directly across the street from a super market, pharmacy, coffee shop, movie theatre and various other businesses. The Edge offers studio and one bedroom apartments and includes wifi, an on site gym and laundry facilities. If you have any questions about The Edge or want to reserve an apartment for the summer visit their website here or call: 267.388.1551.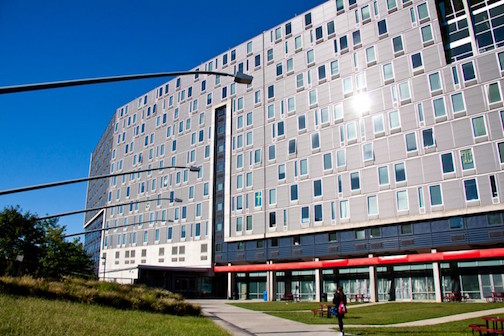 The Edge Student Village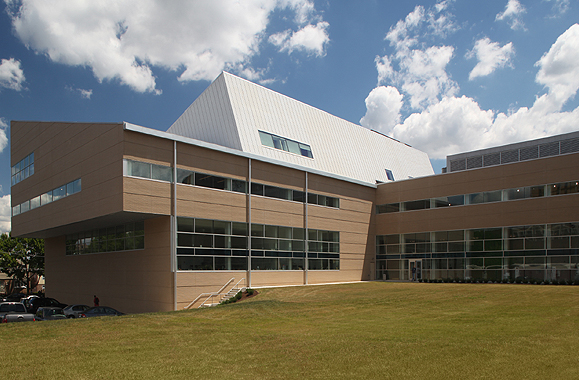 The courtyard of Tyler School of Art and Architecture, Temple University