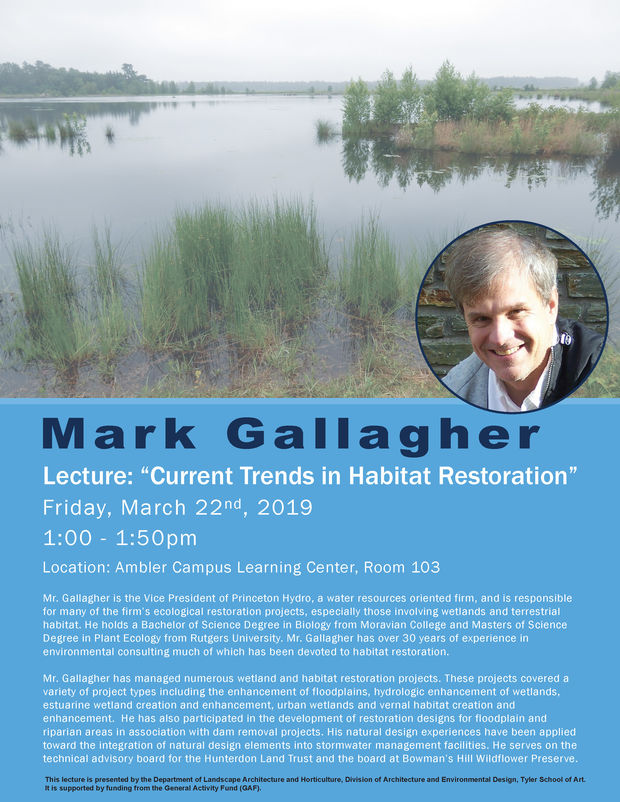 LA-Hort Spring 2019 Lecture Series: Mark Gallagher, Vice President, Princeton Hydro
OPEN TO ALL
Mr. Gallagher is the Vice President of Princeton Hydro, a water resources oriented firm, and is responsible for many of the firm's ecological restoration projects, especially those involving wetlands and terrestrial habitat. He holds a Bachelor of Science Degree in Biology from Moravian College and Masters of Science Degree in Plant Ecology from Rutgers University. Mr. Gallagher has over 30 years of experience in environmental consulting much of which has been devoted to habitat restoration. 
Mr. Gallagher has managed numerous wetland and habitat restoration projects. These projects covered a variety of project types including the enhancement of floodplains, hydrologic enhancement of wetlands,  estuarine wetland creation and enhancement, urban wetlands and vernal habitat creation and enhancement.  He has also participated in the development of restoration designs for floodplain and riparian areas in association with dam removal projects. His natural design experiences have been applied toward the integration of natural design elements into stormwater management facilities. He serves on the technical advisory board for the Hunterdon Land Trust and the board at Bowman's Hill Wildflower Preserve.
This lecture is presented by the Department of Landscape Architecture and Horticulture, 
Division of Architecture and Environmental Design, Tyler School of Art and Architecture. 
It is supported by funding from the General Activity Fund (GAF).