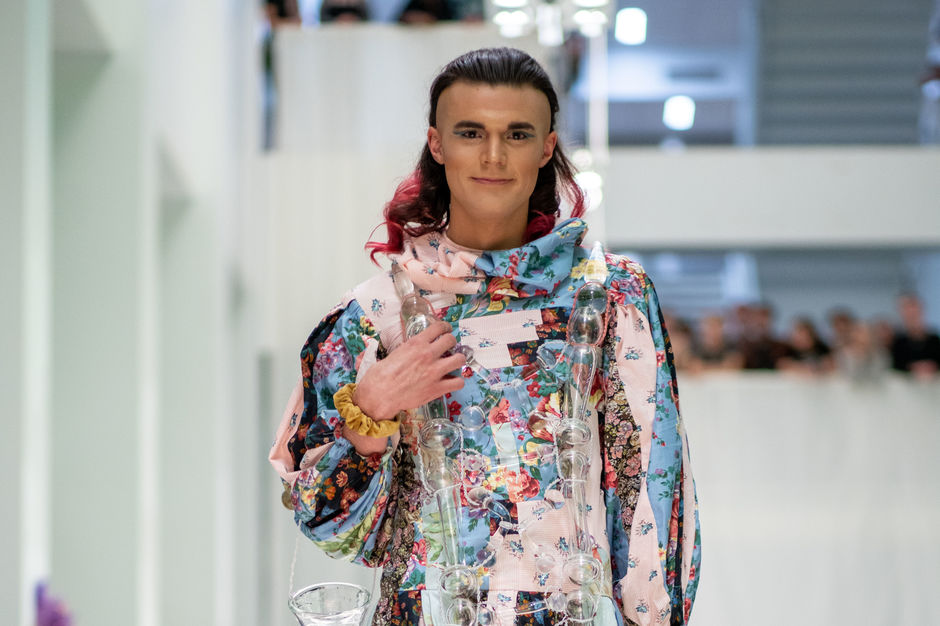 Fibers & Material Studies
Alec Strosser
Name
Alec Strosser
Hometown 
Lewisburg, PA
Tyler degree program
BFA in Fibers & Materials Studies
Why did you choose Tyler?
Tyler was suggested to me by one of my art teachers in high school. She graduated from here and always commended it for being a great place to learn and grow.
When I visited campus, it was filled with amazing studios and faculty and students hard at work—it was an environment that I knew would help grow my creative muscles.
Why Fibers & Material Studies?
I have always loved fiber arts and the tactile nature of the different techniques used in the medium. From as early as I can remember, my grandmother taught me how to sew and I loved creating functional objects out of simple cloth and thread.
The Annual Wearable Art Show
The Wearable Art Show [pictured above] was an amazing way to show off the creativity of everyone within the Fibers & Material Studies Program. There was a lot of overlap in my collection when it came to disciplines—I used blown glass, molded ceramics and plenty of fibers techniques. And there was basically no limit to what we could create. 
Having Machine Dazzle as a visiting artist was also an amazing way to gain perspective on how our work was reading to a successful artist. He brought such creative solutions and a bright ray of encouragement that catapulted us into the show with confidence.
The Queer Materials Lab
The artists that were in residence in the Queer Materials Lab were Kat Richards and Keenan Bennett. They, along with the faculty, are powerful role models who lead by example that queerness does not need to be separated from one's work. Queerness can and should be embraced through the act of researching, creating and displaying to understand how far we have come and how much farther we can go.
Why I like Philadelphia
Philadelphia is a unique place where great things happen. From shops and dining to museums and parks, there is always something to do that is right around the corner.
What do you plan to do after graduating?
My goal is to become a costume designer and work on garments that will be used in productions on stage and on camera. I continue to make work that develops my artistic and tailoring skills so I will be ready to hit the ground running.
Photo by Cris Varela