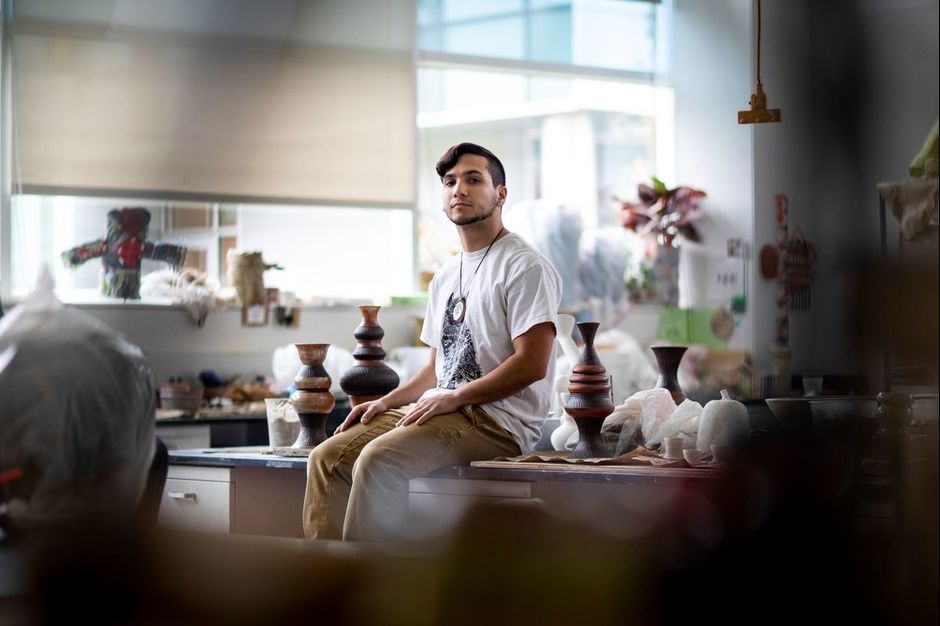 Ceramics
Anthony Romero
Name
Anthony W. Romero
Hometown
Boyertown, Pennsylvania
Tyler degree program
BFA Ceramics
Why Tyler?
It's the community—the way the school treats students, the relationship you have with your teachers. They are invested in you and your success, and the relationship is continuous.
My new beginning
I studied engineering for a year and a half before I transferred here. But I always loved art and ceramics too. It was a really hard decision, but I've been so happy since I've come to Tyler. It's been life changing.
Can you scratch an itch to explore both science and art as a Tyler Ceramics student?
You can definitely go deep into both. I create and test prototypes. I do heat tests. I engineer all my clays, all my glazes. Right now I'm working with CAD-CAM software and making molds for a prototype of a cup. We're milling wooden handles and creating everything digitally first, which is almost identical to what I was doing as an engineer.
My home
I share a house with four other Tyler student artists—me, a Graphic & Interactive Design major, a Sculpture major and two Painting majors. We had a vision of finding somewhere we could live together, work together and share resources. We've curated our living space into a gallery, a work space, a critique space and a closet of resources, and we've started an interdisciplinary art collective called Misc. We curated a show off-campus in a warehouse; probably 200 people came out.
Favorite professor
Roberto Lugo, program head of Tyler Ceramics, has been absolutely inspirational. The man's hustle is unbelievable. He always has time to sit down with me and talk about things. The opportunities he opens up for his students and the places he takes his classes are phenomenal. He has also helped me get a lot of scholarships.
Latest internship
I just finished up a paid internship at Vox Populi, a gallery in Philadelphia. Natalie, the technician in Tyler Ceramics, helped me find it. I did everything from reaching out to donors to handling the professional side of a gallery, including doing installations, handling artists' work, photographing openings. It helped me think about spaces and lighting and how I might create something like that for myself.
Photo by Ryan S. Brandeberg, Temple University Photography