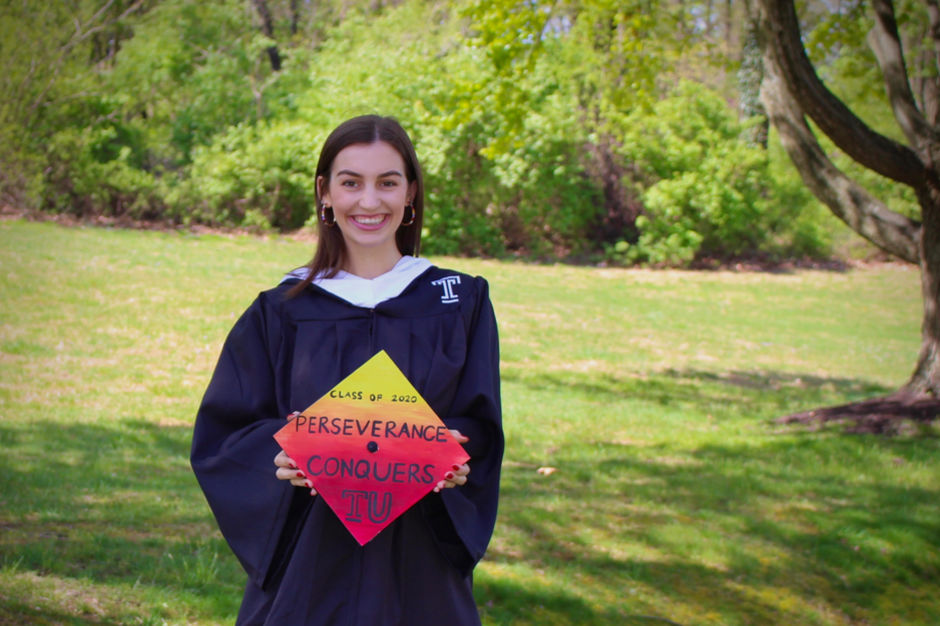 Art Therapy, Community Arts Practices
Elizabeth Allen
Name
Elizabeth Allen
 
Hometown
Wyomissing, Pennsylvania
Tyler degree program
BA in Art Therapy
 
Why Tyler?
I wanted a unique experience—a small school within a large university, a close-knit community, a university in a big city and to major in art therapy (undergraduate art therapy programs are not very common).
Why Art Therapy?
I realized how art can impact people's lives as a way of reflection and expression. It provides me with an outlet for storytelling, as well as a way to understand my own emotions and to cope with life events. 
Taking courses in Community Arts Practices
Community Arts Practices allowed me to build new connections and learn about Philadelphia's rich cultural history. Interacting directly with North Philadelphia [where Temple's Main Campus is located] taught me how important it is to respect and learn from others, as well as their values and experiences. 
Billy Yalowitz is also a great person to learn from—he will challenge you to really dig deep and think about your own experiences and background, which will make you a better artist and person.
Favorite experience
I think the most impactful thing I was able to do at Tyler was form the Therapeutic Art Club of Temple University with other art therapy majors. I served as president for two years, which allowed me to learn and grow as a leader and taught me how to be a great art facilitator. Through this organization, we formed a small close-knit community of people who are passionate about art therapy and have run countless meetings and events for the Tyler community.
 
One of the best things about being a part of Temple, too, is the ability to make your own experience. I was also involved with other organizations here—being a part of a large university provides you with many opportunities to get involved. Playing a part in your community is so important!
Taking classes online 
[Editorial Note: In March 2020, like colleges and universities around the United States, the Tyler School of Art and Architecture, Temple University transitioned to online classes for the remainder of the semester, as a preventative measure against the evolving COVID-19 pandemic.]
 
The transition to online was difficult, but I felt very supported, especially by my professors. I ended up learning new skills, like facilitating virtual art groups and creating a printmaking studio at home. These skills will continue to be important in this new normal we're experiencing, and beyond it. I am so grateful to have had a small supportive community to help me through this time.
Internship Experience
I completed my art therapy fieldwork internship at Magee Rehabilitation Riverfront— an outpatient facility for people who have experienced physical traumas. I was able to work with patients while learning from a board-certified art therapist. My classes, fieldwork and this internship put me ahead of the curve. I feel really prepared for graduate school and, eventually, being a professional.
Image courtesy of Elizabeth Allen