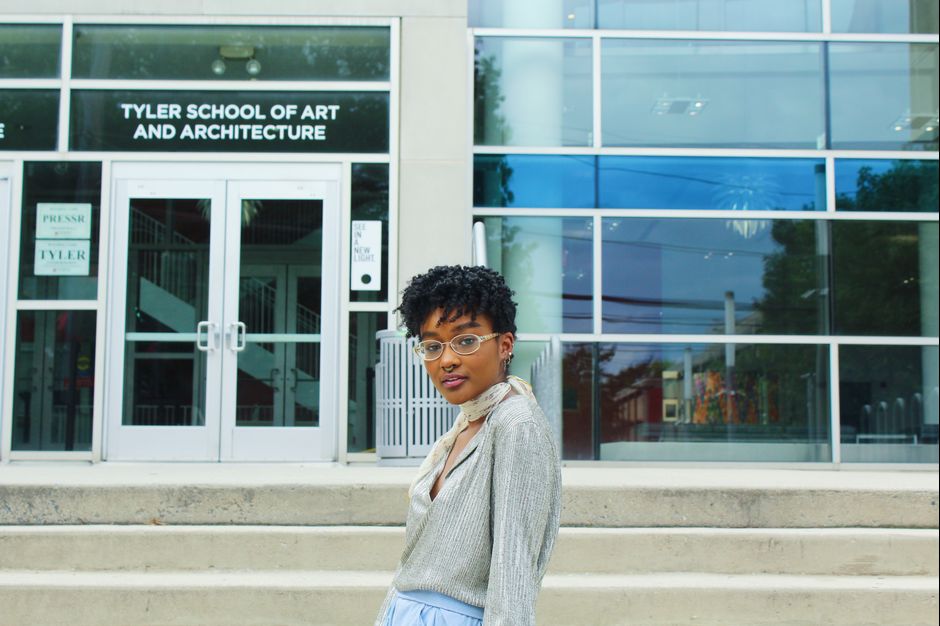 Art History
Hannah 'Han' McCoy
Name
Hannah 'Han' McCoy
Hometown
Leonardtown, MD
Tyler degree program
BA in Art History
Why Tyler?
I was immediately won over by the studio space upstairs. The floor-to-ceiling windows that look out over North Philadelphia, paired with the amazing art in the halls, was so inspiring. I envisioned myself creating a work of art in one of these spaces and imagined my own pieces on the walls. I knew Tyler was for me.
Why Art History?
Originally, I wanted to pursue drawing and painting. However, I found that my creativity was stunted under the pressure of deadlines. But Art History allowed me to be both academically and artistically challenged. I felt the same satisfaction writing a paper as I did when completing a drawing.
Favorite experience at Tyler?
I'm so grateful for the opportunities to collaborate across disciplines. My favorite experiences have been making art with other students. I've modeled for friends' photography projects and been featured in Tyler exhibitions and senior shows. It's a great way to gain exposure and network, all while enjoying time with other creative minds. I made some of my best friends at Tyler.
Tyler's faculty is also amazing. You can form relationships with your mentors and ask them questions, which helps you push yourself. I always felt like my professors cared about my success and wanted to help me achieve my goals.
My Experience as a Mellon Undergraduate Curatorial Fellow
I was nominated by a Tyler professor to participate in the Mellon Undergraduate Curatorial Fellowship Program Summer Academy, which is an immersive curatorial experience provided to students of color with the hope of diversifying the art field. After the Summer Academy, I was one of two selected to participate in a two-year fellowship at the Philadelphia Museum of Art. Through this fellowship, I have had the opportunity to work with experts in the curatorial field and gain experience in a museum setting. It's also cool to walk up the "Rocky Steps" on my way to work!
Student Organizations
The Dean's Advisory Committee is an organization at Tyler which allocates funds and plans school events. It's a great way to be involved in student life and use your voice to see cool events come to fruition. We organized programs like artist talks, exhibitions, game nights—so there really was something for everyone. 
 
Why I like Philadelphia
Philadelphia's atmosphere has an aura of community, support and creativity, which I have not experienced anywhere else. When I drive up I-95 and the skyline comes into view, I immediately feel like I'm coming home. I think Philadelphia feels this way due to its size. You still get to experience the fast-paced city lifestyle, but it's more laid back and far less crowded than New York City. 
What do you plan to do after graduating?
I am pursuing my Master's degree in art history. I'd also like to continue to be involved in curatorial practices at a prestigious art institution in Philadelphia.
Photo courtesy of Han McCoy