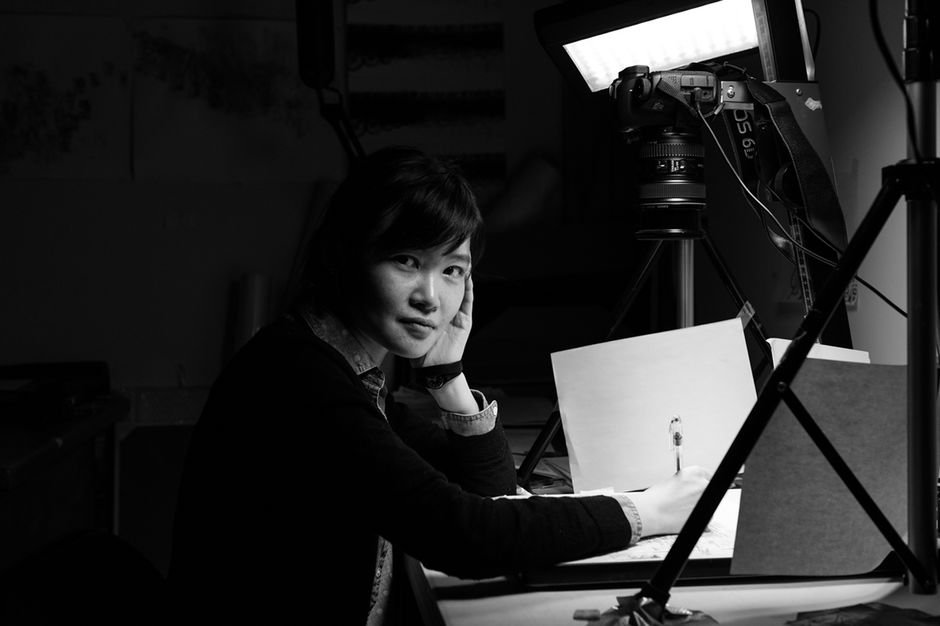 Assistant Professor of Instruction
Printmaking
Kakyoung Lee
Kakyoung Lee specializes in print animation, with most of her works being time-based and installations that utilize traditional and contemporary print media and drawings. Her themes include both non-historical repetitive everydayness through short print animations by overlapping hundreds of prints and drawings on a single plate, as well as nature and social/political contexts through the combination of prints, drawings and mixed media.
She has been a part of numerous exhibitions nationally and internationally, including at the Drawing Center, NY; Hofstra University, Hempstead; Kunsthalle Bremen, DE; Mass MOCA, North Adams; Metropolitan Museum of Art, NY; Museum of Contemporary Art, Banja Luka, Bosnia; Museum Folkwang, Essen, DE; Museum of Modern Art, NY; Oqbo, Berlin, DE; Queens Museum, NY; and Seoul Arts Center, Korea. Her works are in the permanent collections of Asia Society Museum, NY; University of Maryland, MD; McNay Art Museum, TX; the Metropolitan Museum of Art, NY; Cleveland Museum of Art, OH; and the Library of Congress, Washington D.C., among others.
MFA, Studio Arts, SUNY Purchase College, New York, 2003
MFA, Printmaking, Hong-Ik University, South Korea, 1999
BFA, Printmaking, Hong-Ik University, South Korea, 1997
Selected Awards and Residencies
Visiting Artist Residency (2018)
The Brandywine Printmaking Workshop, Pennsylvania
American Academy of Arts and Letters Purchase Award (2017)
NYFA Fellowship (2014)
Omi Residency Program (2012)
New York
ISCP Residency Program (2011–2012) 
Brooklyn, New York
Pollock Krasner Foundation Grant (2010)
Marie Walsh Sharpe Art Foundation Space Grant (2008–2009)
Brooklyn, New York
Selected Work
Lee, K. (2020). Picture Time . Exhibited at Tiger Strikes Asteroid, Brooklyn, NY, February–March, 2020.*
Lee, K. (2017). Lines Fiction Animation. Exhibited at Hamburger Kunsthalle, Hamburg, Germany, November 2016–May 2017.
Lee, K. (2017). Opening: Window Presentation. Exhibited at 351 Amsterdam Ave, New York. Organized by Chashama, February 2017.*
Lee, K. (2012–2013). Making Room. Exhibited at MASS MoCA, MA, January 2012–January 2013.
Lee, K. (2012). Drawings and Prints: Selection from the permanent collection. Exhibited at the Metropolitan Museum of Art, August–November, 2012.
[*Solo/Two-person Shows]
Image: Kakyoung Lee