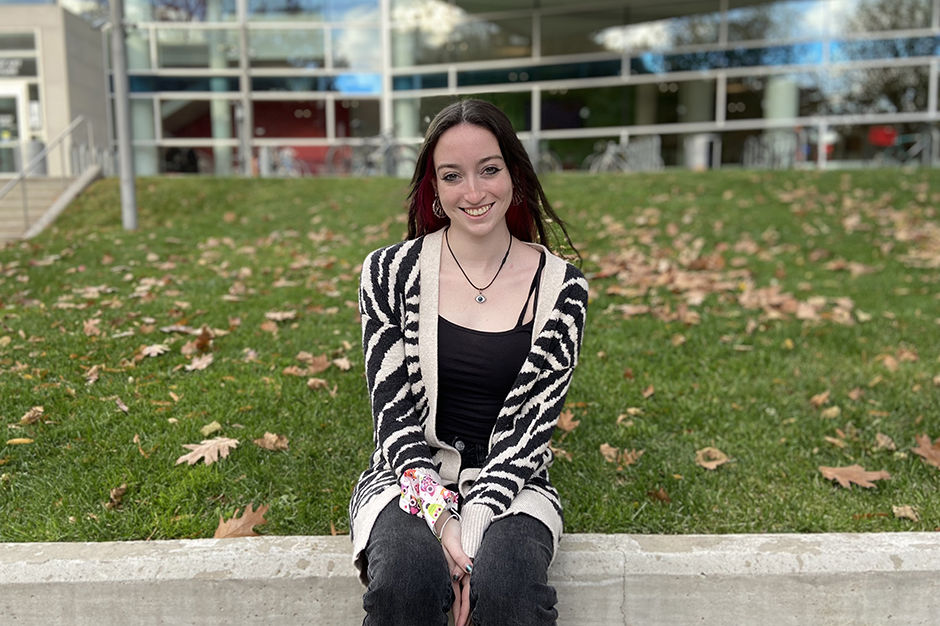 Metals/Jewelry/CAD-CAM
Laura Adams, '24
What was the first time you realized you were interested in metalsmithing? 
"When I was a junior in high school, that's when I decided that I wanted to pursue metals specifically. A lot of times, with so many of these creative fields you have that, 'oh — I can actually do this as a job?' moment. Metals is a really hard program to look out for when you're looking at colleges, and the few that do offer it are very competitive because it's such a small community. The facilities that Tyler has allow for a lot of different types of learning and collaborating that I felt like other schools couldn't give me. I'd also gained a great relationship with Doug Bucci after I'd met him at a Portfolio Day in high school. I realized that a lot of opportunities would open for me if I came to Tyler and continued to build these early relationships that I'd formed with Doug and the rest of my professors." 
What's a typical day like in your studio? 
"I spend every minute I can in the studio. I'll wake up at 8:00 and get to the studio by 8:30, and I'll usually stay until 8:00 at night. It never feels like work, it never feels like a burden. It is strenuous and intense, but that's just because that's the nature of the medium. I'll make a list when I get there just so I don't forget everything that I need to get through." 
What was your initial opinion of Tyler, and how has that changed since being here? 
"I studied metals in jewelry for the fist ten years of my life, and I stayed with the same teacher forever. She worked at a summer camp, and she's a Tyler alum — Beth Judge from Hopewell, New Jersey — so that's how I found out about Tyler, so it had always been in the back of my mind. Then when it came time to look at schools, everyone I'd talked to was like, 'Oh, Tyler's so great,' in this very respectful, non- pretentious way. It was this specific vibe that Tyler gave off that other schools didn't, and I still felt the same when I visited. The facilities and faculties are great, all the students are nice and supportive, and nothing felt competitive or performative. There were other art schools that I visited that were high- stress, high-competition." 
I love Philly art for the same reason. Any sector of it — art, music, whatever. This city is such a comfortable and collaborative place. Other cities really aren't as lucky. Does living here influence your work at all? 
"Philly is so incredibly different from where I'm from in Lambertville, New Jersey. The fast-pace of Philly inspires me a lot. So does the sense of hard work and grit, especially because I've never been around an environment like that, so it inspires me to work hard here. If anything, being here for the first time since COVID has just reaffirmed another level of support. Everyone in my department wants you to succeed as much as they want to succeed themselves. Our class sizes are so small, so you build these great relationships. The upper classmen are so helpful to first-year students. The faculty are so patient, and they facilitate a family-like environment. Doug and Mallory make sure that we're all connected, and I think that makes everyone in the department happy. 
What advice would you give to an incoming metals major or an undecided freshman? 
"Trust what you're doing. It's going to be intimidating, because that's the nature of the medium. But at the end of the day, everyone wants to see you succeed. There's no need to be afraid, because even though a torch might be scary, nobody is going to let you get burned. We're all there for you."