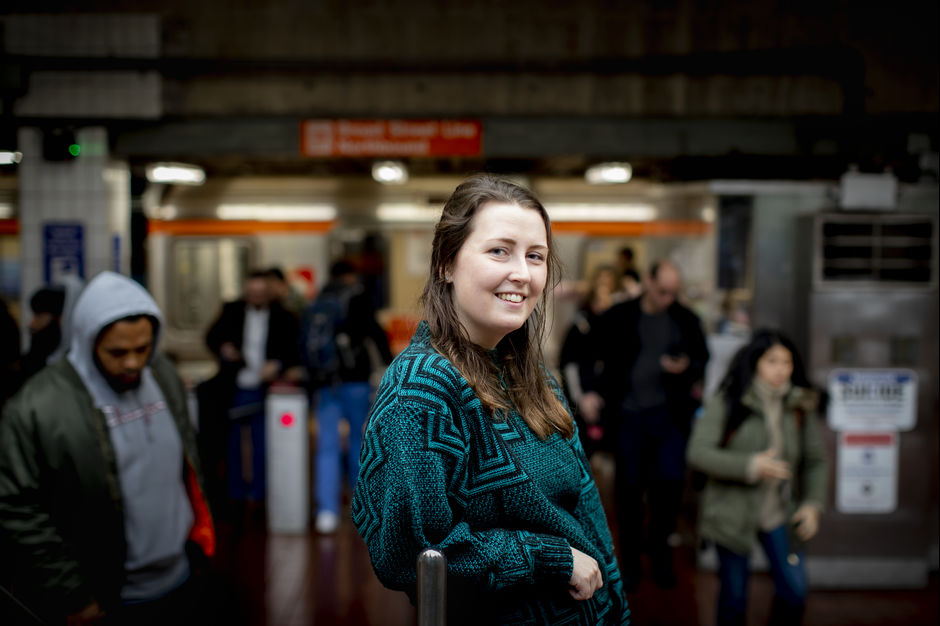 Community Development
Maggie Loesch
Name
Maggie Loesch
Hometown
Pennington, New Jersey
Tyler degree program
BS in Community Development 
Why Tyler?
I took a lot of classes across Temple in the College of Education, Klein College of Media and Communications and the College of Liberal Arts, to name a few. But I was also trying to take glass blowing. Then, on Tyler's website, I found the Community Development program and it intersected all of my interests and classes I was taking—the program delves into the relationship between how the built environment impacts people's behaviors, choices and lives and vice versa. We're talking about making better environments to make better people.
One of the great things about being a part of an art and architecture school is the common ground between our many different areas of study. For example, Community Arts Practices and Community Development are both, at their core, telling stories about people.  
Internship experience
One of my favorite things about community development is the many guest speakers—lots of the faculty work in the field and bring in experts with a variety of backgrounds, so you get multiple perspective on topics as well as many networking opportunities. I landed my internship at an urban planning and design consulting firm because the principal and founder was a guest speaker. 
Why I like Philadelphia
Philadelphia has a great network of community development happenings in the real world—you can be a part of a public meeting for your own neighborhood or put planters on your own street. And with Tyler and Temple's location, all of these things are easy to get to. I could get from my home to my internship, pretty much door-to-door, by bus.
And Philly has character and so much public art! There are murals everywhere—which, if you're talking community arts and development, really impact people's wellbeing because it feels like others care about the neighborhood and can also spur private investment.
The community engagement-powered newsroom I helped start
Kensington Voice is a project that started in a Temple special topics journalism course interested in the relationship between public trust and the media in Kensington. We focused here because news coverage of the neighborhood was really skewed toward the opioid crisis. We wanted to engage the community and connect them with the media so they have a voice. We spent the first six months laying groundwork, getting to know people. We wanted journalism to be a service not just for, but with, this neighborhood.
This also tied into my community development curriculum. That same semester, I was taking a course where we were talking about PhotoVoice as a methodology for community engagement. My final project was working with kids at a Kensington library to photograph their own stories with disposable cameras, later published on Kensington Voice. 
What do you plan to do after graduating?
I feel like I could do anything, from grassroots public advocacy and community organizing to community planners to non-profits for homelessness or food access. This major really equips you with a broad set of applicable skills. I think I'll likely go to grad school to get my planning or urban design degree. I'm really interested in public space and social infrastructure—just how the built environment can be used to remedy social isolation.
Photo by Ryan S. Brandenberg, Temple University Photography