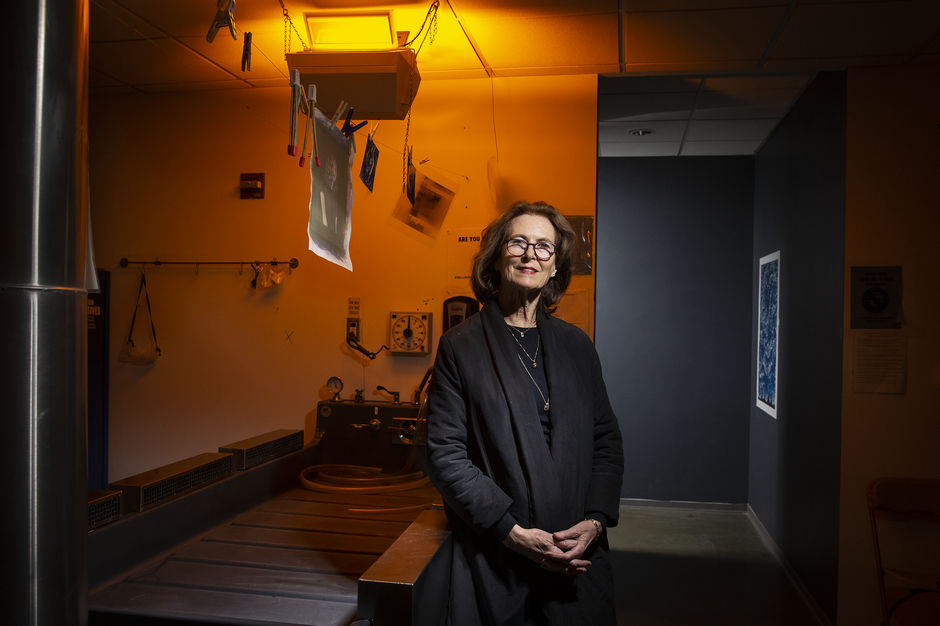 Professor Emerita
Photography
Martha Madigan
For more than four decades, Martha Madigan's artistic career has been a balance of creative studio 
practice with teaching, curating administration, public speaking and exhibitions of her work. 
Madigan is known for her solar photograms and public works of art that refer to, record or transform aspects of nature in relation to the human figure. Working with diverse ecosystems and cultural heritages to evoke reverence for the natural world is her mission as an artist, with a goal to create peace, healing and harmony though the art experience. Madigan has explored the history of photographic light-sensitive materials from the earliest historical processes to the latest photographic technologies. She creates both public and collaborative works of art that combine photography with other materials including glass, mosaic and steel, while always maintaining her personal studio practice. 
Since 1979, she has been a professor in Tyler's Photography Program, where she's served as Program Director of the MFA and BFA programs. Madigan has also served as Professor of Photography at Temple University Rome from 2004–2006, and again in 2018.
  
Madigan's artwork can be found in many museum collections including The Metropolitan Museum of Art; the Philadelphia Museum of Art; Art Institute of Chicago; Free Library of Philadelphia; Bowdoin College Museum of Art; James A. Michener Art Museum; Woodmere Art Museum; California Museum of Photography; Detroit Institute of the Arts and the Illinois State Museum, among others. Madigan has received multiple grants, awards, fellowships and residencies throughout the span of her career.  
 
MFA, Studio Art, Photography, School of the Art Institute of Chicago, 1978
BFA and BS, Art Education, University of Wisconsin, Madison, 1972
Selected Work
Madigan, M. (2016). Aestas [reprint]. In M. Orvell (Ed.), Photography in America (pp. 260). New York, NY:
     Oxford University Press
Madigan, M. (2015). Embodied #6; Graciela: Growth III; Shiva [color reproductions]. In J. Christopher
     (Ed.), The Book of Alternative Photographic Processes, 1, 2, 3rd Edition, (pp. 626, 633, 636). Boston,
     MA: Cengage Learning. 
Madigan, M. (2014). Graciela: Growth III; Daily Portrait: Grace: Culture: Forum; Shiva Union with Peppers;
     [color reproductions]. In R. Hirsch (Ed.), Transformational Imagemaking: Handmade Photography
     Since 1960, (pp. 113, 115, 116). Boston, MA: Focal Press
Madigan, M. (2006). Martha Madigan: The World is Like a Garden in Bloom Only for a Few Days. New
     York, NY: Jeffrey Fuller Fine Art Ltd.
Madigan, M. (2001). Martha Madigan: Vernal Equinox, Recent Photograms. Michael Rosenfeld Gallery,
     New York, NY, May 8–June 30, 2001.
Image credit: Temple University Photography / Joseph V. Labolito