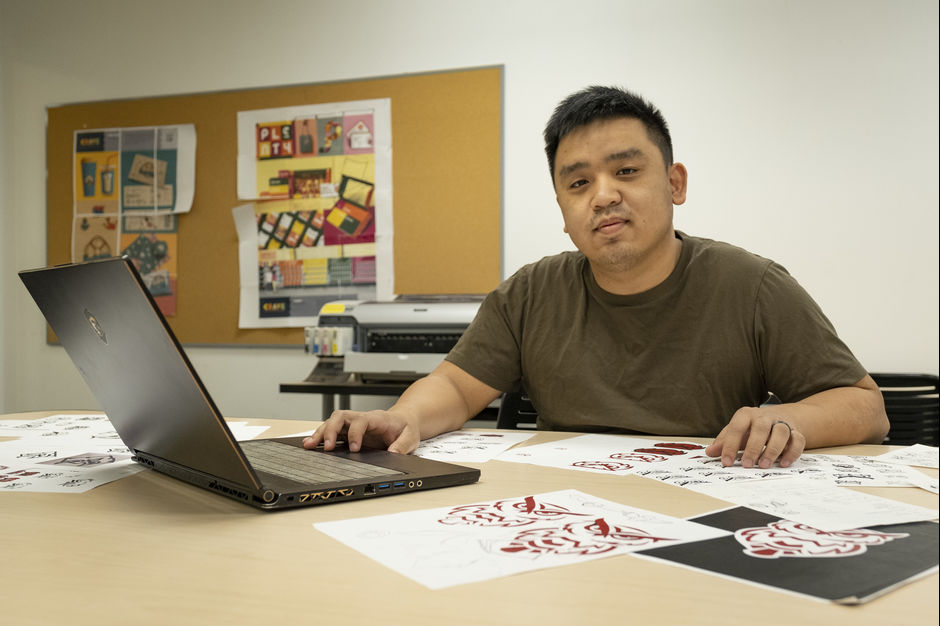 Graphic & Interactive Design
Phillip Le, '22
When was the first time you realized you were interested in your program?
"The first time I realized that I was interested in my program was when I was in high school, exploring all the options I could do in the future. For a long time, I enjoyed making and creating art but wasn't sure what careers I could explore with it while developing my tech hobby into computers and software. Then I realized that I could merge the two into the realm of graphic design, combining my two hobbies into a lifelong career."
What's a typical day like in your studio?
"As a graphic designer, the typical day of my life involves waking up and getting ready to do work in the Graphic Design lounge or my bedroom. I take some time setting up my space for success by getting all the necessary tools for my design processes, such as a notebook, laptop, mouse, and keyboard. Then, I figure out what tasks and projects I need to get done. Next, I will spend lots of time sketching and exploring my ideas and concepts for the project I'm making. When all of that is done, I take some time experimenting on the computer with those ideas I made earlier to see what works for the project that I'm creating. Finally, I will go into a deep dive, executing that idea into the vision I have in mind while asking my peers for any feedback that they have for certain design decisions I made in the project. I will do this until I need to go to bed. I will have a couple of solid ideas to move forward with for the future to do the same process until the design is finally finished."
What have you learned about yourself through your practice?
"I learned about myself through my practice is that I love all the thought and consideration I take into everything I make. I wanted to keep thinking of new ideas and concepts that I could keep perpetuating forward. The idea that I can keep designing to the point where I get to the point where the idea is solid is fantastic. When I look at my design, I can get a sense of joy knowing that I put my all into that design."
What was your initial opinion of Tyler, and how has that changed since being here?
"My initial opinion of Tyler is that it was an exciting and engaging space where creators can come together to explore and create their ideas in an area that they feel can feel safe and nurtured. And now my current opinion about Tyler is that it hasn't changed. I still believe this is a space where everyone can create things in an environment where they feel great. We have peers who will support each other through the thick and thin. It's been such a welcoming and nurturing environment that I enjoy being at Tyler. But, overall, I will probably miss just being here when I graduate because of all the opportunities and engagement with your peers. My only criticism is that I just wish I could see work of what everyone is doing all year in the hallways, but I know that it's hard to get all these pieces out in a reasonable amount of time while sharing space with everybody."
What advice would you give to an incoming freshman in your program or an undecided major?
"My advice to upcoming first-year students in my program or any program, in general, is to be willing to explore all your options here at Tyler while making lots of different friends in multiple programs. You never know where you might end up but being able to be supported by the faculty, staff, and peers. Your experience here will be so much better for that because you can not just get the opinion of people in your major but with everyone's different majors as well. The experience will be a lot more diverse because you can hear varying thoughts of other majors. The people here can be your lifelong friends if you're willing to just put yourself out there and talk to people."
Phillip Le, '22, (he/him) is pursuing a BFA in Graphic & Interactive Design with a certification in Entrepreneurial Studies.