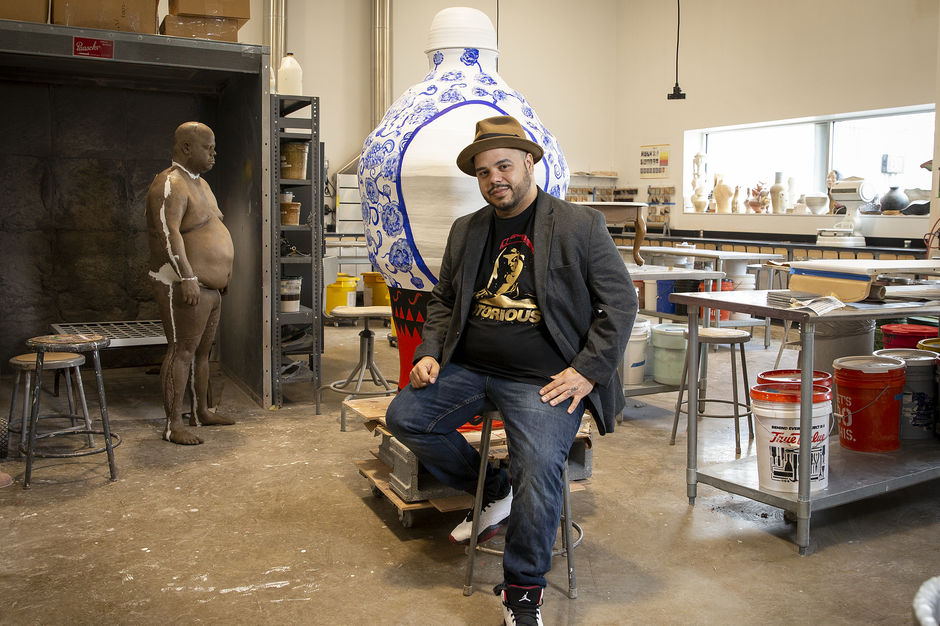 Assistant Professor
Ceramics
Roberto Lugo
Roberto Lugo is a potter, educator, poet, public speaker and community activist whose work and research explores issues of race, poverty, obesity and inequality. His ceramics vessels appropriate forms and ornament from royal porcelain manufacturers and recontextualize their visual iconography to pay homage to underrepresented people of color. 
As an educator and activist Lugo's research focuses on how to create more opportunities for people of color to engage in the visual arts, both as object makers and as culture makers.
Lugo has conducted over 57 lectures at venues including The Metropolitan Museum of Art and Yale University. His work is collected widely and can be found at the Philadelphia Museum of Art, High Museum of Art and the Los Angeles County Museum of Art. His solo exhibition at the Walters Museum of Art received international acclaim, earning a spot in Hyperallergic's "Top 20 exhibitions of 2018." 
MFA, Penn State University, 2014
BFA, Kansas City Art Institute, 2012
Awards and Residencies
Rome Prize (2019)
The American Academy in Rome
"Valor in Vandalism: a Revolutionary Triptych"
US Artist Award (2017)
United States Artists
Barr Fellow
Selected Work
Lugo, R. (2019). Curio. DesignMiami. Miami, FL, December 4–8, 2019.
Lugo, R. (2019). Ghetto Krater. National Museum of African American History and Culture,
     Washington, D.C.
Lugo, R. (2018). Roberto Lugo at 1 West. Walters Museum, Baltimore, MD, June 16, 2018–July 15, 2019.
Lugo, R. (2017). The Reincarnation of Frederick Douglass. Museum of Fine Arts Boston, Boston, MA.
Lugo, R. (2017) Century vase. Philadelphia Museum of Art, Philadelphia, PA.
Image credit: Temple University Photography / Joseph V. Labolito