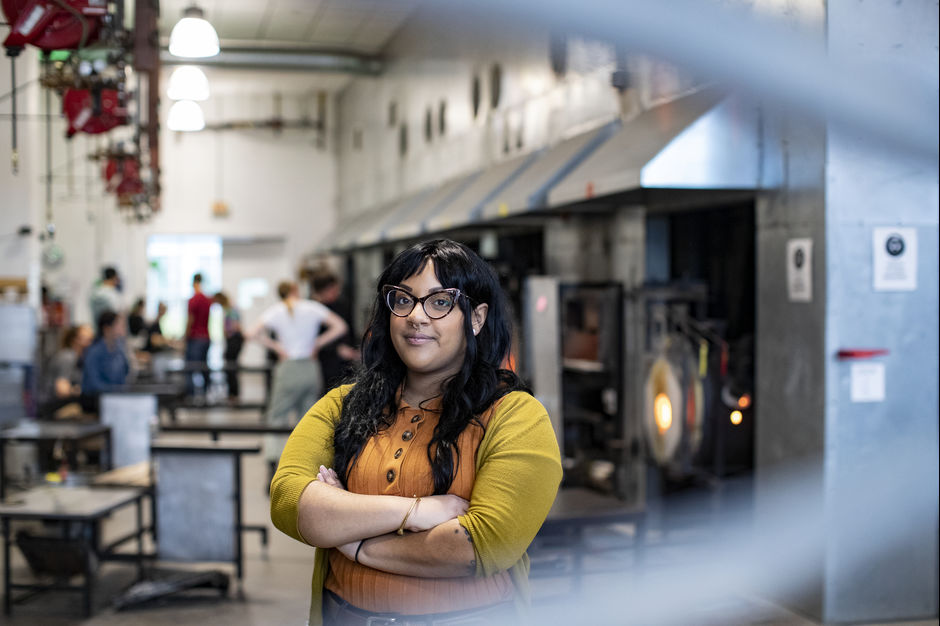 Glass, Printmaking, Art Education
Scout Cartagena
Name
Scout Cartagena
Hometown
Glen Burnie, Maryland
Tyler degree programs
BFA Glass, BFA Printmaking with Art Education Concentration.
Why Tyler?
Tyler has so many different majors and the culture has an eye toward community.  
And at Tyler and Temple, I feel like I get a real-world experience. Tyler has given me a family. It's like a home. You can hear jazz from the adjacent music school, everyone asks, "How're you doing?" and there's student art all over the building to inspire you. At Tyler, you feel like you're really creating something—I don't think I'd get that anywhere else.  
Concentrating in art education
At first, I viewed art education more as a back-up option to being an artist. But once I took a course in the Art Education Program and got to observe a classroom, I realized I had a passion for teaching. I also want to give back to the community where I grew up and help other black and brown students see that art is an option for them. 
Why do you want to be an art teacher?
I'm actually, like, really giddy at the thought of having my own K-12 classroom! I like the smell of clay in the hallways, the school lunches—I feel like I belong there. 
I want to be a teacher because I was given opportunities that allowed me to experience things I never would have otherwise and I want to give that to someone else.
I also want to represent other students. I didn't see people who look like me in school—I identify as Afro-Latinx or Caribbean-Latinx. I've begun to express these parts of me through art, so serving as a role model and influencing what students learn (for example, I didn't know the majority of black and brown artists growing up) are things I hope to do for others.
Conferences I attended
I'm part of the Teacher Action Group in Philadelphia and they have a yearly conference called "Education for Liberation." They host a free, donation-based event that offers classes and discussions on subjects like white teachers teaching in black communities or gender and sexuality. A lot of middle and high school students run them. Adults come and listen to them—everyone's on the same exact level. It's incredible.  
This year, Tyler Glass is taking us to the annual Glass Art Society [GAS] conference in Sweden. It's an opportunity to rub elbows with the best of the best and also get to see new strategies and demos. We can enter art and also work the event, too.
Favorite teachers
Jessica Jane Julius and Sharyn O'Mara in glass basically changed the way I think as an artist. They kept me going when I didn't feel like I was successful. In printmaking, Amze Emmons gave really wild prompts and pushed me to make new things. Once, I was freaking out in the days leading up to my installation and he told me, "Text or e-mail me, whatever you need." That kind of support and encouragement at Tyler is something I'd never had before.
Photo by Ryan S. Brandenberg, Temple University Photography