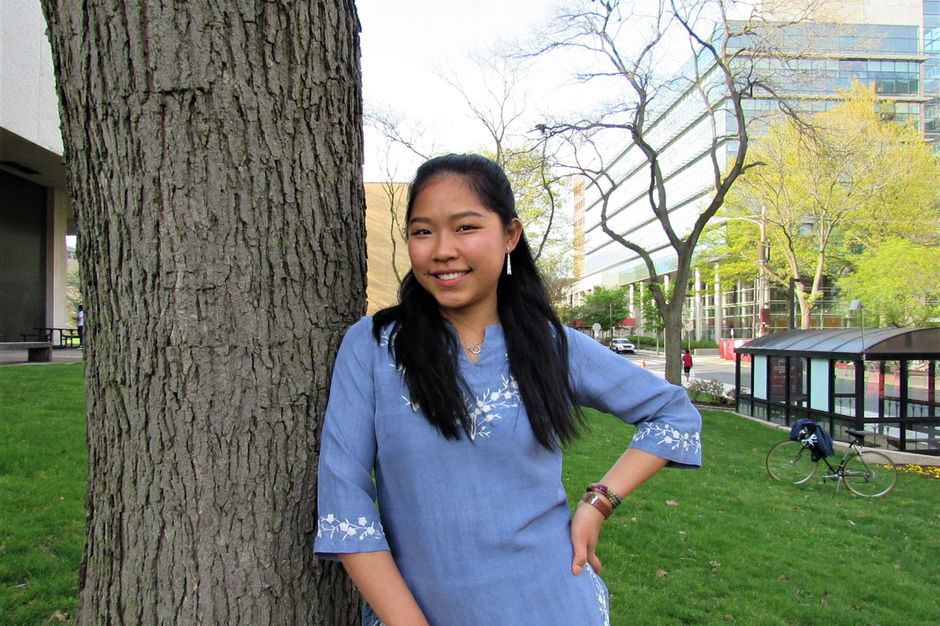 Horticulture
Thao (Emma) Le
Name
Thao (Emma) Le
Hometown
Hanoi, Vietnam
Tyler degree program
BS in Horticulture
Why Tyler/Temple? 

During my college application rounds, I applied to Temple's psychology program. I wanted to have roots in a city, and Temple provided that. They also offered me a very good scholarship.
Growing up in Hanoi, Vietnam, I always wanted more green space to play in as a child. Natural spaces are even more important as the world becomes more urbanized. Before starting at Temple, the Vietnamese government more seriously invested in agriculture and sustainable growing and farming. I thought "I like food, I like plants. I want to know where food comes from," so I switched to horticulture on the first day of school. 
How did you find acclimating to America and Temple?

I came to the United States during orientation, a week before school started. Temple has a very good outreach program. Current students made sure I felt comfortable before I ever arrived.
That said, the culture shock was definitely a challenge during my freshman year, between being away from family, a new cuisine, new styles of communication and, of course, to college life. But Temple offered many resources before I even had access to student organizations and events, which also helped make me feel more included and at home.
Temple and Tyler extracurricular activities

Temple is a great institution and has so much to offer. In a tough semester, I could also take jazz piano or a yoga class, for example, to find a physical and mental activity balance. It was also essential to find a support system and I found three—the rock-climbing crew, the international student group at Main Campus and the horticulture group at Ambler Campus [where Tyler's landscape architecture and horticulture programs are located]. 
Internship experience
I interned at the Rodale Institute in Kutztown, a pioneer in organic farming. It was my first direct exposure to agriculture and my first opportunity to apply what I've learned. I also interned at Sandbrook Farm, which helped me in my herbaceous plant identification class where I began to see the value of plants outside of consumption. My last internship was at the Arnold Arboretum of Harvard University, which added real-world depth to what we were doing. I think one reason why I was given these amazing opportunities is the credibility of being a Tyler/Temple student and the reputation that it carries.
Philadelphia's Horticulture scene 

The Philadelphia area is such a horticultural hub. That, plus the tight-knit, supportive community of Tyler's landscape architecture and horticulture programs is amazing. At the Ambler Campus, your resources as a horticulture major are all around you—if you need to study something under a microscope, you can just go outside and grab a sample. 
A really exciting moment for me was learning to identify trees at Ambler Campus and then identifying them at Main Campus in Philadelphia. This will be helpful when I go back to Vietnam—I can use these skills in any context or environment
What do you plan to do after graduating?
I will be moving back to Vietnam where I will be shifting my priorities towards reconnecting with my family, country and culture. Eventually, I hope to pursue a master's degree in sustainability and/or outdoor recreation. I want to explore how to use trees and planting and garden design to make people less stressed, and create specialized spaces for children, working adults and the elderly. I'd like to see how I can actively apply the knowledge I gained at Tyler to Vietnam.
Image: Thao (Emma) Le