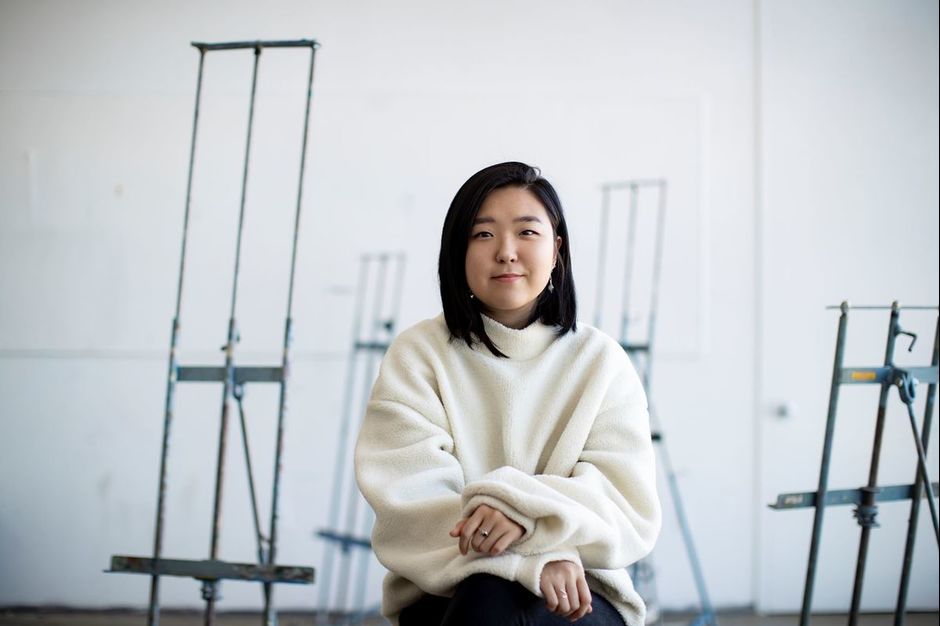 Painting
Ye Jin Jeon
Name
Ye Jin Jeon
Hometown
Singapore
Tyler degree program
BFA with Entrepreneurial Studies in Painting and an Art History minor
Why Tyler?
In my research as an international student, Tyler had a good painting program and scholarships that would make it affordable. Also, my parents wanted me to have opportunities to explore other areas of academic study too. I couldn't do that at a school that was only an art school, but I could here at Tyler because I have the resources of Temple University available to me as well as the facilities, studios and professors at Tyler.
Favorite class
Painting Materials and Techniques. It teaches you how to make and prep your own surfaces and make your own paint. It's super-practical, and we had the freedom to make whatever we wanted. I created some of my like favorite pieces in that class, and I loved Mark Shetabi, the professor.
Study abroad experience
I am the biggest proponent of Temple Rome! I've always wanted to go to Italy—I just wasn't sure when and how, and knowing that Temple had a Rome campus played no small part in choosing Tyler. It was just such a transformative experience. I took the Rome sketchbook class, which was fantastic because you get to go around to different locations to see art and architecture that you'd only seen in textbooks and slide shows before.
Why I like Philadelphia
Spending time in Singapore, I was used to urban settings, but Philadelphia is so much more dynamic. There are so many spaces for creatives to explore. We have the Philadelphia Museum of Art, which is amazing. I try to go once a month.
What I did this summer
I was in the Rittenhouse Square Fine Art Show. It's a juried fair. I learned how to hang, price and talk about my work. I met some really important customers. It's one of many fairs in Philadelphia. The art community here is growing so fast. It's a great place to be a young artist and get your foot in the door.
Favorite spot at Tyler
I'm a tour guide for Tyler Admissions. When I take tours to the Painting Studios on the top floor, walk into the first drawing studio and people see the floor-to-ceiling windows and the views—you just hear this 'ahhhh.' It's such an important space, because if you don't have good light, you won't have good work. It's so inviting. It feels inspirational. I feel like I want to get to work.
Photo by Ryan S. Brandenberg, Temple University Photography