The Tyler School of Art and Architecture's new dean, Susan E. Cahan, shares her vision for the school's future and her "promise to students."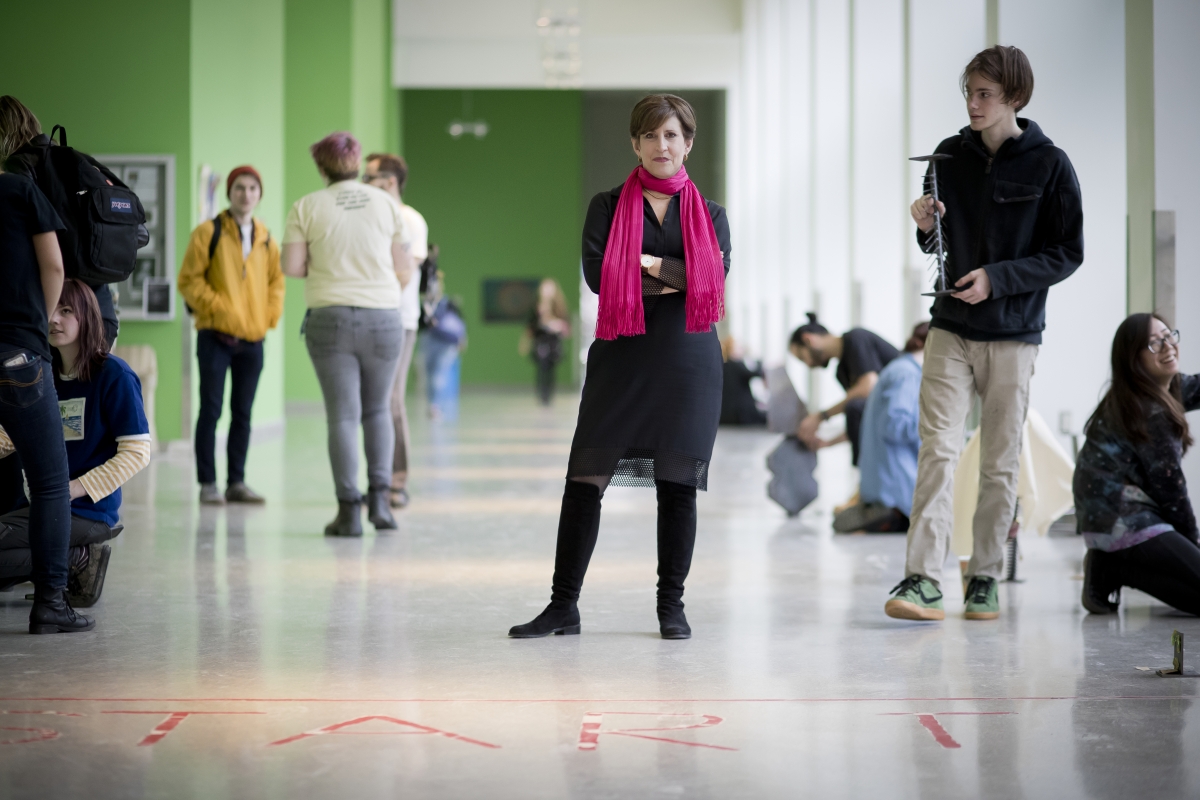 On July 1, 2017, a national search to find the next dean for the Tyler School of Art and Architecture officially came to an end when Susan E. Cahan moved into her office on the second floor of Tyler's 255,000-square-foot building at Temple University's Main Campus in Philadelphia. A respected art historian, curator and arts education administrator, Cahan came to Tyler after eight years at Yale University, where she was responsible for the Yale undergraduate arts experience across all disciplines. "Susan is a builder," said Temple Provost JoAnne A. Epps when Cahan's appointment was announced. "Wherever she goes, she creates the conditions institutions need for growth by building partnerships, trust and support." One year after her arrival, Cahan shared her thoughts about Tyler and the school's future.
You're new to Philadelphia. What's your favorite thing you've seen here since your move?
This city has so much to offer, but I'll never forget the "Symphony for a Broken Orchestra" concert at the Armory [a project created by Temple Contemporary, Tyler's exhibitions and public programming space]. The space, the lighting, the musicians—hundreds of them, including kids, teenagers and professional musicians—playing a new symphony composed by David Lang specifically for broken instruments belonging to the School District of Philadelphia. It was magical. Every one of those instruments represented a student's music education. And every one of those instruments will be repaired and returned to the schools. I feel privileged to be at a school that connects so profoundly and with such excitement to a broad cross-section of artists and communities, and cares so deeply about contributing to the common good.
First impressions matter. In your first months at Tyler, what stood out most about the school and its people? Did anything surprise you?
Well, I've admired Tyler for a long time, but after I arrived I really got a nuanced sense of the strong bonds that connect the school and the city. I knew Philadelphia's world-class museums and contemporary art spaces—and I knew that Tyler faculty and students use these places as extensions of the classroom—but I didn't realize how many different and important ways Tyler is embedded in the life of the city. Tyler graduates have started scores of vital art spaces, design firms and community arts projects. Our planning students worked on a comprehensive community analysis for Philadelphia's new Rail Park. Our art education students serve the city's schools. Our landscape architecture students designed a healing garden for a local hospital. And I love the work that Sasha Eisenman and his horticulture students are doing with storm-water management, creating rain gardens along I-95.
When you were hired, you said "Tyler's engagement with Philadelphia puts the school in a unique position of strength." What did you mean by that?
The power of education today is its ability to engage things that matter in the world. And here we are, in the heart of a big, bold city that's a crucible of so many of these global, national and regional issues. There is no gate surrounding us. The real world is right here, with all of the challenges and opportunities that it offers. Tyler students and faculty take advantage of that every day. They're hungry to make a difference. They do it through our artistic practices and they do it through their research.
What's Temple Contemporary's role in Tyler's engagement with the city?
Temple Contemporary is a commons where Tyler meets the city of Philadelphia. It's realized through initiatives such as "Symphony For a Broken Orchestra" and "reForm," a project by Pepón Osorio that poignantly conveyed the human cost of school closings in Philadelphia. And I'm excited about our current Pew-funded project, a collaboration between Tyler alumnus Trenton Doyle Hancock, the Philadelphia Doll Museum and a group of young curators—our Young Curators Council—who went to school in Philadelphia. What makes Temple Contemporary sing is its dynamic director, Robert Blackson, and his ground-up model of programming. Instead of sitting in his office and deciding what subjects Temple Contemporary should tackle, Rob asks the community via his Advisory Council, a group made up of a broad cross-section of people in the school and the city.
You recently hosted artist Fred Wilson for a few days for a series of special conversations with Tyler faculty and students. What was that like?
It was a blast. Totally reenergizing. We brought him in as part of our ongoing collaborative discussions about Tyler's future. Fred is a change agent. We have a lot to learn from artists and thinkers like him as we discuss what we need to do to keep our programs fresh and relevant and engage with important cultural debates. Touring Tyler with Fred and seeing the school through his eyes was helpful too.
How so?
He was blown away by the size and quality of our facilities, something that we may sometimes take for granted. Fred has been to art schools around the country, but he said he's rarely seen a school that offers students such a wide range of well-equipped studios: several printmaking studios; massive hot and cold shops for glass; painting studios with large, north-facing windows; a 50,000-square-foot facility for architecture—and of course all our technology, from the digital Jacquard loom in Fibers to our Ceramics and Metals equipment. His visit also reminded us that Tyler's size and our breadth can present challenges.
Size can be a challenge?
In some ways, yes. The size of our facilities and the breadth of our academic programs are part of what makes Tyler a great school. But because our facilities are so expansive, we need to be vigilant about pushing ourselves to interact with each other as artists, as scholars and as friends. The good news is that the Tyler community is made up of extraordinary people who care deeply about their work, their students and each other. We're going to be seeing more and more cross-disciplinary collaborations that capitalize on our broad and unique range of programs.
How are Tyler faculty members collaborating now? What do students get out of that cross-pollination?
There are so many exciting examples. Two of our professors, Byron Wolfe in Photography and Seher Erdogan Ford, a new faculty member in Architecture, are collaborating on a course that focuses on modes of visualizing space. Seher's research involves the digital representation of cultural heritage sites in Istanbul—I love the way she uses virtual reality technology. Our Fiber Arts professor, Jesse Harrod, and her students are working with our Landscape Architecture & Horticulture program to create a dye garden in our courtyard. This type of cross-pollination of ideas and techniques is preparing our students to be innovative thinkers. Our students learn that it's deeply satisfying to apply what they know in new situations and to approach what they do with curiosity and confidence and a sense of enjoyment.
You and Seher aren't the only newcomers at Tyler. Are there others?
Yes. Temple is in the midst of a faculty recruitment surge. This year, Tyler has brought in some amazing artists and scholars who love teaching, a pre-requisite for really impacting students. Roberto Lugo, a world-class potter, social activist and poet, has joined our Ceramics faculty. Mariola Alvarez, an art historian who specializes in 20th and 21st-century Latin American art, specifically post-war abstraction in Brazil, just arrived. And I'm thrilled to say that we'll be bringing in more top faculty soon. I can't name their names yet, but these are people who'll continue to grow our reputation, our diversity and our embrace of the city.
When you think about the future, where do you see Architecture and Environmental Design at Tyler?
I see Architecture and Environmental Design as an essential part of the Tyler's future momentum. The quality of teaching and the spirit of innovation that emerges from our built-environment programs—both on Temple's Main Campus and our Ambler Campus, where we have an arboretum and plentiful greenhouse space—is extraordinary. My top priority for Architecture and Environmental Design is to help them forge their own identity while simultaneously finding ways to build connections to Tyler's other programs and unleash the collaborative energy that comes naturally to our built-environment faculty and students.
Tyler has a reputation for giving students a really strong foundation in technique and advanced skills. How important is that?
I think that's essential. Helping students achieve that deep grounding is one of Tyler's greatest historical strengths. But creativity and innovation are stimulated by exposure to new things, and that's why this cross-pollination that I'm talking about is so important. In our undergraduate program you start with a broad exposure to a range of processes, then you do a deep into a particular area. Once you have a sense of mastery, you're free to transcend that.
You've talked a lot about change. Tyler has been one of the nation's top art schools for more than 80 years. How does one change while still respecting the past?
Tyler's greatest strength is its people. For decades, Tyler alumni have been applying what they learned here to make positive change in the world. As we evolve as a school, we will honor their accomplishments. What a legacy: Paula Scher of Pentagram, who is one of the most influential designers of her time; architect David Riz of Kieran Timberlake, a firm I've admired for years, especially for the work I saw them do when I was at Yale; Hock E Aye Vi Edgar Heap of Birds, an artist who has reset mainstream notions of Native-American history. And the women of Tyler are legendary: Barbara Chase-Riboud, Hannah Wilke, Ree Morton, Laurie Simmons, Louise Fishman, Polly Apfelbaum, Lisa Yuskavage, Lisa Sigal—I could go on and on. Their success models the future for our current and future students.
You rewrote Tyler's mission statement soon after you came to Tyler, making teaching a point of emphasis. Why did you do that?
Universities exist, first and foremost, to educate. When students have an opportunity to learn with and from great creators and great thinkers—people who redefine their fields—they learn what it means to be truly original, to devise new solutions, to pose new questions, to reframe the way we see the world. At some universities, great thinkers are insulated from teaching. That will never be the case at Tyler. That's my promise to students. You will learn how to challenge yourself and accomplish things that are beyond your expectations.
Posted by Hillel J. Hoffmann
Photo by Ryan S. Brandenberg, Temple University Photography