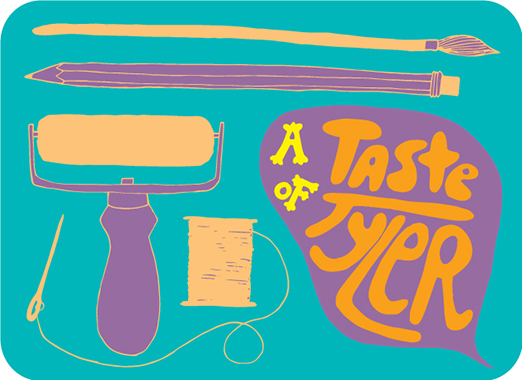 ​March 31, 2017
 
Professional Development Workshops: K – 12 Educators
ACT 48 credit - Door Prizes - Snacks
PROGRAM OVERVIEW
Join us for an afternoon of taste-testing through hands-on art making and learning workshops with Tyler's Art and Art Education and Community Arts Practices faculty and staff. This professional development event is co-sponsored by Art Education and Community Art Practices, Tyler Admissions and Tyler Continuing Education. We look forward to feasting with you!
Schedule:
12:45 – 1:15 p.m.        Registration
1:15 – 3:30 p.m.          Workshops
Cost to attend: 
Early Bird Rate: Before Feb 16, 2017 - $15.00
Regular Rate: Feb 16th or later - $20.00
For questions regarding registration contact Tyler Continuing Education: 215-777-9010
For general workshop questions email Tamryn McDermott: tamrynmcdermott@temple.edu
ACT 48 CREDIT
Provided by the School District of Philadelphia for district art teachers and the Pennsylvania Art Education Association- paeablog.org for non-School District of Philadelphia art teachers. 
---
What's on the Menu?  
Choose one workshop to attend from our art education workshop buffet! Workshop descriptions are listed below. You will be asked for your 1st, 2nd and 3rd choices when registering. (All workshops are 2.25 hours)

1. Choice Based Learning in the Art Room: Carol Royer     *WORKSHOP NO LONGER AVAILABLE*
Choice based art education allows students the opportunity to explore their own ideas, make real decisions, and solve problems through the art making process.  In this multi-media workshop, teachers will experience a model of choice based learning, then consider and discuss how to adapt this learning methodology for the classroom. Limit 15
Carol Royer is a practicing artist and educator with 20 years of experience in arts education, art history and arts administration in the Philadelphia region. She earned her BFA in Painting and Art History from Moore College of Art and Design and holds a MSEd in Visual Arts Administration from Bank Street College of Education and Parsons School of Design. She has taught, managed and supervised arts education programs at the Philadelphia Museum of Art, the Pennsylvania Academy of the Fine Arts, Moore College of Art and Design, and the Barnes Foundation. She currently teaches Art Education courses at Tyler School of Art and works as an independent teaching artist.
---
2. Building Basic Books: Gerard Brown     *WORKSHOP FULL*
The book is a familiar form for art students, but a few basic forms afford interesting opportunities for exploration. This workshop will introduce a three basic book forms that will challenge students to think differently about composition and design. Limit 12
Gerard Brown is an Associate Professor and Department Chairperson for Foundations at Temple University's Tyler School of Art. His creative work and research address the intersection between seeing and reading, and he and his students explore various book formats in many of the courses he teaches.
---
3. The Art of Play: Renee Jackson
During this workshop participants will explore the role games, toys, and video games can play in the art classroom; be exposed to examples of projects created by students at both the elementary and secondary levels; and engage in some related hands-on activities. Limit 20
Renee Jackson is an Assistant Professor at Tyler.  Her research area is games and education, with a particular focus on social justice video games and collaborative video game design.  Ghost Hotel is a video game prototype about leadership made by an all female team of grade sevens, undergraduate students, and the former CEO of a small video game design company.
---
4. Conversational Art: Pepon Osorio
 In this community arts practices workshop, participants will use theater exercises and/or interview techniques to tell stories and translate them into visual objects. Limit 15
Pepón Osorio
Best known for his large-scale baroque and polemically charged installations, Pepón Osorio merges conceptual art and community dynamics. Osorio's work emphasizes the exhibition space as an intermediary between the social architecture of communities and the mainstream art world.  He has worked with well over 25 communities across the U.S. and internationally, creating installations based on real life experiences.  For almost two decades Pepón Osorio has been presenting work in unconventional places prior to exhibiting in a museum setting, thus exploring the subjectivity of meaning in art and the multiple meanings that these installations achieve depending on their location.
---
​5. An Old Dog...New Tricks: Teaching 5th Century Printmaking Processes with 21st Century Tools: Zach Lindenberger
This participatory workshop will utilize high tech tools to enhance print projects in the classroom.  Participants will be introduced to a few of the tools in Tyler's Digital Fabrication Studio and examine how they can be used to safely generate printable matrices. The workshop will also provide participants with a comprehensive list of local maker spaces and the services they provide. Limit 15-20
Zach Lindenberger earned his MFA in printmaking from the Tyler School of Art in 2003.  Since then, his love of prints and the processes that produce them have kept him on a close periphery of the field; sometimes teaching students how to make them, sometimes selling them, and always making them.  In 2011 he and his wife, Jennifer McTague, founded Second State Press (SSP) in Philadelphia.  SSP aims to foster the development of ideas and innovation in printmaking by providing artists with a professional, affordable, and supportive workspace.
---
6. Bead Collage: Lisa Kay
In this bead collage workshop participants will construct stories and personal narratives through the manipulation of small objects of material culture i.e. beads and found objects. Examples will be shown. Adaptations and applications for the classroom will be offered. Limit 15
Lisa Kay is an Associate Professor and Art Education Area Head at Tyler. A board-certified art therapist, Lisa's research and publications concern the intersections of and collaborations between art education and art therapy; resilience and art making adolescents who have experienced trauma and adversity; and the use of creative arts and visual imagery as qualitative research methods. She enjoys gardening, yoga, searching for found objects at flea markets, long road trips on blue highways and creating art in her studio and the kitchen.