The Digital Fabrication Studio provides fabrication services such as vinyl cutting, 3D printing, and more. All Tyler students are able to and should take advantages of DFS services located in room B20.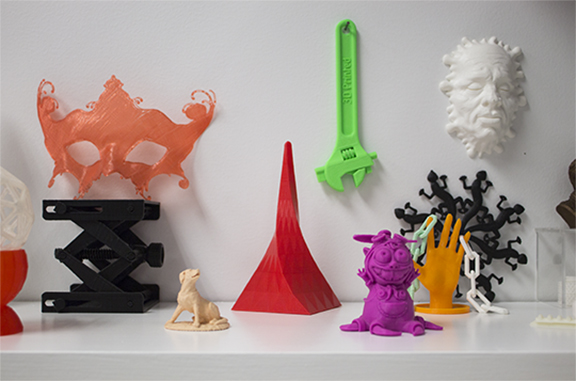 ---
WHATS NEW:
Heat transfer vinyl and equipment for fabric design
Non-burning paper cutting with the new "Silver Bullit"
We can now embroider on "baseball style caps"
Custom rubber ink stamps
Design your own 2.25'' buttons
See consultant for details!
---
Services available at the DFS
---
3D Printing
The Digital Fabrication Studio offers 3D printing to all Tyler students. We have several printers to suit students' different design needs and budgets. Please note that the 3D printers may take several hours per job, to better ensure your job is completed by a certain date please submit files well in advance.
The Makerbot Replicators
Print Material: PLA plastic
Maximum Build Size: 10 inches wide x 6 inches deep x 6 inches tall
Cost: $0.20 per gram
Stratasys Dimension Elite
Print Material: ABS plastic
Maximum Build Size: 8 inches wide x 8 inches deep x 12 inches tall
Cost: $9.00 per cubic inch
Form 2
Super fine detail, layers as small as 50 microns (.05 mm)
Print Material: Castable Photopolymer resin
Maximum Build Size: 4.9 inches x 4.9 inches x 6.5 inches
Cost: $0.50 per mL (for gray & clear)
Cost: $1.00 per mL (for castable)
FIle Specifications
All files to be printed must be in .STL or .OBJ format. Other file formats will not be accepted.
---
3D Scanning
Maximum Object Size: 7 inches wide x 7 inches deep x 12 inches tall
Cost: Free
Service only includes initial 360 degree scan
Sense hand-held 3D scanner available 
Please note that the initial scan may leave holes in the model, so either multiple scans, use of the provided software's tools, and/or further modeling in an outside program may be necessary to produce a watertight printable object.
---
Vinyl Cutting
The Digital Fabrication Studio provides affordable vinyl cutting in several different colors. Vinyl cutting is fast, and transfer paper is provided. Vinyl may be cut up to 22 inches wide and any length.
Pricing
File Requirements
Files must be for Adobe Illustrator (.ai)
Text must have outlines
Overlapping layers should be merged by using the "unite" funcion in Illustrator's pathfinder window
Hidden layers should be deleted in order to prevent accidental cutting
---
Embroidery
The DFS operates an embroidery machine capable of embroidering custom designs onto fabrics. Designs should be limited to a maximum of seven colors.
Pricing
$2 for machine set up, plus $2 for every 5,000 stitches
File Requirements
Maximum size: 12 inches x 7 inches
File format: .SVG (save as from Illustrator)
Remove gradients, unnecessary layers, and clipping masks from your design
You are responsible for providing fabrics
Embroidery thread and stabilizer will be provided
Please bring a color print out of your design to be used for thread color assignment
We can now embroider "baseball style caps"
---
Laser Cutting
The Digital Fabrication Studio has a laser cutter which can perform precise cutting and etching on many different materials. This service is billed by time and is extremely affordable for most materials and patterns, however cost will increase based on the complexity of design and the materials being used.
Pricing
File Requirements
Patterns for laser cutting must be in Adobe Illustrator format (.ai)
Files must be in RGB color mode
Line thickness must be set to .001" for cutting, Etching may be any thickness.
Pure Red (R-255, G-0, B-0) will result in a cut
Pure Blue (R-0, G-0, B-255) will result in an etch
Grayscale images can be etched (see DFS consultant for more details)
Material Requirements
You are responsible for providing the materials
The material can not contain any glues or resins (masonite, plywood, etc)
We will not cut any acrylic which can not be identified. It must have the original manufacturer's identification or "Laser Friendly" label from the supplier
Materials must lay flat for best accuracy
Commonly Used Materials
Paper
Most Fabrics
All solid woods can be etched, however the ability to cut through natural wood depends on it's thickness and density
Laser friendly Acrylic
Leather
We are open to irregular materials however we reserve the right to reject materials if they would be harmful to the laser cutter
---
Guidelines
 
Vinyl Cutting
Click here to download the Vinyl Cutting guideline PDF
Embroidery
Click here to download the Embroidery guideline PDF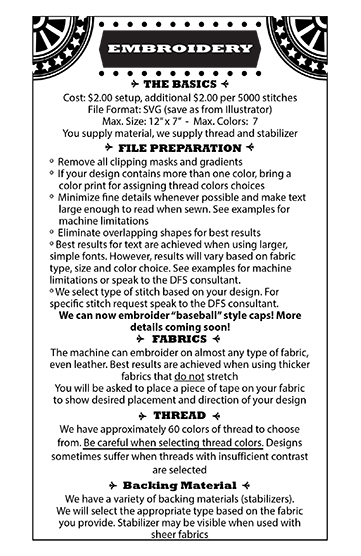 3D Printing
Click here to download the 3D printing guideline PDF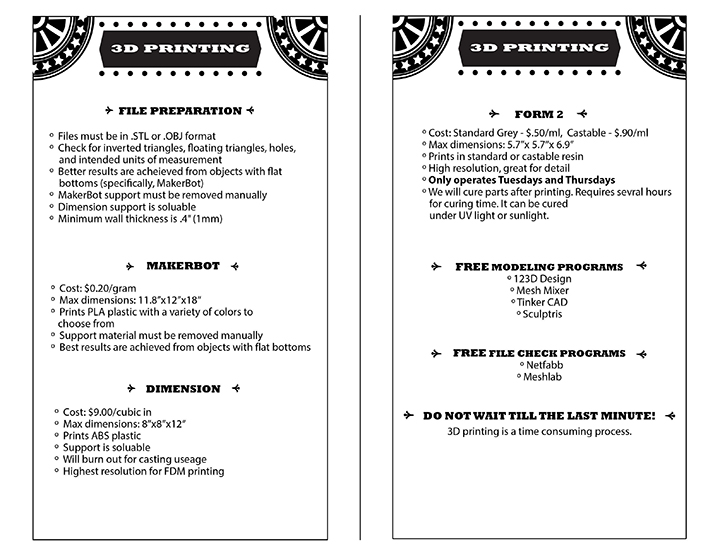 Laser Cutting
Click here to download the Laser Cutting guideline PDF
---
Templates
 
Rubber Stamps
Click here to download the Rubber Stamp template for Adobe Illustrator
 
Button
Click here to download the Button template for Adobe Illustrator
 
Baseball Cap
Click here to download the Baseball Cap template for Adobe Illustrator