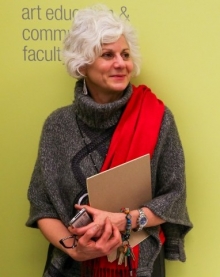 Lisa Kay, Ed.D.
Dr. Lisa Kay, Associate Professor, Department of Art Education and Community Arts Practices, Tyler School of Art, Temple University, earned an Ed.D. from Northern Illinois University, an M.A. in Art Therapy, and a B.F.A. in Graphic Design from the University of Memphis. In addition to teaching undergraduate and graduate art education and art therapy courses at Tyler, Lisa has taught art therapy at the School of the Art Institute of Chicago and Moholy Nagy University of Art and Design in Budapest, Hungary.
A board-certified art therapist, Lisa's research and publications concern the intersections and collaborations of art education and art therapy focusing on students with special needs; resilience and art making adolescents who have experienced trauma and adversity; and the use of creative arts and visual imagery as qualitative research methods.
Dr. Kay is a Fulbright Scholar, the recipient of the National Art Education Association (NAEA) 2014 Women's Caucus Mary Rouse Award, and the 2016 NAEA, Council on Exceptional Children (CEC), Kennedy Center Very Special Arts (VSA), Peter Geisser Special Needs Educator of the Year for her significant contributions to the art education profession.
Her research and artwork has been published in the Wiley Blackwell Handbook of Art Therapy, Oxford Handbook of Qualitative Research, International Journal of Education through Art, International Journal of Education and the Arts, Visual Inquiry: Learning and Teaching Art; Art Education, Liminalities: A Performance Studies Journal and Music Therapy Perspectives.
Dr. Kay has exhibited her artwork in the United States and Europe. Her interest in narrative storytelling that encourages personal reflection, self knowledge, and healing in the context of making art is evidenced in her scholarly publications, in her dedication to art education and art therapy, her selection of focus for her Fulbright and in her own art.
Lisa Kay is the Chair of Art Education and Community Art Practices and Art Education Program Head at Tyler. She serves on the Board of the Arts and Quality of Living Research Center and the Interdisciplinary Faculty Council on Disabilities at Temple University. She is a reviewer for the Art/Research International Journal.  
She enjoys gardening, flea markets, long road trips on blue highways and creating in her studio and the kitchen.