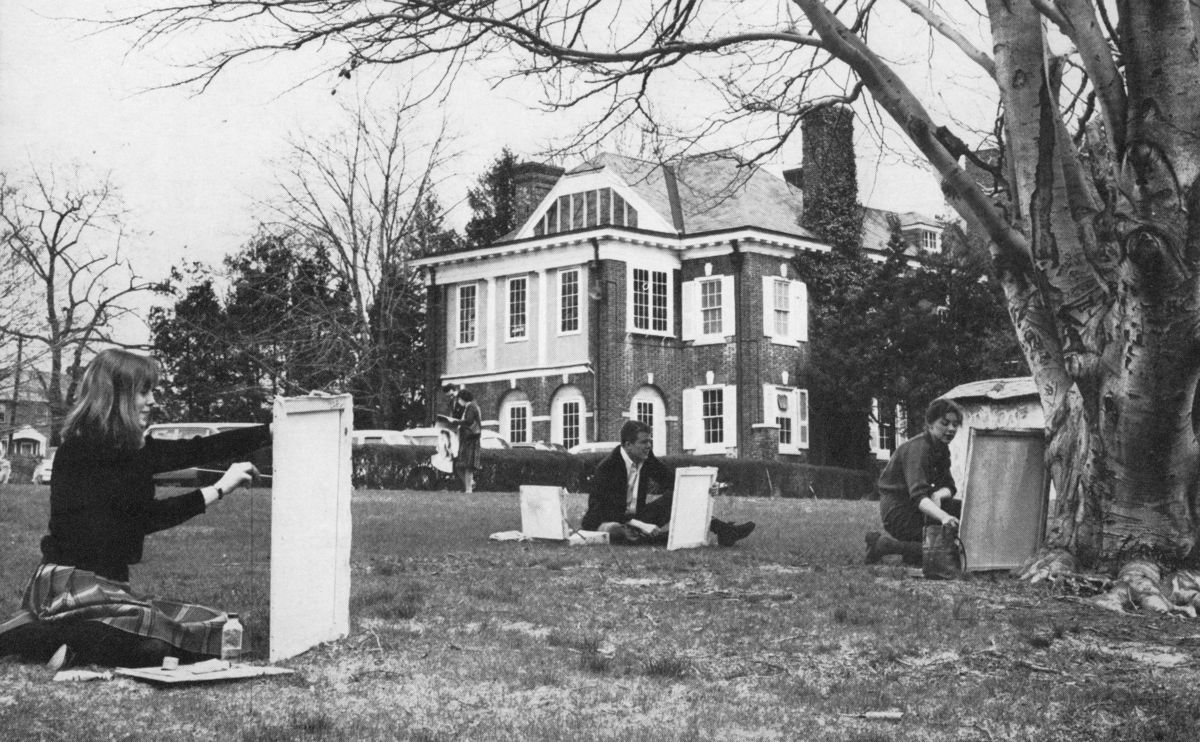 The birth of a great school
The story of the Tyler School of Art and Architecture begins with a deep commitment to teaching, setting a tone that continues to this day. 
In the 1930s, Stella Elkins Tyler offered her estate in Elkins Park, Pennsylvania, to Temple University, with the express wish that, through her mentor, the sculptor Boris Blai, it would become an environment for study in the arts.
Blai, the school's first dean, instilled into the school a commitment to progressive education emphasizing students' mastery of technique within the framework of a liberal arts curriculum. Individual attention to each student's needs, he insisted, was the basis of successful teaching. Blai was committed to art as a socially-engaged practice. "It is the principle of the school that students…are individuals who must contribute to the life and development of society at large," he wrote. During his 25-year tenure he shaped Tyler into one of the nation's finest visual arts centers.
A growing curriculum
Blai's successor, Charles Le Clair, added a residence hall, two studio/classroom buildings and founded a study abroad program in Rome, Italy. Today, Temple University Rome remains among the most respected fine arts study abroad programs in Europe, now fully integrated into Temple University with expanded course offerings in a range of liberal arts and science disciplines.
Over the decades, Tyler advanced its programs in response to new definitions of art-making and the role of art in society. Programs have been developed in Art History, Community Arts Practices, Visual Studies and Art Therapy. Today, the curriculum at Tyler continues to evolve by incorporating digital technology, video, installation and performance.
Welcoming architecture and environmental design
The pace of change began to accelerate dramatically in the late 1990s, when Tyler welcomed Temple's Architecture programs, which had been founded in 1969 to expand architectural education in the city of Philadelphia. In 2016, four more Temple programs joined Tyler: City & Regional Planning, Community Development, Horticulture and Landscape Architecture (the latter two programs trace their origins to the historic Pennsylvania School of Horticulture for Women). Currently, and for the first time in Temple's history, all of the built-environment design disciplines at the university are unified in one academic unit.
A new home in the city
In 2009, Tyler moved from suburban Elkins Park into a new, 255,000-square-foot, state-of-the-art building at Temple's Main Campus in Philadelphia. Only three years later, Tyler Architecture moved into a new 50,000-square-foot facility connected to the new Tyler building.
Expanding our name and our vision
In 2017, Susan E. Cahan came to Tyler from Yale University to become the school's first permanent dean since Tyler moved into its new building in 2009. She launched a school-wide discussion that culminated in initiatives to increase cross-disciplinary collaboration and fully integrate architecture and environmental design at Tyler. In 2019, more than 20 years after Architecture became a part of Tyler, the school expanded its name to the Tyler School of Art and Architecture—a move that embraces the school's true breadth.