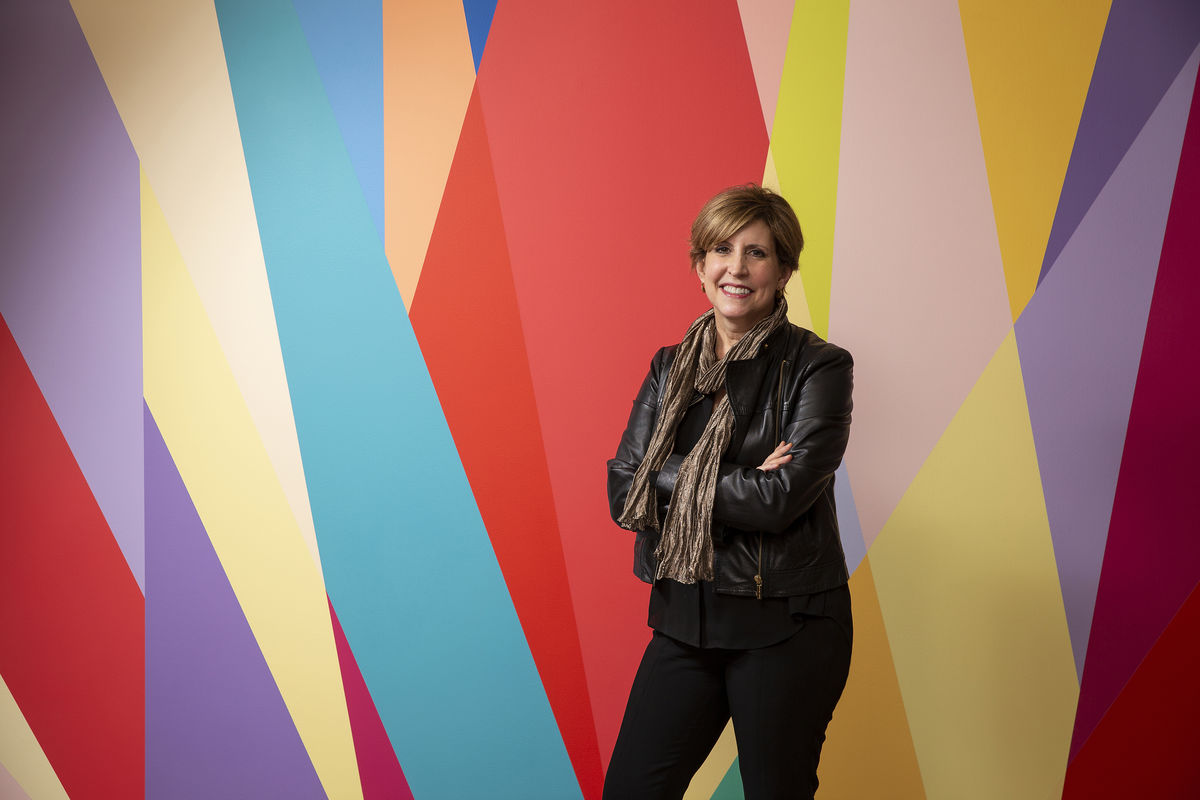 Dean Susan E. Cahan
Susan E. Cahan is the dean of the Tyler School of Art and Architecture at Temple University, a national leader among schools of art, design and the built environment.
Since her arrival in July 2017, Cahan has enriched the Tyler experience for students, hiring a diverse and accomplished group of nearly 20 new faculty members, leading an effort to make the graduate curriculum more interdisciplinary and enhancing Tyler's state-of-the-art facilities to increase opportunities for community-driven collaboration.
"The Tyler experience begins with great teachers," Cahan says. "Every student is mentored by dedicated professors who create an intimate learning environment and a strong sense of community, which is so important within a large university. And in their own flourishing research and creative work, our professors model what success looks like."
Cahan led a school-wide initiative to foster cross-disciplinary scholarship and creative practice so that students may capitalize on the breadth of Tyler's offerings in art, architecture, cultural history and design.
"My promise to students: You will learn how to challenge yourself and accomplish things that are beyond your expectations."
Prior to her appointment as dean of the Tyler School of Art and Architecture at Temple University in 2017, Cahan served as associate dean and dean for the arts at Yale College, Yale University's liberal arts college, where she was responsible for the Yale undergraduate arts experience across all arts disciplines.
A respected art historian and curator, Cahan focuses her research on the relationship between artistic and social change. Her book, Mounting Frustration: the Art Museum in the Age of Black Power (2016, Duke University Press), examines the impact of the civil rights movement on art museums in New York City.
Before coming to Yale in 2009, Cahan held academic posts at the University of Missouri–St. Louis, where she was the Des Lee Endowed Professor in Contemporary Art; at the Center for Curatorial Studies at Bard College; and at the University of California at Los Angeles. She also has served as senior curator of the art collection of Eileen and Peter Norton and director of arts programs for the Peter Norton Family Foundation, and has held leadership positions at the New Museum of Contemporary Art and the Museum of Modern Art.
Cahan earned a BA in Art History and English from Tufts University in 1982 and a PhD in Art History from the Graduate Center of the City University of New York in 2003.
Tyler's 2022-2023 Board of Visitors
The Tyler School of Art and Architecture's Board of Visitors—a diverse body of leaders in the worlds of art, design, architecture, education, research and business—was convened by Dean Susan E. Cahan to work in collaboration with her to advance the mission and vision of Tyler and Temple University. The board's advice and support ensure that Tyler has the capacity and resources to achieve the school's goals.
Members of Tyler's Board of Visitors:
Mario Zacharjasz, Chair, Principal, PZS Architects, BArch '85
Therese Dolan, Professor Emerita, Temple University
Austin Lee, Artist, MFA '20
Lauren M. McCardel, Executive Director, Philip and Muriel Berman Museum of Art, Ursinus College, PhD Candidate
Kim Mitchell, Partner, Brunswick Arts, BFA '79
Jennifer Packer, Artist, BFA '07
David Mark Riz, Principal, Ballinger, BArch '85
Val Rossman, Artist, BFA '74
Preeti Bhatt Scalone, Architect, BSArch '87
Stephen K. Scher, Art Historian
Laurie Wagman, Founder and President, American Theater Arts for Youth, Inc.
Sandra Harmon-Weiss, retired family physician, geriatrician and insurance executive , CLA '71, MED '74
Mario Zacharjasz, Principal, PZS Architects, BArch '85