Open Call: Message Received
Please note entries are now closed.
Call for entry: MESSAGE RECEIVED
Application Deadline: April 10, 2023  
Opening: May 11, 2023  
Temple Contemporary invites all Temple students and staff working across artistic disciplines/mediums to submit works for consideration to be included in MESSAGE RECEIVED, an exhibition that explores how the written word informs artistic practice. Culminating in a group show, this exhibition aims to reflect how the written and visual are intertwined in the transmission of ideas.
Artwork submitted should be responding to the broad range of literature, be it poetry, manifesto, graphic novels, etc. in a way that informs their studio practice.
 
Selected works will be exhibited at Temple Contemporary in May – June 2023  
Selected artists will be notified by April 21. Installation/De-installation dates can be chosen at that time.*
 
Submit application here.
Images: up to 2 images of your work (jpeg or pdf)
A link to video: up to 2 videos.  
250 words or less as a PDF.
Titles, medium, dimensions, year
A brief description of how your piece deals with the written word.
Dates:  
Application Deadline: Tuesday, April 10
Notification Date: April 21
Artwork Drop-off: May 8 – 10
Installation: May 8 – 10 
Exhibition: May 11 – June 17
Artwork Pick-up: June 18 – 20 
Installation/De-installation: All artists responsible for shipping, installation, and de-installation of their work.
*Selected artists will be notified by April 21. Installation/De-installation dates can be chosen at that time.
Curator:
this exhibition is curated by
William Toney
, current Graduate Assistant at Temple Contemporary. Toney is a first year MFA Candidate in Tyler Photography and has a background in arts installation. He has exhibited his art nationally and has a curatorial practice that centers community engagement within professional gallery exhibitions.  
Photo credit: Jim Barcus 
---
Temple Contemporary Awarded Pew Center Grant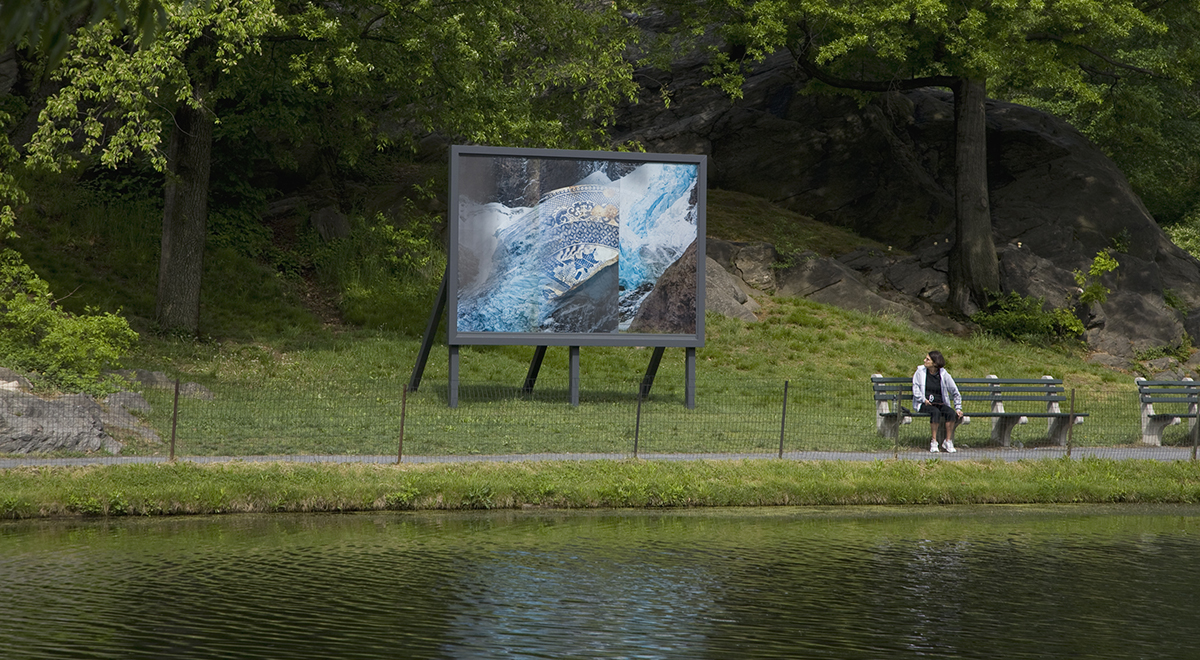 Karyn Olivier, Here and Now/ Glacier, Shard, Rock, (2015) Lenticular photo in billboard structure. Image courtesy of the artist.
September 19, 2022 — Temple Contemporary, the Tyler School of Art and Architecture's center for exhibitions and public programs, is proud to announce that it has been awarded a $300,000 project grant from The Pew Center for Arts & Heritage for a multi-site exhibition that explores the nature of the archive as a living praxis within a Black cultural context. 
The exhibition, titled Black Like That: Our Lives As Living Praxis, will open in August 2024 and be anchored at Temple Contemporary with off-site presentations in three Philadelphia neighborhoods central to Black history and Black life in the city: North Philadelphia, West Philadelphia and Germantown. The exhibition will be accompanied by a public program series that articulates the nature of contemporary Black life across multiple sites in Philadelphia and a digital platform that will serve as an interactive map and living archive.  
"Our project aims to capture the nature in which Black culture is lived as an active expression of archival practice," said Temple Contemporary's new director Jova Lynne. "That is to say, Black history and contemporary Black life are entangled–history is living. Philadelphia is the nation's first capital. The legacies of Black experience and movement here are rich and can be interpreted through many perspectives."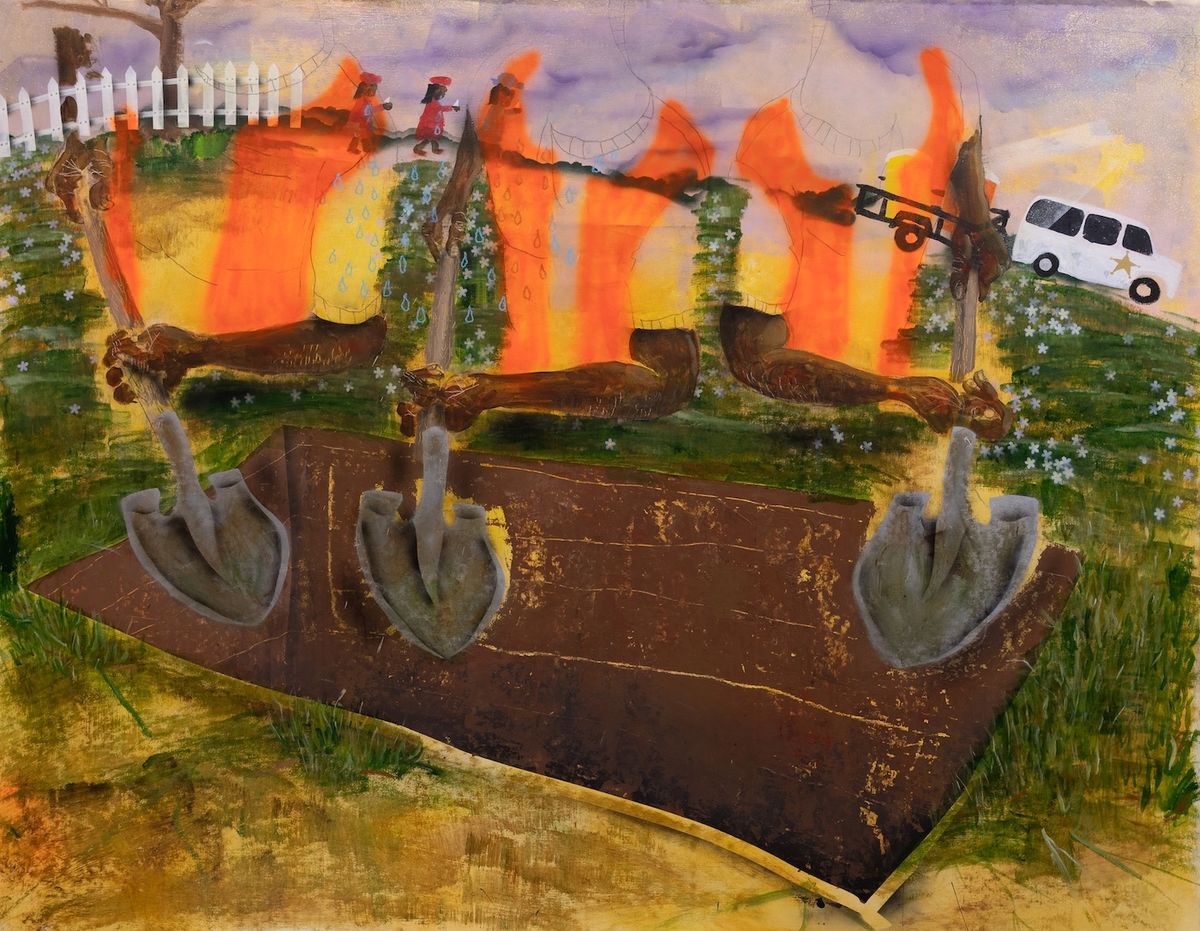 Pat Phillips, DIGGERS / The Procession, (2018) Acrylic, pencil, oil pastel, airbrush, aerosol paint on canvas. Image courtesy of the artist.
Announced this week as part of the Center's 2022 grants, the funding will also support a program based at Temple Contemporary for three Philadelphia-based artists to research and develop the exhibition and public engagement: Tiona Nekkia McClodden, an interdisciplinary conceptual artist, filmmaker and Bucksbaum Award winner at the 2019 Whitney Biennial; Pat Phillips, a painter recognized as a "stand-out" at the 2019 Whitney Biennial, and Tyler Professor Karyn Olivier, an award-winning and widely-exhibited sculptor known for commissions that reinterpret monuments and public art. 
The trio will collaborate with Temple University's the Charles L. Blockson Afro-American Collection, one of the largest and most prestigious archives of Black life in the United States. They will individually investigate the archives of neighborhoods that resonate with their respective practices and connect with the neighborhoods through walking tours and community conversations.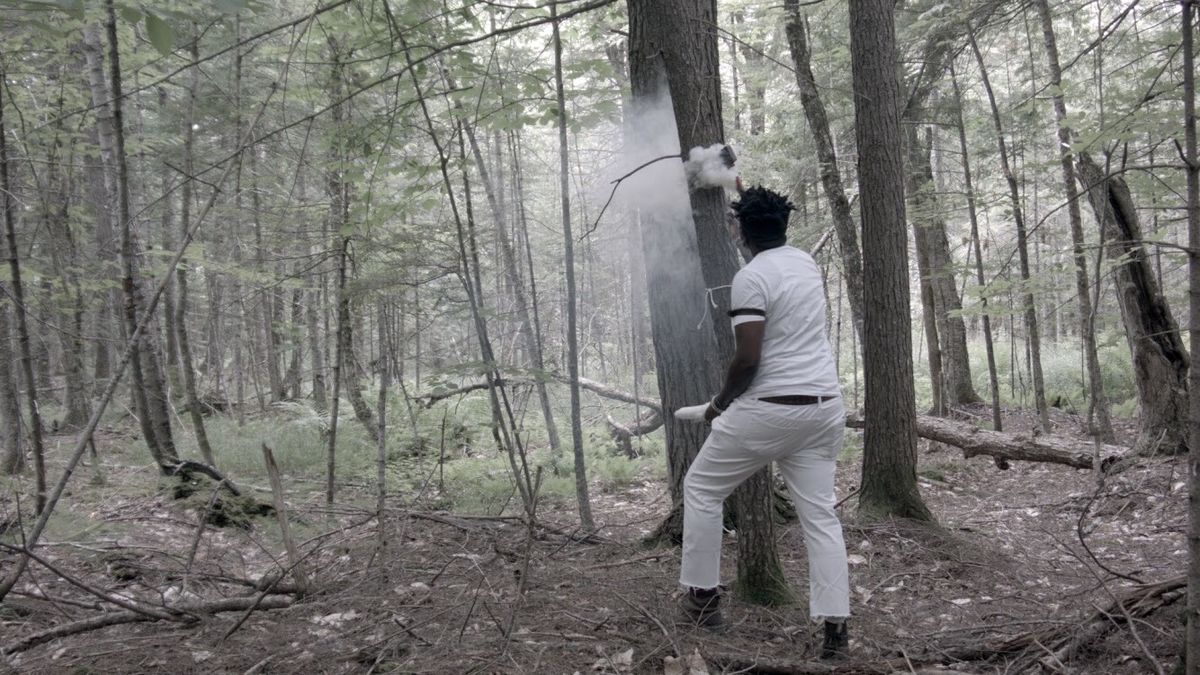 Tiona McClodden, I prayed to the wrong god for you, (2019) Six-channel multimedia installation. Image courtesy of the artist.
McClodden's research will focus on North Philadelphia, Phillips will engage with West Philadelphia, and Olivier will center Germantown, uncovering visual and textual artifacts that provide deeply rooted, embodied narrative and historical contexts for key events such as rebellions by enslaved persons in Germantown, the 1985 MOVE bombing in West Philadelphia, and the devastation of the crack cocaine epidemic of the late 80s and early 90s in North Philadelphia. 
Dean Susan E. Cahan called the Center grant a "tremendous validation of the curatorial thought, insight and leadership that Jova Lynne brings to Temple Contemporary. We are tremendously excited to watch as this project moves to completion and the ways in which these artists will speak to important histories and contemporary experience of Black Philadelphians." Lynne took the helm of the gallery in the spring. 
Lynne said she was excited that the exhibition will be embedded in the community and not only the institutional gallery. "We hope this project will destabilize and complicate traditional presentations of group exhibitions. It's timely because the COVID-19 pandemic has unveiled the many ways that ongoing, state-sanctioned violence has impacted Black communities, especially in larger cities like Philadelphia. Activating the artists as visual archivists puts practitioners in the unique role of reflecting back to–and within–communities the complexities of Black history as a living praxis." 
The Pew Center for Arts & Heritage is a multidisciplinary grantmaker and hub for knowledge-sharing, funded by The Pew Charitable Trusts, dedicated to fostering a vibrant cultural community in Greater Philadelphia. The Center invests in ambitious, imaginative, and catalytic work that showcases the region's cultural vitality and enhances public life, and engages in an exchange of ideas concerning artistic and interpretive practice with a broad network of cultural practitioners and leaders.