Jennie C. Jones. Photo: Jason Frank Rothenberg, courtesy of Alexander Gray Associates
Jennie C. Jones Selected as 2022 Wolgin Visiting Artist and Lecturer
Tyler is excited to host this award-winning, internationally exhibited artist on February 23rd at 6 p.m.
Jennie C. Jones is an interdisciplinary artist who blends a modern minimalist style with music — most typically, jazz. Her work is a cross-pollination between visual art and sound, and encourages the viewer to consider the meaning of unconventional materials when incorporated into traditional mediums such as painting, sculpture, sound, and installation. Jones has shown work at The Arts Club of Chicago, The Contemporary Arts Museum of Houston, The Kitchen in New York, and the Hirshhorn Sculpture Garden among others. 
 
Olalekan Jeyifous to Give 2022 Knowles Architecture Alumni Lecture
Tyler will welcome this Afro-futurist and large-scale installation artist to campus on March 10th at 6 p.m.
Olalekan Jeyifous' work explores the relationship between architecture, community, and the environment. He has shown work at venues such as the Studio Museum in Harlem, MoMA, the Vitra Design Museum, and the Guggenheim in Bilbao, Spain. Jeyifous' lecture will walk through his process, practice, and broad creative trajectories from public art installations to speculative architectural re-imaginings.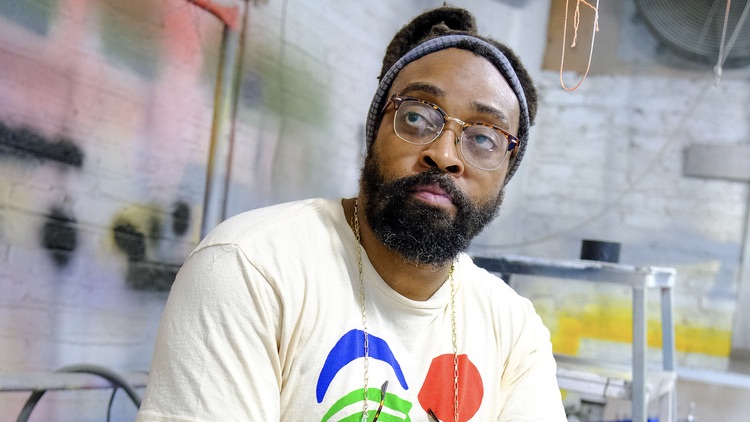 Olalekan Jeyifous, photo by Anthony Artis
Shahzia Sikander and Justin Hollander Headline Spring 2022 Speaker Series
Multimedia artist Shahzia Sikander will present a virtual lecture to start the spring 2022 Critical Dialogue Series. Born in Pakistan and currently working out of New York, Sikander has been praised for blending Indo-Persian miniature painting styles with contemporary South Asian, American, Feminist, and Muslim perspectives. Sikander poses the theory that terms such as "tradition," "culture," and "identity" are ever-evolving, and should be considered as such. 
In April, Justin Hollander, a professor of Urban and Environmental Policy and Planning at Tufts University, will bring his groundbreaking research and theory to Architecture and Environment Design (AED) Presents, discussing physical planning, Big Data, shrinking cities, and the intersection between cognitive science and the design of cities. 
Critical Dialogues and AED Presents
This spring, the Critical Dialogue Series and AED Presents bring a full slate of visiting artists to speak, including:
Visit Tyler's Calendar of Events for more information.
---
About Our Annual Lecture Series 
Each year, the Tyler School of Art and Architecture welcomes scores of artists, scholars, architects, designers and professionals from the top of their fields. These inspiring individuals connect with students through lectures, readings and demonstrations to encourage further collaboration and excellence both within the Tyler community and the broader public.
Critical Dialogues brings leading practitioners, scholars, curators and other arts professionals to discuss current issues in art and design. Over the last two decades, the program has featured hundreds of speakers.
Architecture and Environmental Design (AED) Presents is in its third year as a combined series of architecture, landscape architecture and city planning lectures.
The Laurie Wagman Visiting Artist and Artist-in-Residence Series, presented by our Glass program, reflects Tyler's emphasis on interdisciplinarity as a school that marries research with practice. Artists bring their diverse backgrounds, experience, and expertise to the studio—from traditional, to innovative, to experimental—and speak to students, offer demonstrations, and stimulate exchanges of new ideas.   
The Jack Wolgin Annual Visiting Artist and Lecturer is an endowed visiting artist program that brings one of the nation's most influential artists and thinkers to campus to work with Tyler students and present a free public lecture each year. Previous Wolgin artists include:
Cecilia Vicuña, 2020 — a poet, artist, filmmaker, and activist who addresses ecological destruction, human rights, and cultural homogenization
Nick Cave, 2019 — a fabric sculptor, dancer, and performance artist who creates large-scale installations and live performance pieces
Rick Lowe, 2018 — a visual artist and community organizer with a focus in social-practice art
LaToya Ruby Frazier, 2017 — a visual artist and photographer who teaches at the Art Institute of Chicago
Judy Pfaff, 2016 — an installation and sculpture artist, often cited as the medium's "pioneer"