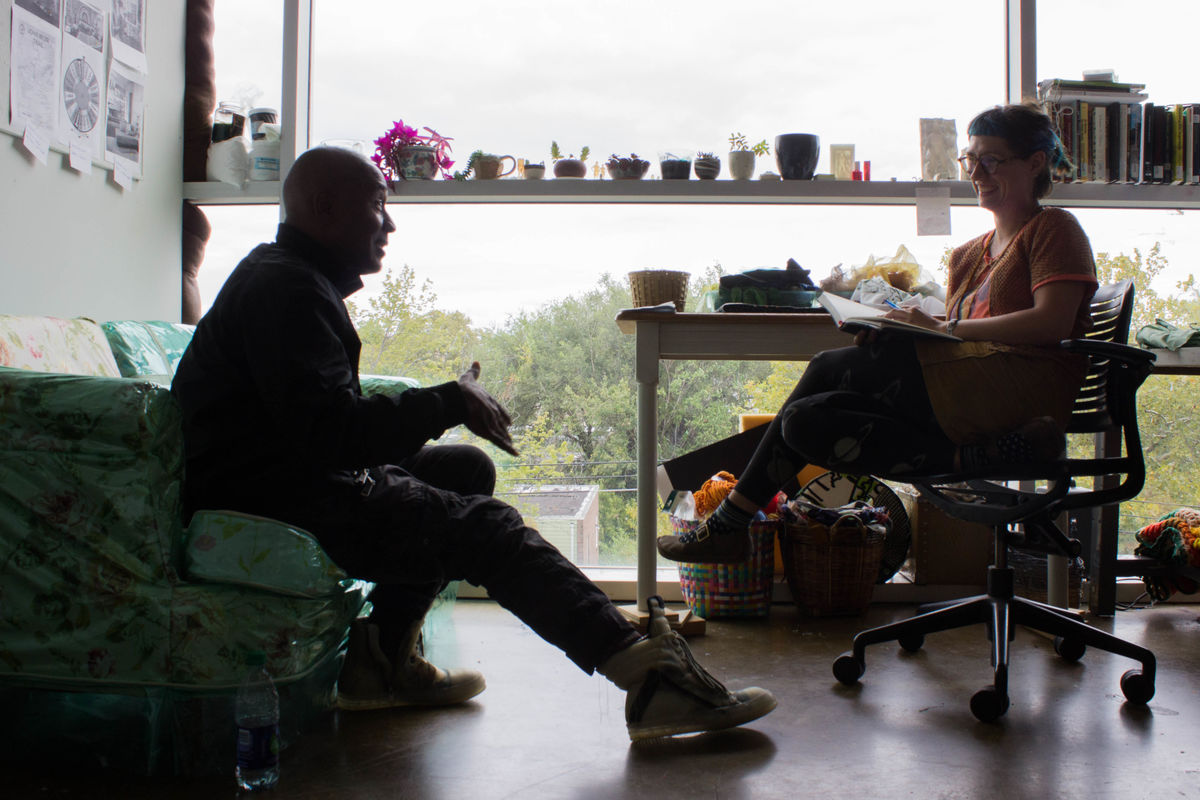 Each year, the Tyler School of Art and Architecture welcomes industry-leading artists, scholars, architects, designers and professionals. Throughout our world-class facilities and campuses, these individuals can be found giving lectures, readings, demonstrations, as well as meeting individually with students for studio visits, conversations and exchanges of ideas.
2019-2020 Visiting Artists, Scholars and Designers
Lisa Anne Auerbach, artist
Polly Apfelbaum, artist
Shinya B (MFA '97), artist and associate professor at Temple University, Japan Campus
Keenan Bennett, visiting artist to the Queer Materials Lab
Laura Bertapelle, artist and designer
Janine Boldt, curator
Syd Carpenter, artist
Tei Carpenter, architectural designer
Nick Cave, artist (Tyler's 2019 Jack Wolgin Annual Visiting Artist)
Michèle Pearson Clarke, artist
Sonya Clarke, artist
Sergio Coscia and David Moos, architects and designers
Deborah Czeresko, artist
Alex Da Corte, artist
T.J. Dedeaux-Norris, artist
Martha Droge, landscape architect
Jenny Dubnau and William Powhida, artists and members of The Artist Studio Affordability Project (ASAP)
Müge Durusu-Tanrıöver, director of the Polatlı Landscape Archaeology and Survey Project
Sarah Erenthal, artist
Louise Fishman, artist
Harry Gamboa, artist and writer
Romina Gonzales, artist
Bryan Hanes, RLA, LEED AP, landscape architect
Martin Kersels, artist
David Leatherbarrow, architect and scholar
Jiyong Lee, artist
Ralph Lemon, dancer, choreographer, artist, and writer
Miguel Luciano, artist
Cannupa Hanska Luger, artist
Angela McQuillan (BFA '10), artist
Nancy Micklewright, specialist in the history of photography of the Middle East
Mary Cheek Mills, glass historian
Svetlana Mintcheva, scholar and activist
Urayoán Noel, poet
Mike Olenick, filmmaker and puzzle pro
Laurie Olin, landscape architect
Michelle Angela Ortiz, artist
Carl Ostendarp, artist
Jason Patterson, artist and scholar
Sheila Pepe, artist
Ronny Quevedo, artist
Walid Raad, artist
Laxmi Ramasubramanian, scholar of urban planning and policy
Kat Richards, visiting artist to the Queer Materials Lab
Hope Rovelto, artist
Darin Rowland, artist
Jenni Sorkin, art historian
Piotr Szyhalski, artist
Cheyney Thompson, The 2020 Margo Margolis Visiting Artist in Painting
Merle Laderman Ukeles, artist
Jeanne Vaccaro, arts writer and curator
Kukuli Velarde, artist
John Wacher, planner
Fon Wang, architect
Stacey Lee Webber, metalsmith
Nami Yamamoto, artist
Jack Wolgin Annual Visiting Artists
The Jack Wolgin Annual Visiting Artist Symposium is an endowed visiting artist program that brings one of the nation's most influential artists and thinkers to campus to work with Tyler students and present a free public lecture each year. 
Image: Tyler's 2019 Jack Wolgin Annual Visiting Artist Nick Cave meets with with a student in her studio in Tyler's facilities. Courtesy of Sophie Stasio.