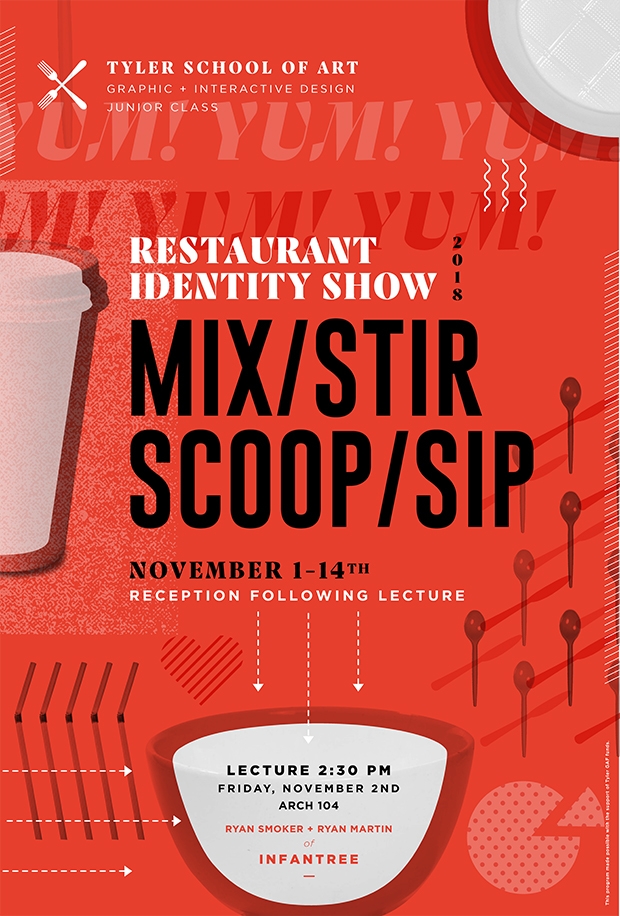 Mix/Stir/Scoop/Sip: Graphic & Interactive Design Restaurant Identity Lecture + Award Announcements
The annual Graphic & Interactive Design Restaurant Show will be on display in Tyler's Atrium from November 1 through November 14, 2018.
Featuring imaginative restaurants conceptualized and brought to life by GAID's junior class, this show is a fan favorite that you won't want to miss.
This year, the show will be juried by partners, Ryan Smoker and Ryan Martin of INFANTREE.
Infantree is a creative agency of 13 designers, writers, and strategists based in Lancaster, PA. The studio focuses on branding, packaging, experience design and entrepreneurism. Founded in 2010 by partners Ryan Martin and Ryan Smoker, Infantree has been engaged in creating and launching some of Central Pennsylvania's most beloved brands, including Passenger Coffee Roasters, Thistle Finch Distillery, and Ellicott & Company. Infantree's Classic Cocktails guide has recently been recognized by Print Magazine as "best of region" in the East in the publication's upcoming 2018 Regional Design Annual.
Reception and award announcements will follow their presentation on November 2nd at 2:30pm in Architecture 104.