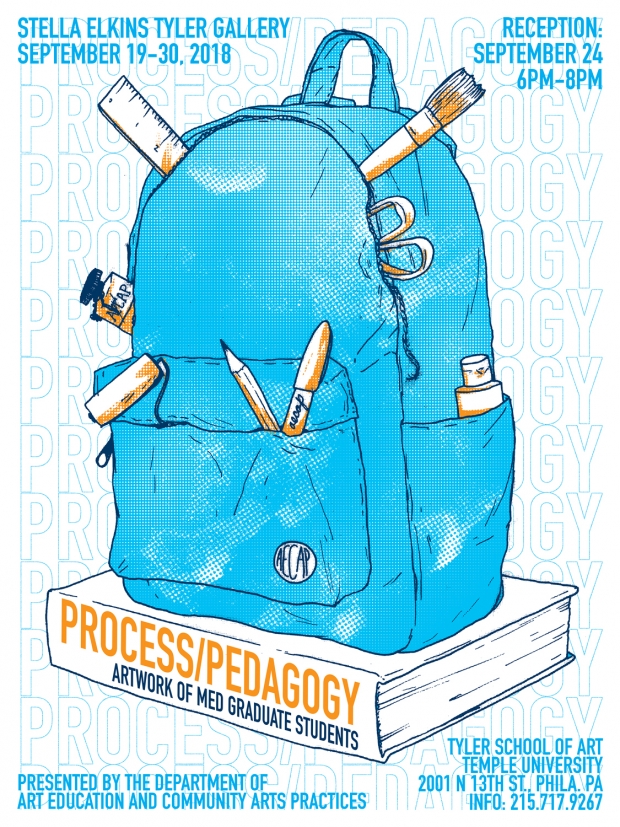 Process/Pedagogy: Artwork of MED Graduate Students
Process/Pedagogy is a collaborative exhibition celebrating the studio art practices of the Graduate students of Tyler School of Art's Art Education and Community Practices Department.
For art educators who are practicing artists, the process of making art is impossible to separate from teaching practice. At any moment, artmaking and pedgogy are part of the internal dialogue of any artist/educator. This exhibition seeks to celebrate the role of an artmaking process in the foundation of personal pedagogy. 
Process/Pedagogy will feature the work of the following artists:
Julie Alexander
Maria La Rosa Benitez
Madison Blyler
John Darling-Wolf
Petra Fenton-Spaid
Sarah Gregory
Laura Hricko
Caroline Kulp Kline
Maddie Lesage
Molly Porter
Kyle Psulkowski
Issa Revell
Michael Smaczylo
Daphne Smallwood
Erin Smiley
James Sturner
Valentina Wilches
Work will be on view from Wednesday September 19, 2018 until Saturday, September, 29, 2018. The gallery is open Wednesday-Saturday, from 11AM to 6PM.
There will be a celebratory reception/artist discussion on Monday, September 24, from 6PM to 8PM. All are welcome. Light refreshments will be provided. 
Location: 
Stella Elkins Tyler Gallery (B02), Lower Level South
Tyler School of Art
Temple University
2001 N. 13th Street
Philadelphia, PA 19122
For Information please call 215-777-9267. 
Presented by the Art Education and Community Arts Practices Department of Tyler School of Art.