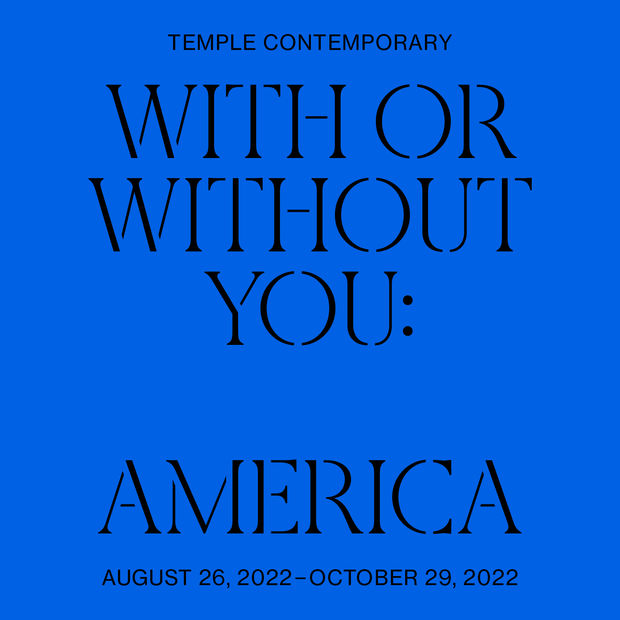 Temple Contemporary Presents: "With or Without You: America"
Temple Contemporary proudly presents With or Without You: America, a timely exhibition of works by 11 first-generation American artists that encourages viewers to contemplate personhood in America and reflect on the liminal space between personal and political. Temple Contemporary is a visionary center for exhibitions and public programs at the Tyler School of Art and Architecture. 
A visual allegory inspired by James Baldwin's 1955 iconic collection of essays Notes of a Native Son, the works represent various perspectives of the U.S. experience and illustrate moments of impact that have shaped each artist's identity as they traverse being first-generation Americans. Pioneers in their familial landscapes, these artists are challenging the paradigms of scholarship, wealth, gender, sexuality, citizenship, land, and stature in their communities. 
"The exhibition invites viewers to consider America as a verb, an action word that calls on us to complicate our understanding of humanity within and without borders," says Jova Lynne, Tyler's newly appointed Director of Exhibitions and Public Programs. 
An opening reception will take place on Friday August 26, 2022, from 6-8 pm. During the reception, multidisciplinary artist Valery Jung Estabrook will present Garden, a performance work inspired by equal parts Korean shamanism, her family's private mourning practices, and her own personal exploration of deeper consciousness. The performance illustrates the journey of grief, acceptance, and remembrance, and reclaims an emotional space in which joy can be experienced once again. 
With or Without You: America is curated by Lynne, who joined Tyler in 2021 from the Museum of Contemporary Art Detroit, with curatorial assistance from Adam Blumberg, Exhibitions Manager, and Amy Shindo, Graduate Assistant. 
Artist List: Caff Adeus | Brock Oakley Ailes  | Valery Jung Estabrook | Jezabeth Roca González | Tommy Kha | Antonia B. Larkin | Grace Rosario Perkins | Stephanie Concepción Ramirez | Adee Roberson | Raúl Romero | Zeinab Saab 
Gallery Hours
Wednesday-Thursday, 12-8 pm 
Friday-Saturday 11am-6 pm