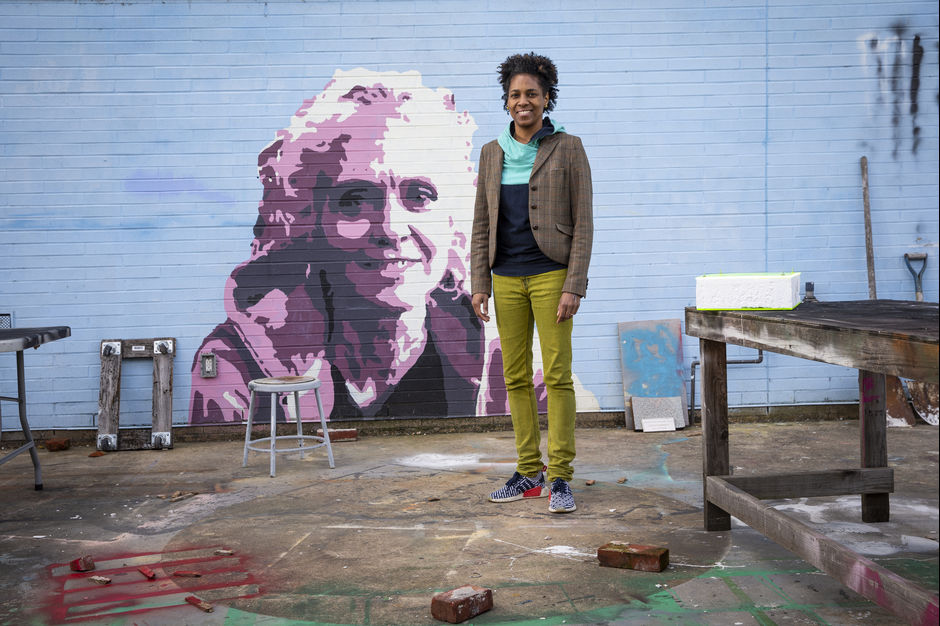 Professor
Sculpture
Karyn Olivier
Karyn Olivier, who was born in Trinidad and Tobago, creates sculptures, installations and public art. Her work often intersects and collapses multiple histories and memories with present-day narratives. She has exhibited at the Gwangju and Busan Biennials; World Festival of Black Arts and Culture, (Dakar, Senegal); The Studio Museum in Harlem; The Whitney Museum of Art; Museum of Modern Art's P.S.1; The Museum of Fine Arts Houston; Contemporary Art Museum Houston; The Mattress Factory; SculptureCenter; Laumeier Sculpture Park; Drexel University; Ulrich Museum of Art and the University of Delaware Museum, among others.
 
Olivier has installed large-scale commissioned work for Philadelphia's Mural Arts program; Creative Time; New York City and Philadelphia's Percent for Art program. She has received awards, grants and fellowships from the American Academy in Rome; the John Simon Guggenheim Memorial Foundation Fellowship; the Joan Mitchell Foundation; New York Foundation for the Arts; the Pollock-Krasner Foundation; the William H. Johnson Foundation; the Louis Comfort Tiffany Foundation and Creative Capital.
 
Olivier's work has been reviewed in The New York Times; Time Out New York; The Village Voice; Art in America; Flash Art; Mousse; The Washington Post; Nka: Journal of Contemporary African Art; Frieze; the Philadelphia Inquirer and Hyperallergic, among others.
 
MFA, Ceramics, Cranbrook Academy of Art, 2001
BA, Psychology, Dartmouth College, 1989
Selected Awards
Rome Prize (2018)
The American Academy in Rome
Guggenheim Fellowship (2007) 
The John Simon Guggenheim Foundation Fellowship
NYFA Award (2011)
New York Foundation for the Arts 
Selected Work
Olivier, K. 2017. The Battle is Joined [mirrored acrylic, plywood, studs]. Monument Lab, Mural 
     Arts, Philadelphia, PA, September 16–November 19, 2017.
Olivier, K. 2018. Witness [gold leaf, paint, canvas]. Memorial Hall, University of Kentucky, 
     Lexington, KY 
Olivier, K. 2015. Here and Now/Glacier, Shard, Rock [lenticular photo in billboard structure]. 
     Drifting in Daylight, Creative Time, Central Park, New York, NY, May 15–June 20, 2015.
Olivier, K. 2018. Wall [bricks, used clothing and steel]. Lehigh University Art Galleries and 
     Teaching Museum, Bethlehem, PA, January 24–May 25, 2018.
Olivier, K. 2006. Doubleslide [steel]. Studio Museum in Harlem, New York, NY, July 19–October 
     22, 2006.