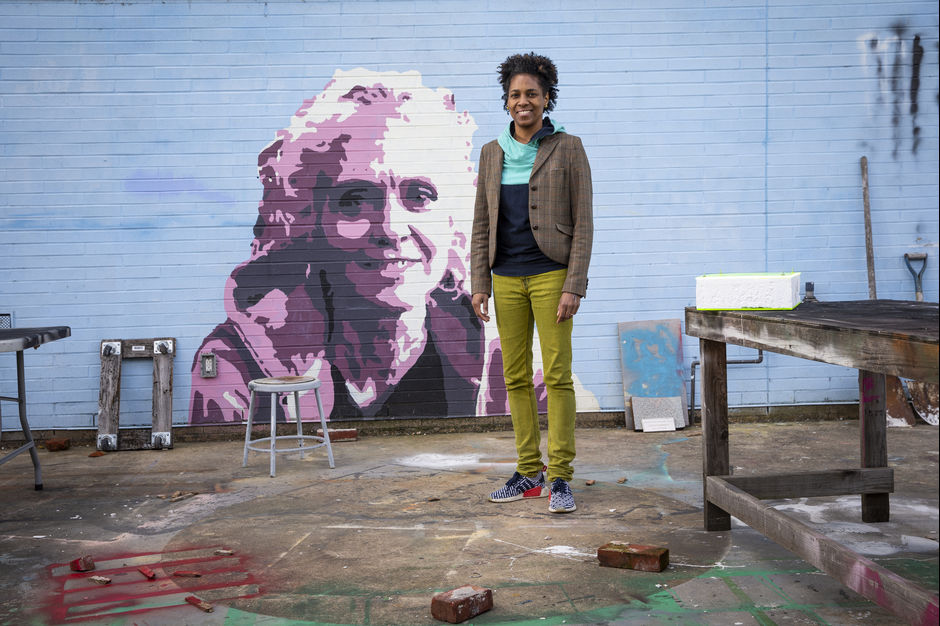 Professor
Sculpture
Karyn Olivier
ON LEAVE, FALL 2022 & SPRING 2023
Karyn Olivier, who was born in Trinidad and Tobago, creates sculptures, installations and public art. In 2022 and 2023, Olivier will unveil two memorials in Philadelphia—honoring a former slave at Stenton House, and commemorating more than 5,000 African Americans buried at Bethel Burying Ground.
Olivier has exhibited at the Gwangju and Busan biennials, the World Festival of Black Arts and Culture (Dakar, Senegal), The Studio Museum in Harlem, The Whitney Museum of Art, MoMA P.S.1, The Museum of Fine Arts Houston, Contemporary Art Museum Houston, The Mattress Factory (Pittsburgh), SculptureCenter (New York), among others. Solo exhibitions include Everything That's Alive Moves at Institute of Contemporary Art in Philadelphia (2020), and A Closer Look at Laumeier Sculpture Park in St. Louis (2007). Olivier presented her first solo exhibition at Tanya Bonakdar Gallery (New York) in 2021. 
Olivier has received numerous awards, including the 2020 Anonymous Was a Woman Award, the 2018–2019 Nancy B. Negley Rome Prize, a John Simon Guggenheim Memorial Foundation Fellowship, the Joan Mitchell Foundation Award, the New York Foundation for the Arts Award, a Pollock- Krasner Foundation grant, the William H. Johnson Prize, the Louis Comfort Tiffany Foundation Biennial Award, a 2019 PEW Fellowship, a Creative Capital Foundation grant, and a Harpo Foundation grant. 
Olivier's work has been reviewed in ArtForum, The New York Times; Time Out New York; The Village Voice; Art in America; Flash Art; Mousse; The Washington Post; Nka: Journal of Contemporary African Art; Frieze; the Philadelphia Inquirer and Hyperallergic, among others.
 
MFA, Ceramics, Cranbrook Academy of Art, 2001
BA, Psychology, Dartmouth College, 1989
Selected Awards
Rome Prize (2018)
The American Academy in Rome
Guggenheim Fellowship (2007) 
The John Simon Guggenheim Foundation Fellowship
NYFA Award (2011)
New York Foundation for the Arts 
Selected Work
Olivier, K. 2017. The Battle is Joined [mirrored acrylic, plywood, studs]. Monument Lab, Mural 
     Arts, Philadelphia, PA, September 16–November 19, 2017.
Olivier, K. 2018. Witness [gold leaf, paint, canvas]. Memorial Hall, University of Kentucky, 
     Lexington, KY 
Olivier, K. 2015. Here and Now/Glacier, Shard, Rock [lenticular photo in billboard structure]. 
     Drifting in Daylight, Creative Time, Central Park, New York, NY, May 15–June 20, 2015.
Olivier, K. 2018. Wall [bricks, used clothing and steel]. Lehigh University Art Galleries and 
     Teaching Museum, Bethlehem, PA, January 24–May 25, 2018.
Olivier, K. 2006. Doubleslide [steel]. Studio Museum in Harlem, New York, NY, July 19–October 
     22, 2006.