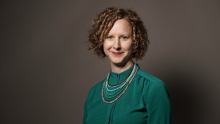 Mariola Alvarez, PhD
Mariola Alvarez specializes in Latin American art of the twentieth and twenty-first centuries, and also teaches courses on global art history. Her current research project examines Neoconcretism, a Brazilian group composed of artists and poets from the 1950s and 1960s, contributing to her larger interest in postwar abstraction in Latin America and its link to nation-building and class, as well as its global circulation. Dr. Alvarez received her Ph.D. in Art History from the University of California, San Diego and her MA in Art History from the University of Florida. She has published articles on Ferreira Gullar, Neoconcrete poet and theoretician, in nonsite and on Manabu Mabe, a Japanese diasporic artist working in Brazil, in Third Text. Before Temple University, she taught at Rice University in Houston, Texas and Colby College in Waterville, Maine. 
Born to Cuban exile parents Mariola Alvarez is originally from Miami, Florida.