Adaptable. Interdisciplinary. In-depth.
These attributes form the bedrock of the Master of Fine Arts program at the Tyler School of Art and Architecture at Temple University.
As an MFA student, you will study with an esteemed faculty equally accomplished as scholars and practitioners, amid a robust culture of research and an inclusive community dedicated to positive social impact.
From one-on-one mentorship and small, close-knit peer groups to large cross-disciplinary critique sessions, first-class facilities and the resources of a major public research university, you'll discover new and surprising pathways to a future in art making, and likely exceed your own expectations.
---
Watch: The Tyler MFA Experience
For Master of Fine Arts student Carmel Dor (MFA '22), Tyler is a place where cross-disciplinary dialogue and community building are at the forefront of everyone's mind.
---
Explore the Work of Tyler MFA Students 
Check out Intersections, our annual catalog of student work from Tyler's studio art programs. Published since 2012, Intersections is an interdisciplinary collaboration between graduating artists and art history students. This latest volume from 2021 features work from 32 students in our MFA program paired with critical essays by 14 graduate students in Tyler's art history program.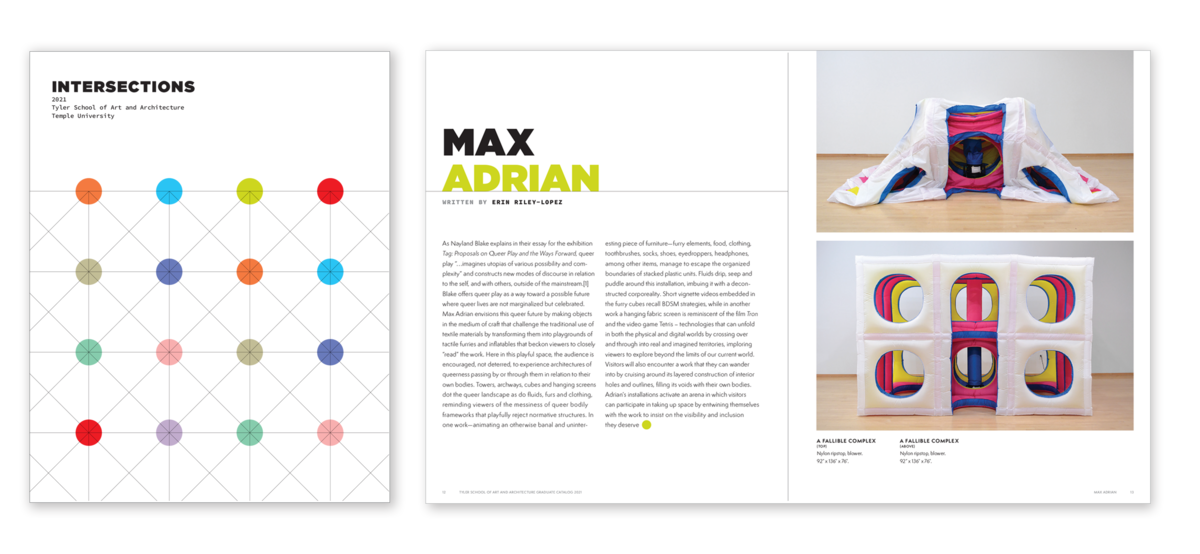 Explore MFA Catalogs
2021 | 2020 | 2019 | 2018 | 2017 | 2016 | 2015 | 2014 | 2013 | 2012
---
Watch: The Tyler MFA Experience
For Master of Fine Arts student Todd Stong (MFA '22), Tyler is a nexus of the arts where he feels free to explore a variety of mediums, which has helped him reframe his practice and prepared him for rapid changes in the way we see.
Master of Fine Arts student Melanie Bernier (MFA '21) shares what she values most about her graduate school journey at Tyler: world-class facilities for interdisciplinary practice, an atmosphere of exploration with critical discourse from faculty, a supportive community, and most crucially—time to explore.
---
Explore Tyler In Person
Schedule a Visit
A visit to Tyler is a critical first step in exploring our MFA program. You'll have an opportunity to meet with faculty and fellow graduate students, see various disciplines in action and explore our expansive facilities on Temple University's main campus.
Complete this form to schedule a visit and explore everything Tyler has to offer. 
---
Financing Your Education
Funding Opportunities
Tyler and Temple offer a range of generous funding opportunities for incoming and continuing students, to support your creative research, allowing you to act and think big in ways that are meaningful to your education and how your work will impact the world in the future.
Application Deadlines
December 15 (international)
January 6 (U.S.)
Learn more about the application process here.