Back to Blog
April 12, 2018
One-Year Horticultural Therapy Certificate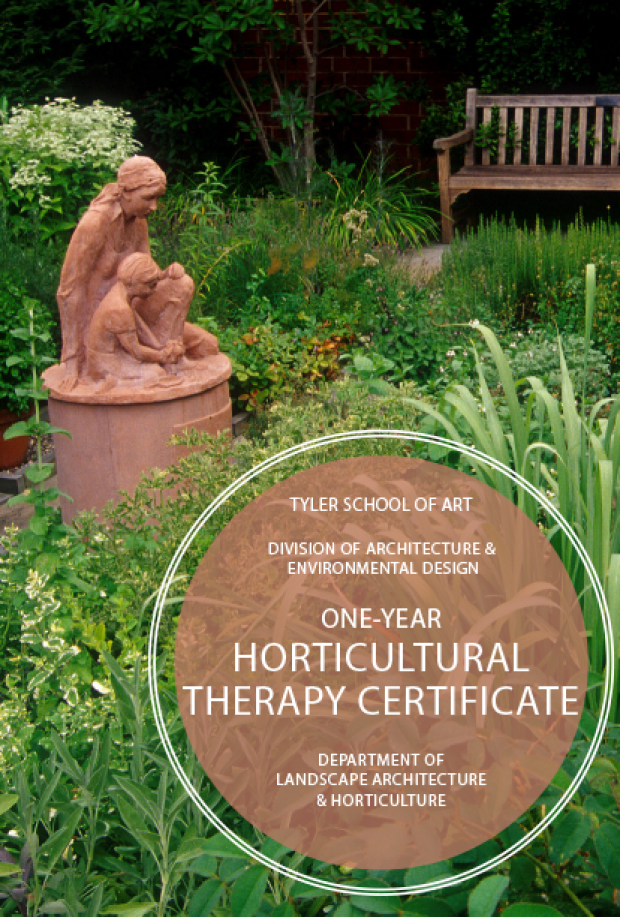 PROGRAM DESCRIPTION
Thorough hands-training, this certificate introduces students to a variety of horticulture therapy skills. The program meets horticultural therapy requirements by the American Horticultural Therapy Association (AHTA) for becoming a Registered Horticultural Therapist.
Students complete projects to develop skills in HT programming, activities, grant writing, budgeting, marketing, research, and interdisciplinary approaches to health care.
A key component is learning to design therapeutic indoor and outdoor spaces that address universal design and support. Instruction and business planning for private HT contractual work is also examined. Horticultural therapy uses plants, horticultural activities, and the natural world to improve people's social, educational, psychological, and physical adjustment, thus improving their bodies, minds, and spirits.
The Horticultural Therapy Certificate Program prepares students for positions and the profession of horticultural therapy.
HORTICULTURAL THERAPY TAKES PLACE IN:
Hospitals and institutions
Vocational training facilities
Nursing homes
Halfway houses   
Rehabilitation facilities
Senior centers and communities
Correctional facilities
Schools
Arboreta and botanical gardens
Parks and recreation centers
Farms and horticultural businesses
Community gardens
REQUIRED COURSES (12 credit hours)
HORT 2324 Plant Propagation (3 cr)
HORT 2753 Intro to Horticultural therapy (3 cr)
HORT 2754 Horticultural Therapy Skills (3 cr)
HORT 2755 Horticultural Therapy Program Management (3 cr)
These college credit courses are offered in the evening and on Saturdays at the Temple University Ambler campus. All courses must be completed at Temple University with a minimum GPA of 2.0.
To register for courses required to complete the Horticultural Therapy Certificate, contact to Tyler School of Art and Architecture admissions office by email: tylerart@temple.edu or by calling 215-777-9090.
BECOMING A REGISTERED HORTICULTURAL THERAPIST
The American Horticultural Therapy Association (AHTA) registers horticultural therapists. Registration is based on academic and professional training and supervised field work. This credit certificate program contributes to the educational requirements for the registration.
For complete information on becoming a registered Horticultural therapist, contact AHTA at www.ahta.org, or write to the national office at 2150 N. 107th Street, Ste. 205, Seattle, WA 98133.
For more information contact:
Tyler Admissions
tel: 215-777-9090
fax: 215-777-9191