Stella Elkins Tyler donated her estate to Temple University in the early 1930s. With an interest in progressive education and a deep appreciation of her mentor, the sculptor Boris Blai, Mrs. Tyler offered her estate with the expressed wish that, through Boris Blai, it would become an environment for the advancement of the fine arts, scholarly study in the arts, and individual creativity.
As founding Dean of Tyler School of Art, Blai instilled Tyler School of Art with a commitment to progressive education emphasizing the student's mastery of technique within the framework of a liberal arts curriculum. Dean Blai insisted upon individual attention to each student's needs as the basis of successful teaching. During his 25-year tenure Dean Blai shaped the school into one of the finest visual arts centers in the country, and his founding ideals still remain paramount to Tyler's educational philosophy.
In 1960 Dean Charles Le Clair succeeded Boris Blai. During this period the Tyler campus was improved with construction of a residence hall and two studio/classroom buildings. In 1966 Dean Le Clair founded the Tyler Study Abroad program in Rome, Italy. Tyler's Rome campus thrives today as one of the most respected fine arts study abroad programs in Europe. The program has expanded to include a full range of liberal arts, architecture, business, and law courses with an emphasis on those relating to Rome, Italy, and the European Common Market.
Throughout the 1960s and 1970s, Tyler's curriculum continued to grow in response to new definitions of art-making and the role of art in society. New programs and modern facilities in design, ceramics, glass, metals, and photography were added. During this time, Tyler developed the Art and Art Education Department and the Art History Department on Temple's Main Campus. These departments serve majors seeking the BA degree with a major in art or art history, the BS degree in art education, and non-majors throughout the University. Today the curriculum at Tyler continues to address contemporary needs by incorporating digital technology, video, installation, and performance.
Since 1935, Tyler School of Art has offered students the combination of a world-renowned faculty and the resources of a major university. Tyler has grown from a small art school in Elkins Park, PA to encompass a wide range of programs in the study of art, design, art history, art education, and architecture all now located on the Main Campus of Temple University. In each program, students work in small learning communities, while also benefitting from the facilities, curriculum, and activities of Temple University. A Tyler education is one that will distinguish you as someone who is well prepared for the unprecedented opportunities that are available today in the fields of art and design.
---
Mission
The Tyler School of Art educates, motivates and inspires individuals who will enter society as artists, architects, art historians, designers and educators with the highest aspirations for achievement, producing innovative work that is publicly presented and critically considered. Founded upon the ideals of progressive education emphasizing exposure to a variety of experiences before selecting a major, attention to each student's mastery of technique, and the shaping of a personal artistic vision within the framework of a research university, the objective of the Tyler School of Art is to create an engaging and critical environment that:
Promotes cutting edge curriculum initiatives through a broad spectrum of philosophical and aesthetic approaches
Through its relationship with Temple University, provides access to students who otherwise would not consider art and design as a career path
Fosters interdisciplinary insights and collaborations promoting artistic and intellectual freedom, creativity and experimentation in a diverse and heterogeneous environment
Demonstrates to students, through the faculty's own practice and scholarship, that the study of art and design is process-oriented and research-based
Interacts with a broad spectrum of local, national and international artists, scholars and communities in the exploration of art and its role in society
Builds upon our outreach to the Temple University community, to the local neighborhoods and to cultural organizations.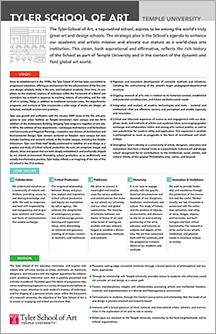 Click here to view a PDF of Tyler's Vision, Core Values, and Mission