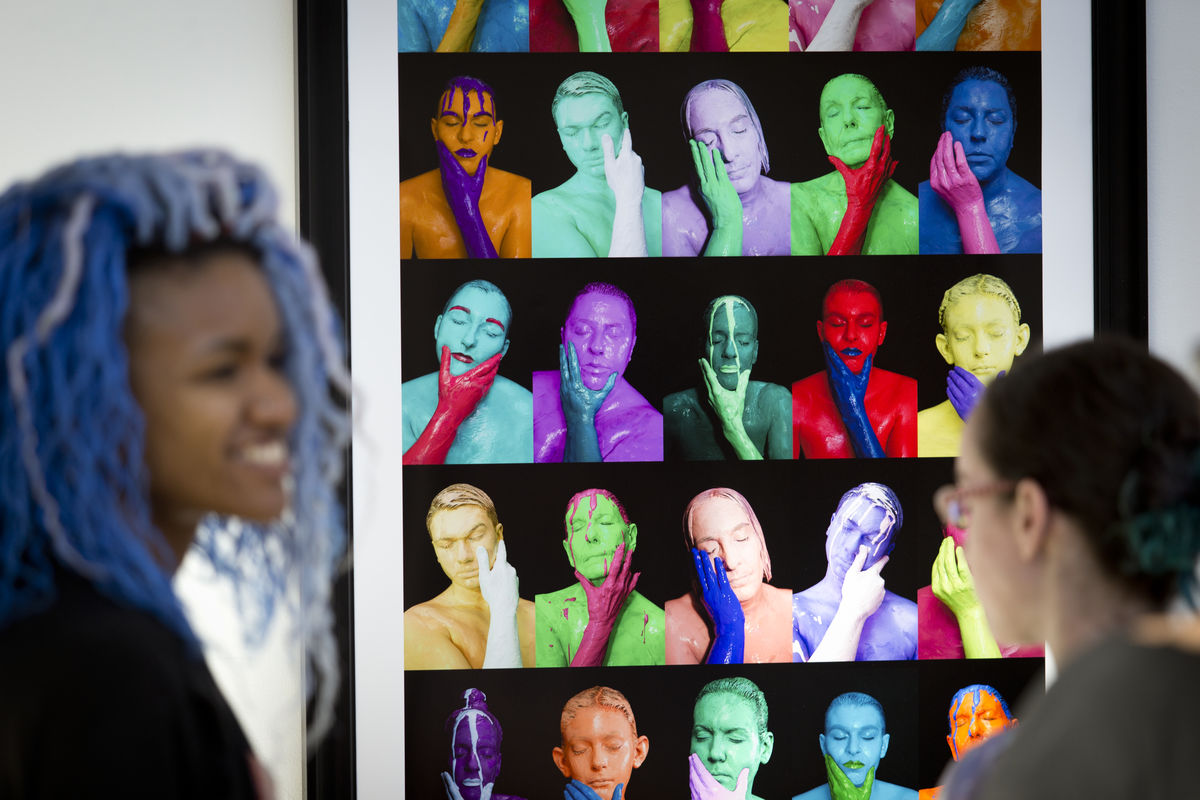 Tyler School of Art and Architecture embraces diversity, inclusivity and equity as strengths. Our goal is to nurture a strong, inclusive community, building on the extraordinary diversity of our institutional base, Temple University, and our home city, Philadelphia.
That commitment begins with a renewed focus on attracting and recruiting faculty and students from underrepresented groups and creating a culture of meaningful engagement where all people feel welcome, safe and respected. Tyler continues to recruit its most diverse cohort of faculty in the school's history, including new hires who self-identify as African-American, Latino, Native American and LGBTQIA+.
Below you'll find resources and services available to the Tyler and Temple community.
Communities and resources for students of color
The Artists of Color Collective is Temple's student organization that meets weekly at Tyler "to provide resources to benefit the lives and practices of creatives of color."
Temple has dozens of additional recognized student organizations devoted to cultural and ethnic identity and communities, from Black Student Union to Esencia Latina. Explore the list maintained by Temple's Office of Institutional Diversity, Equity, Advocacy and Leadership (IDEAL) or search student orgs via Owl Connect.
Located at 2026 N. Broad St.—directly across from Johnson and Hardwick residence halls—the "Burrow" is a multicultural space for study, relaxation or social justice-focused conversations. It is equipped with lounge furniture, large screen television, and four computer stations for use of any member within the Temple community.
Few communities offer students of color more opportunities for ethnic and cultural engagement than the city of Philadelphia—particularly within the North Philadelphia neighborhoods that surround Tyler (see IDEAL's list).
Temple's Charles L. Blockson Afro-American Collection is a leading national research facility for the study of the history and culture of people of African descent, with 500,000 items including books, sheet music, journals, posters, photos and rare ephemera.
Undergraduate students of color at Temple have the opportunity to be paired with faculty or staff mentors at the university who can provide guidance about careers in higher education via the NASPA Undergraduate Fellows Program. 
Communities and resources for LGBTQIA+ students
Members of Tyler's large, vibrant LGBTQIA+ community play active roles in a variety of student organizations at Temple, including Queer Student Union, Queer People of Color and Students for Trans Awareness and Rights.
Flagship annual LGBTQIA+ programming at Temple includes National Coming Out Week events; OuTU, an LGBTQIA+ Welcome Week showcase; and Lavender Graduation, which recognizes graduating LGBTQIA+ students.
The Queer Materials Lab, launched by Tyler Fibers & Material Studies program head Jesse Harrod—renowned for her manipulation and transformation of materials—opens up opportunities for students to work with visiting artists and join a broader LGBTQIA+ discourse.
Gender-inclusive housing is offered to students who request it. Additionally, Temple has options throughout the campus for gender inclusive restrooms—meaning they are not segregated based on a person's gender or birth sex. All restrooms in IDEAL are gender inclusive.
Safe Zone Allies throughout Tyler and Temple help students navigate resources and provide a listening ear.
Temple's Career Center offers LGBTQIA+-focused career resources.
Comprehensive resources in Philadelphia include the William Way LGBT Community Center, the Attic Youth Center and the Mazzoni Center, among many more.
Disability Resources and Services
Tyler is a welcoming environment for students with any disability. Temple Disability Resources and Services educates the university community on disability inclusion and accessibility; empowers students to become self-aware advocates; and serves as Temple's source for accessible housing, academic accommodations, sign language and CART, assistive technology, alternate format materials, scholarships, career counseling, peer mentorship and more.