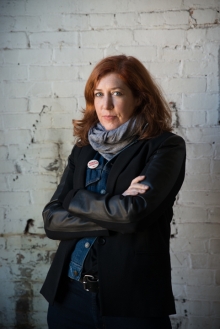 Jesse Harrod
Jesse Harrod has an MFA from the department of Fiber and Material Studies from the School of The Art Institute of Chicago and a BFA from the Nova Scotia College of Art and Design University. She is currently the Head of Fibers and Material Studies at Tyler School of Art in Philadelphia.
Harrod has been writing and making work that employs traditional and contemporary craft practices for the past 7 years. By creating both large and mid-scale installations out of vernacular and lowbrow materials conventionally associated with hobby crafts and domesticity, Harrod explores craft as a shadow category of art production to traditional or mainstream fine art. Foregrounding questions of gender, queerness, and their intersections, Harrod's work tracks the affective and cultural circulation of meaning through which particular materials become designated as "trash" and "waste." Across her practice, Harrod shows how these discarded materials can be re-purposed on behalf of insurgent imaginations of queer-feminist survival. 
Harrod has exhibited at the American University Museum in Washington, DC, La Esquina in Kansas City, MO, and the Leslie Lohman Museum of Gay and Lesbian Art in NYC. Her work is included in forthcoming exhibitions at the Kohler Art Center in Sheboygan, WI, the Maryland Institute College of Art in Baltimore, MD, and the Boston Center for the Arts. She has been awarded residencies at the Vermont Studio Center, Ox-bow, and RAIR Philly. Her work has appeared in The Journal of Modern Craft, Artslant, and Hyperallergic. Recently, she joined Philadelphia-based arts organization Vox Populi where she works on education and fundraising.