Back to Blog
April 26, 2023
Professor Tackles Game Play and Critical Thinking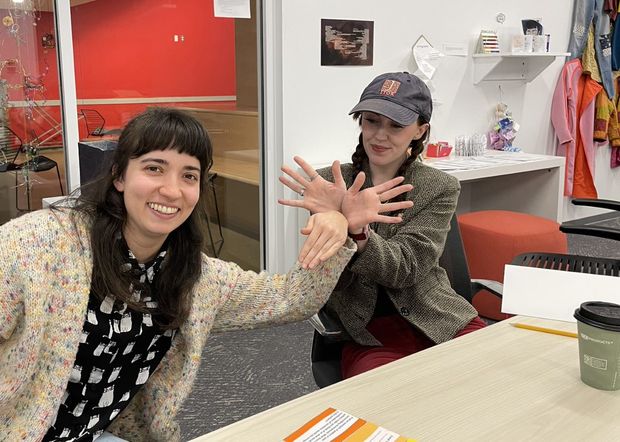 Renee Jackson, Assistant Professor and Program Head of Art Education, will publish a board game with TU Press at the end of this year, Tales of Woo and Woe, which is now on display in the Charles Library as part of the exhibition Game On! Design and Play for a Sustainable Future. She discusses her practice, pedagogy, and the importance of connecting critical yet imaginative thinking to the world around us. The exhibition, featuring works by Gabriel Kaprielian, Assistant Professor of Architecture at Tyler, and Matt Shoemaker, Head of the Loretta C. Duckworth Scholars Studio at the Charles Library, is on view now through October.
---
What is the concept of Tales of Woo and Woe and what inspired you to create it?
"It's a bit of a Clue-meets-Art Education-meets-Love Connection type game. Players are challenged to heighten their attention to aesthetic details in the surrounding environment and to playfully engage with their surroundings in order to win the heart of the creature of affection, Bella Anthrax. Ultimately, the game's purpose is to support a deeper connection with the environment, through aesthetic engagement and understanding. It is unique in the sense that players interact directly with the context that surrounds them while they play, in order to accomplish challenges that attract Bella's attention.
"I am interested in the ways that games can contribute to learning from a critical pedagogy perspective. Critical pedagogy is anti-oppressive, and involves consideration of everyone in a learning community as both teachers and students. It involves learning that supports active, engaged citizenship.  Artists tend to be active, engaged citizens, in various ways, so art class can be a particularly well-suited space for developing capacities that support such learning. The opportunity to publish a game through Temple University Press brought the initial motivation to work on my own game that embodied my philosophies as an artist/researcher/teacher."
Tell us about the exhibition details at the Charles Library.
"The exhibition, Game On! Design and Play for a Sustainable Future, brings together the work of three members of the Temple community with an interest in the power of games to teach and engage players in significant ways. We have all worked together on various projects. Through the exhibition, we share recent independent game design projects as well as games created with Tyler students and students from AMY North West Middle School in Philadelphia. Games present transformative potential as an interactive medium for role playing, developing empathy, and decision making to address pressing challenges that lead to scenario planning and desired outcomes. Games allow us to build knowledge, enable creative communication, and inspire optimism, while having fun."
Does your game share a common theme of sustainability like the others in the exhibition?
"I have two games exhibited. One is the board game Tales of Woo and Woe, and the other is a video game called The Air We Breathe, co-designed with seven students from the Academy for Middle Years Northwest (AMY NW), programmer and educator Ashley Rezvani, and Sierra Kirby, an art intern from the Harrisburg University of Science and Technology. This game is the result of my research project Arcade our Way (AoW), which works with local schools to  promote social impact/social change game-design as an expressive medium for all creators and seeks to engage those whose stories and concerns are not often represented in mainstream games. This game directly addresses sustainability. It takes place in the year 2100. The player is on a quest to honor their father, a firefighter who died in the line of duty. The player requires an oxygen tank to breathe because the air quality is poor.  As you maneuver through the landscape (there are three levels:  deforestation, oil and gas, the government), you encounter minions/agents of the state who do the bidding of corporations and the government. You throw knowledge at them to convert them into activists. As you do so, advocacy posters with practical information, strategies and statistics appear (posters made by Tyler Graphic and Interactive Design students, and facts jotted on sticky notes). At each level, you encounter scientists who teach you ways that you can help to better the environment and work to improve the climate. As you do so, the air becomes less polluted, and the surroundings greener. You work your way up to the ultimate battle with the industry's government conspirators. Can you honor your family legacy and make the air breathable again?
"Tales of Woo and Woe is designed and developed by me through an iterative game design process where people play-test the game and help me to fine tune details. This game is also connected to sustainability but in a more subtle way. It is my belief that knowing how to pay attention to and appreciate the details that surround us through our senses helps us to connect with and appreciate our surroundings on a deeper level. By taking things a step further and creatively interacting with the material world, we also learn to question their potential, and to become more resourceful."
What do players learn from this, and how can they apply those skills to their daily lives?
"What players really learn remains to be seen through research. The Air we Breathe provides practical strategies for caring for the environment, while also sharing powerful statistics that are then used to win battles against the industrial culprits of climate change. The goal of Tales of Woo and Woe is for players to learn how to connect with their surrounding environment by paying attention to details such as color, texture, pattern. They also engage with their surroundings by attending to details/things, and by playing with and manipulating materials in imaginative ways. The game itself will no doubt augment non-artists aesthetic sensibilities, while also exercising their creative capacities, which can lead to strengthening problem-solving skills and resourcefulness within their everyday lives. For artists and art educators, it is a fun and engaging way to bring people together, while also acting as a reminder to pay attention to and celebrate the seemingly mundane materials that surround us and become invisible, and to activate and appreciate them in new ways."
Image: Keara Saunders and Marci Green respond to the challenge: "Manipulations: Using your hands, combined with someone else's, create an animal" while playing Tales of Woo and Woe