Back to Blog
October 25, 2022
Tyler Remembers Susan Moore, Vibrant Professor Emerita of Painting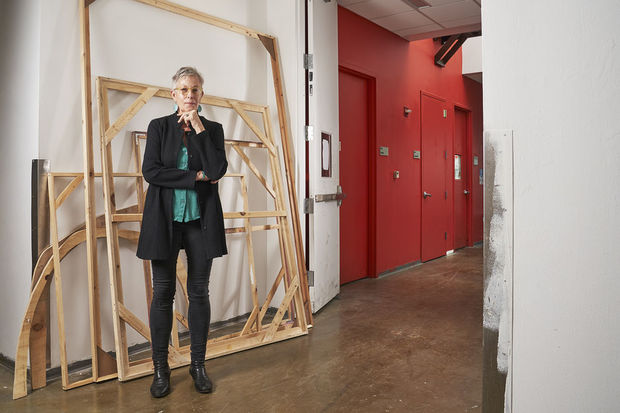 Susan Moore, Professor Emerita of Painting, sadly passed away on September 29. Moore first came to Tyler in 1979, taught briefly at Washington University in St. Louis, and then returned to Tyler and taught at Temple Rome, Elkins Park, and Main Campus until her retirement in 2020. Dean Susan Cahan remembers Moore as a "beloved painting and drawing professor who stretched her students to grow in ways they didn't expect, truly embodying the Tyler mission to encourage students to exceed their own expectations." 
Moore's artistic style was embodied in an evolving group of portraits that combined painting, photography and collage. Each portrait was painted individually and had a particular presence even as they related to each other, catching a distinct light and texture in their own space. Her works explore the tensions, revelations, intersections and disconnects of individuality and anonymity. 
Moore was the recipient of numerous grants, including the Bader Fund Fellowship; four Pennsylvania Council on the Arts Fellowships; a National Endowment for the Arts Fellowship and a Mid-Atlantic NEA. Moore's work is in the permanent collections of the Philadelphia Museum of Art; the National Portrait Gallery in Washington, D.C.; The Pennsylvania Convention Center and the New York Public Library. She had a major retrospective at Denison University in Ohio in 2019, which included 40 years of work and more than 60 paintings and drawings. 
While teaching at Tyler, Moore "instilled confidence by challenging her students," Gary Miles writes for the Philadelphia Inquirer. "She helped her students find jobs, recruited them to the Rome campus, and funded scholarships by creating, organizing, and curating Tiny Biennale, a series of exhibitions and sales of miniature works no bigger than three inches at Temple University Rome." 
Mark Shetabi, Associate Professor of Painting and Director of Tyler at Temple Rome, writes, "Susan was a great artist, dear friend, strong colleague, and an insightful and impactful teacher in Tyler's painting program for many decades. Her presence and fast and wicked sense of humor are fondly remembered. Susan's large figurative drawings and paintings, with heavily worked surfaces and sumptuous color passages, explored themes of intimacy and distance. Her confident drawing was always a mainstay in her work." 
Philip Glahn, Program Head of Painting and Associate Professor of Aesthetics and Critical Studies, speaks to Moore's warmth and eagerness to form new and lasting connections with her students and peers. "Susan was one of the first people I met when I started at Tyler, and she immediately reached out when my family and I were visiting Philadelphia to find a place to live. She was this great mix of generosity and ferocity, in the best possible sense, something I always admired about her. She didn't mince words and never shied away from an argument or standing up for someone or something, and I think the students felt and appreciated that honesty and her dedication to them and their work, to our program and our school. When all eyes were on the graduate program, she focused on the undergrads; when we moved into the new building on the main campus, she looked after the Rome program. She was passionate about making work and teaching and being an active part of the Tyler and Philly art community, and she did all that with a great sense of humor." 
Gerard Brown, Associate Professor of Painting, recalls, "It's funny to me how many remembrances of Susan Moore include the word 'tough.' I get it – she was a powerful presence in any conversation, with her level gaze and her blunt way of making comments. But the Professor Moore I am thinking about these days is the one who used to take photos of every one of her students standing next to their work after a project in freshman drawing or sophomore painting. Often, these students would be beaming with pride over the work they had made, their expressions conveying the surprise that they had produced something that they didn't know they could create when they set out on the project. Susan could bring out the best in her students, and clearly delighted in doing so – to me, those photographs were evidence of that. If there is something we need to do to keep Susan's legacy alive at Tyler, it's to carry on her work to inspire students and recognize — and share in — their success." 
A celebration of her life is to be held at 2 p.m. Sunday, Nov. 13, at the Arch Street Friends Meeting House, 320 Arch St., Philadelphia, PA 19106. 
Donations in her name may be made to the Access to Temple Rome Endowed Scholarship, Conwell Hall, 7th Floor, 1801 N. Broad St., Philadelphia, Pa. 19122.