Back to Blog
December 1, 2022
Adé Cornelius (MArch '22) Speaks on Inclusivity at the 2022 Designing Libraries IX Conference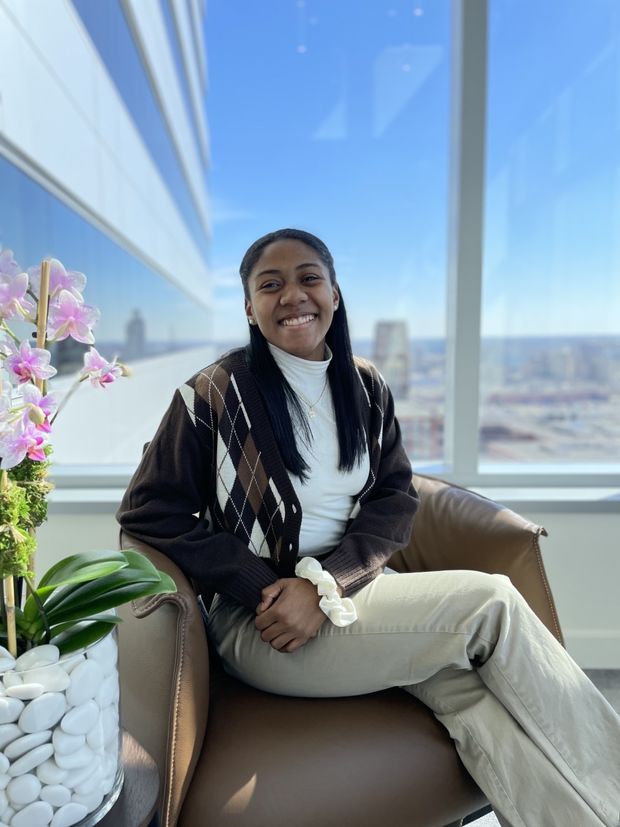 Adé Cornelius (MArch '22) received unexpectedly exciting news following her graduation from Tyler's Master of Architecture program in August when she was invited to speak as a panelist at the 2022 Designing Libraries IX Conference held at Temple University's Charles Library earlier this fall.
After being introduced to Nancy B. Turner, Director for Planning, Strategy and Organizational Evolution at Temple Libraries by Kate Wingert-Playdon, Tyler Associate Dean and Director of Architecture and Environmental Design, Cornelius was given the opportunity to draft a presentation regarding inclusive spaces in libraries. Architects, librarians, planners, designers, and information technologists gathered at the event to "explore the achievements and challenges of designing libraries and learning spaces for the 21st century." 
Cornelius's panel also focused on building generational wealth in underserved Black communities by using a term she created called tactical programming, which she describes as when "a designer plans strategic spaces within a building in order to achieve a design initiative or goal, while also promoting diverse forms of user activity for diverse user groups." 
Sitting on her panel were Emily Daly, Interim Associate University Librarian for Research and Public Services at Duke University; Shannon Dowling, Associate Principal, Learning Environments Strategy and Design with Ayers Saint Gross, and moderator Nancy Turner, Director for Planning, Strategy and Organizational Evolution, University Libraries at Temple. Also in attendance was Craig Dykers, Founding Partner and Architect with Snøhetta, the firm that designed Temple's Charles Library, which opened in fall 2019. 
Cornelius spoke to over 250 people and discussed points from her graduate thesis on the topic of underserved communities, and focused on proposed tactics to close wealth gaps in order to create easily accessible knowledge and opportunities. She also discussed the historic uses of redlining and how that affects underserved communities. 
In her presentation, Cornelius described a hypothetical development that included small business rows, an open market, recreational areas, a courtyard, a green roof, classrooms, and condos for starter home ownership opportunities. "Having an asset like a home that you can pass down through generations is important," she explained. The proposed development focuses on the implementation of programming to educate people on how to build generational wealth in areas where those resources aren't available. 
"The goal is to build generational wealth in other forms of architecture like libraries and provide access to resources that underserved communities don't have. Designers can provide those. These communities can build their resources which in turn can build the wealth of the neighborhood," Cornelius explained, and also discussed the historic burning of Tulsa, Oklahoma's Black Wall Street due to racial violence, which served as a prime example of a wealth gap between white and black communities.  
Cornelius said that speaking at Designing Libraries IX as "someone who's younger and with less professional experience was encouraging because people were open to hearing my ideas." She now works at Urban Practice in Camden, New Jersey, a firm that acts as the in-house architects for The Michaels Organization, a national leader in residential real estate and the nation's largest privately-held owner of affordable housing. Cornelius helps with construction documentation during her day-to-day, and also coaches Temple's cheer team.