Back to Blog
January 31, 2023
Professor Alpesh Patel Selected as UrbanGlass Curator at Large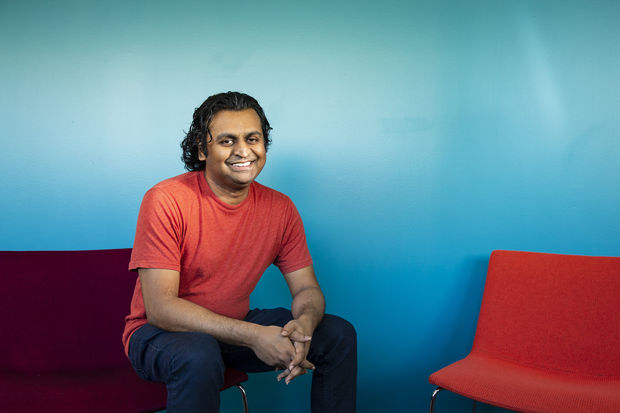 Tyler Art History Associate Professor Alpesh Kantilal Patel has been chosen as the 2023 Curator-at-Large at UrbanGlass, a Brooklyn, NY nonprofit that fosters experimentation and advances the use and critical understanding of glass as a creative medium. He will organize four exhibitions under the theme, "Forever Becoming: Decolonization, Materiality, and Trans Subjectivity."  
"I'm not a glass specialist, so I was surprised to be approached. However, UrbanGlass is interested in my thinking about glass as a concept through the lens of my broader interest in artworks with a social justice bent. This was definitely appealing to me, especially as I am putting together my next monograph, 'Multiple and One: Global Queer art histories.' " Patel says. "Glass as a material uncannily embodies 'trans' as a concept in three ways: its makeup is heterogeneous, composed of disparate materials, but paradoxically appears as one uniform, bound entity; it hovers between pure form and formlessness; and can be transparent, translucent, or opaque. These three formal aspects of glass will serve as prompts for three exhibitions, titled 'Multiple and One,' 'Transparency/Opacity,' and 'Form/Formless.' More specifically, glass ensures that the discussion of materiality and embodiment are not abstracted or gender. Each exhibition title also reflects the fascinating intersections among trans, glass, and decolonial thought."            
The first exhibition, "Multiple and One," (February 1-March 31, 2023) is a solo presentation of the work of Cuban-American artist Sebastian Duncan-Portuondo, who explores stained glass and glass mosaics through his practice. Last month, the public was invited to help create a mosaic altar in memory of the Pulse Nightclub and Club Q shooting victims as part of the artist's ongoing Club EXILE project. His work at UrbanGlass will be woven into his spring workshop-based graduate seminar. Duncan-Portuondo explains, "this course is inspired by the very research methods I employ in my practice and the UrbanGlass exhibition, in particular."  Patel will also moderate a panel with Duncan-Portuondo on March 2nd.
Patel's curatorial projects are partially informed by his "Trans Studies Meets Art History" undergraduate course, which he taught this past fall semester. "Before coming to Temple, I taught at a state university in Florida, and this kind of class would not be possible given the restrictions imposed by that state's governor. I am grateful that my proposal to teach this class at Tyler was met with nothing but enthusiasm."  
Patel says that a barrier in art history is the common conservative approach that many courses take. "When I'm trying to get people interested in coming into art history, they have to take my word for it that there are other viewpoints out there. We have evidence that this field has diversity, and none of the stories in [my book] Storytellers of Art History are written by straight white men," he explains.  "Everyone in the class is either trans or an ally and interested in this topic. They're learning about these abstract concepts and how they relate to them. Identity-based classes often become sessions where people are talking about themselves, but the best sessions are when we can toggle between personal experiences and abstract ideas. It's wonderful that Tyler has enabled these conversations and says a lot about where the school stands, socially," Patel says.   
The students in the class have developed a zine and a public presentation exploring what trans does, rather than what it is. They are putting together a book, which they hope to donate to Temple's Charles Library to mark that this class on trans subjectivity took place.  
Patel frequently incorporates his research practice into his teaching and spaces outside of Tyler. Most recently, in conjunction with "Historiography of Art History," a core course taken by all first-year art history graduate students, Patel teamed up with the Fabric Workshop and Museum and contributors to his anthology, Storytellers of Art History, which came out last year.  
"Last fall, the Fabric Workshop had an exhibition of the work of Jayson Musson that interrogated how art history is told. This happened to dovetail with my anthology, which brings together a range of storytellers shaping the future of art history—not only art historians but also artists, curators, and archivists—along the lines of gender, sexuality, race, and transnationality. As part of the class, students got in touch with contributors whose essays most moved them. They then asked the scholars to record an excerpt of their essays. This resulted in a podcast: alongside the contributors' voices were the students introducing them and why they chose them."