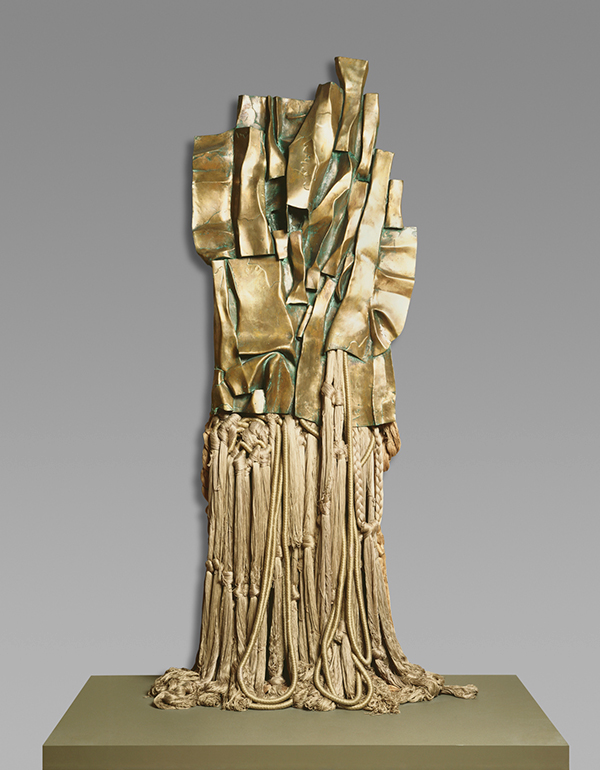 Barbara Chase-Riboud
For more than four decades, Barbara Chase-Riboud (BFA'57) has integrated mediums and materials in uniquely expressive ways to create a remarkable body of literary and visual arts. This fall, the Philadelphia Museum of Art presents the first comprehensive survey of her iconic Malcolm X steles. With related sculptures and drawings, the exhibition brings together more than forty works from the United States and Europe in the artist's first solo museum exhibition in more than ten years.
Chase-Riboud's sculptures dedicated to Malcolm X have been likened to contemporary interpretations of the steles erected in various parts of the ancient world to commemorate important people and events. Cast from cut and folded sheets of wax, the sculptures combine bronze, manipulated into undulating folds and crevices, with knotted and braided silk and wool fiber. This expressive melding of forms and materials is evident in the Museum's own Malcolm X #3 (1969), which matches the golden hue of polished bronze with cascades of glossy silk thread—a combination that conveys a subtle tension and unity among opposites.
Born in Philadelphia and educated at the Philadelphia High School for Girls, Temple University's Tyler School of Art and Architecture, and the Yale University School of Design and Architecture, Chase-Riboud has lived in Paris since 1961. She is an internationally acclaimed visual artist whose widely exhibited work has been seen in solo exhibitions at the Musée d'art Moderne de la Ville de Paris and the Metropolitan Museum of Art, New York; group exhibitions at the Whitney Museum of American Art, New York; the Smithsonian American Art Museum, Washington, DC; and the Centre Georges Pompidou, Paris; and in major arts festivals, including Documenta VI. Her towering public sculpture Africa Rising (1998) stands in the African Burial Ground National Monument in Lower Manhattan. Chase Riboud is also an award-winning poet and writer, known for her books of poetry From Memphis and Peking (1974) and Portrait of a Nude Woman as Cleopatra (1988) and the historical novels Sally Hemings (1979), Echo of Lions (1989), and Hottentot Venus (2003). In 1996, she was knighted as Chevalier de l'Ordre des Arts et des Lettres.
Excerpted from the Philadelphia Museum of Art News Release