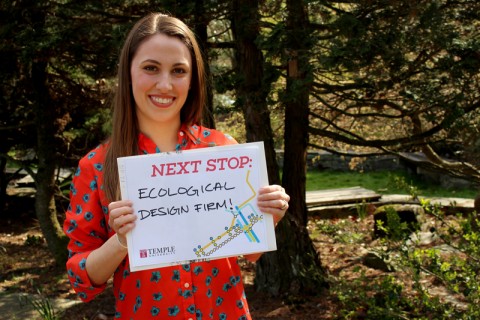 .............................................................
2016 MLArch Graduate - Caitlin Morrissey Glagola: Not Waiting Around To Make A Difference
Caitlin Morrissey Glagola wasn't simply going to content herself waiting around for opportunities to make a difference to come to her. She decided to go out and find them, a search that landed her at Temple and the Master of Landscape Architecture program…though not immediately.
"I didn't always know that I was interested in landscape architecture. I discovered my passion later in life, but I was always interested in the environment and studying ecology. Consequently, I pursued a B.A. in Biology at Washington & Jefferson College, where I focused on ecological science and research," said Glagola, 24, of Lansdale. "I enjoyed research, but I wanted to go a step further. I also wanted to be an agent for change and make a difference right away."
After some "searching and mentoring," Glagola said she discovered landscape architecture "and thought that would be a great career for me."
"It melds my interests in ecology, restoration, art and community engagement; the Temple MLArch program specifically focuses on ecological restoration. With landscape architecture, I can take the research and directly implement it while getting people invested in environmental stewardship," she said. "Creating ecologically sound designs is about making sure there is a sense of place; that the palette of plants is local and works together as a sustainable plant community. In urban landscapes, you're not going to completely restore what was once there, but you can restore functionality."
Glagola has already amassed an extensive background in her chosen field, including conservation work at the Wissahickon Valley Watershed Association, ornamental horticulture at the Scott Arboretum of Swarthmore College, and restoration work at the Lehigh Gap Nature Center for the Palmerton Zinc Pile Superfund Site.
"Many of the projects in the master's program are done for real world clients, which I think makes a huge difference to how you approach it. In our Woodland Design Studio, we worked on developing a visitor's center and new entryway for the Bowman's Hill Wildflower Preserve in Bucks County," she said. "You have to direct your site design to the specific goals of the client. You need to balance what they want with what you as a designer think they need."
At Ambler, Glagola decided to get directly involved and make a difference on campus. She is president of the Society for Ecological Restoration, a student organization that has undertaken hands-on restoration projects on campus, including planting native plants in the retention basin behind the Ambler Campus Library. The organization has also conducted trips and tours to examples of successful restoration projects and provided networking events for students on campus.
Her efforts to further the field of ecological restoration have received recognition well beyond Temple.  Glagola was recently named a 2016 University Olmsted Scholar in the Landscape Architecture Foundation's national Olmstead Scholars Program. She was one of just 45 graduate students from 57 universities across the United States and Canada to receive the distinction.
Her proposed research project — part of the Olmsted Scholars process — focused on the Shenks Ferry Wildflower Preserve in Conestoga, PA.
"I'm interested in the utility right of way management for two large power lines that bisect the preserve. The preserve has a special ecology, it's one of the best places on the East Coast to see spring ephemerals," she said. "The problem is that the land beneath the power lines has become a corridor of invasive species that is affecting the preserve; I want to develop a design to better manage the area. I want to advance the profession for sustainable design and community well being."
At Temple, Glagola received the Peter G. Schlotterer and Elizabeth M. Zipf Scholarship in 2015, awarded to students at Temple University Ambler based on academic achievement. She was recognized in 2016 with an LA/Hort Faculty Award at Temple University Ambler's Academic Awards and Special Achivement Ceremony for "academic achievement and personal growth" during her time at Temple.
With her master's degree nearing completion, Glagola said her next stop is landing a position with an ecological design firm.
"I am interested in working for a firm — particularly a multidisciplinary firm — that develops designs for public spaces, including urban landscapes, parks and naturals lands. I want to work on projects that positively impact communities," she said. "Professionally, it is my goal to get licensed as a landscape architect and not only practice but also conduct research in the field. Personally, I want to continue traveling to discover the beautiful landscapes we have on this planet — I particularly like exploring our national parks!" 
Article Written by Jim Duffy, MSEd Public Relations and Website Coordinator.  Temple University Ambler Administration Building 
---
To receive current news and information from the department and university, please update your e-mail address by visiting - www.alumni.temple.edu.