Back to Blog
November 30, 2022
Andrea Ray, Associate Professor of Instruction, Defines Sculpture Through Research and Rhetoric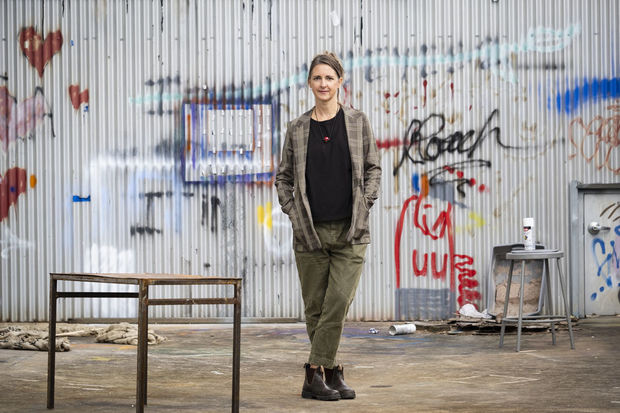 Andrea Ray, Associate Professor of Instruction in the Sculpture department, joins Tyler from a variety of fine arts institutions, including Parsons The New School in New York, School of the Art Institute of Chicago, and Cooper Union.  Ray holds a PhD in Fine Art from the Malmö Art Academy of Lund University in Sweden where their doctoral project combined time-based art practice with gender and sexuality studies. Previously, Ray completed the Whitney Museum of American Art Independent Study Program, earned an MFA from Cranbrook Academy of Art, and has an undergraduate degree in material making from Rhode Island School of Design. Ray's practice includes a range of public presentations including art exhibitions, publications, and conference presentations.  
Working across various forms and mediums, Ray reduces this very expanded sense of sculpture as that which relates to space. "That space might include objects, or sound and performance, landscape, or video projection. It always includes the viewer. I bring it back to that term — space — in thinking about Rosalind Krauss' important essay titled Sculpture in the Expanded Field." where she mapped how artists were using landscape and architecture as sculpture, and there's also Joseph Beuys' term 'social sculpture' that paved the way for social practice, and performance art that uses the body as material. These are just a couple of references that help form a sense of integrated approaches to making found in sculpture today."  
Ray's own work is developed "from observing the restrictions found in society and making work that reconfigures and transforms the restrictions to something better. I find in my research, the links of how people have resisted similar patterns of harm over in the past and I build their voices with my own to devise relations that I hope are more equitable and caring." One such body of work, Aspirational LPs, is an ongoing project made of digitally printed record jackets as "vehicles for writing and image making." With these song titles, artwork, and liner notes for "what will have been," Ray incorporates research and creative writing, to conjure alternative forms of belonging and care.  The Aspirational LPs represent "a utopian future not yet lived."  
Installation view of Aspirational LPs. Smack Mellon, NY 7 record jackets in metal rack on table with chairs. 2020. 
Last year, Ray's installation titled Rest Cure was on view at Socrates Sculpture Park in Long Island city, New York. They researched the New York City harbor islands, which served as "former sites for the quarantined, incarcerated, and inferm." The installation, which features sound and sculpture, "invites visitors to recline and listen...to a poem that airs our related sense of alienation under COVID but transforms it to an expanded network of care," the exhibition description states.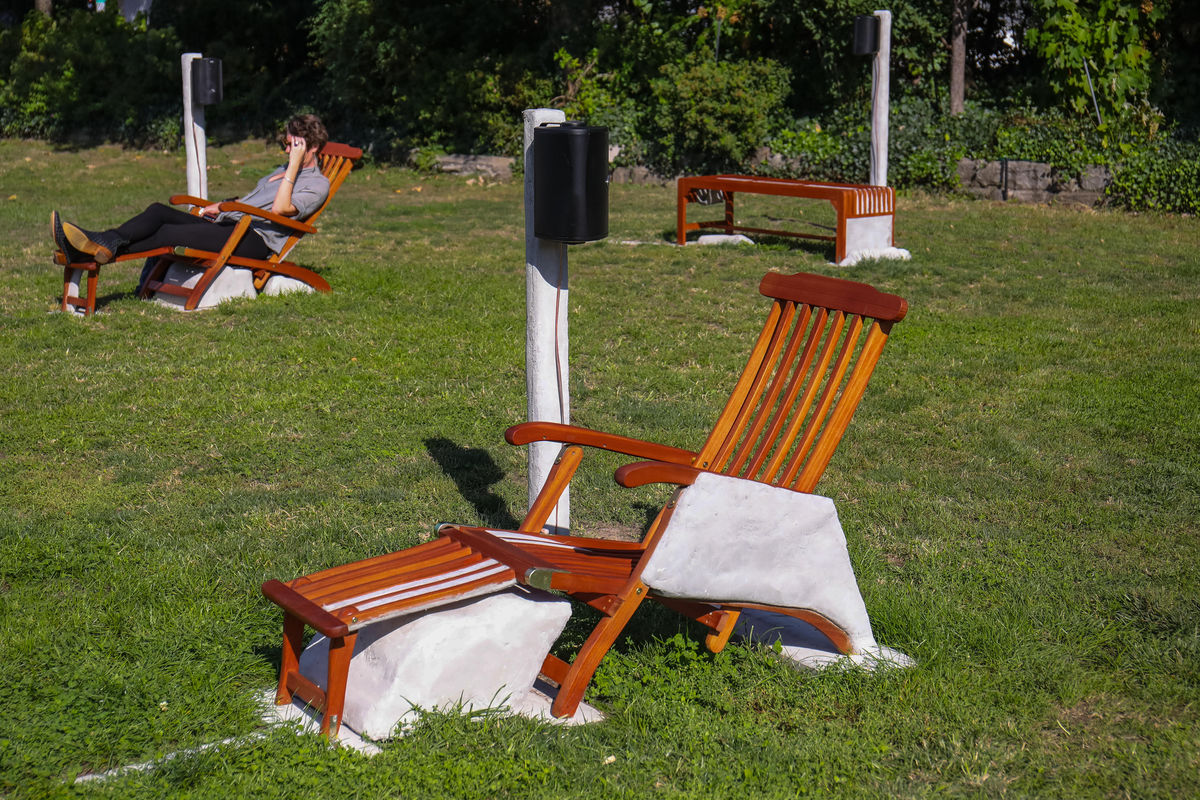 Rest Cure Detail. Concrete, wood, speakers, paint, 17-minute single-channel audio track. Dimensions variable. 202.
Ray describes their first semester at Tyler as "very welcoming. I've really enjoyed my interaction with the students, faculty, and administration. I find the facilities remarkable and look forward to my ongoing work with the students here." Ray's current courses include the Painting and Sculpture course Art Matters/PDS Seminar, and an Installation Studio, in which they've worked to build bridges between the BFA and MFA Sculpture students to encourage a network of dialogue." I think it's fantastic for them to be in proximity to each other since they learn different things from each other. In one relation the MFAs model a formed artistic practice with a body of work for the BFAs, while the BFAs have a way of reminding MFAs that experimentation and risk-taking are important components to art practice at any level." Ray is also eager and open to working with students in more non-structured ways, such as hosting incubators for discussion and research.  
Referring to what constitutes contemporary sculpture, Ray states, "my sense is that contemporary sculpture as a discipline is quite expanded, hybrid, and social, but it always comes back to space, for me. Because Tyler maintains separate programs organized by medium, I've been investigating how others define it, as well. In September there was an article titled 'What Is Sculpture' in Art in America that included several points that can describe what happens in the Tyler Sculpture program.  For example, artist Melvin Edwards reduces sculpture to being about relativity, as in the relation between objects and space. Curator Alexis Lowry shifts the perspective to refer to the viewers' relation as their movements influence how sculpture upfolds across time and space. But of course, sculpture isn't always object-oriented—it might include the de-material like light, sound, or smell." 
"In Tyler's Sculpture area, students learn skills and techniques in many different materials alongside the topics and genres that constitute contemporary art practice. And since contemporary sculpture often integrates many forms, the faculty's art practices reflect this, too. Research is a core part of everyone's work. Karyn Olivier's recent work centralizes site-responsiveness and the monumental with historical references. One aspect of C.T. Jasper's work includes time-based installation that offers students expertise to incorporate video, for example. One thing I bring is experience in sound and sculpture installation. For the spring semester, I plan to introduce a research and idea-based approach to making into my Sculpture course so that students are learning both conceptual and technical approaches to sculpture simultaneously. I'd look forward to the opportunity to teach in areas beyond Sculpture and Painting, as well. I'm curious about the Visual Studies area and have really enjoyed getting to know the work of our MFAs from various programs while co-teaching the Critique and Critical Discourse course this semester."