Adela Akers in her home/studio in California in 2017. Photo by Tom Grotta, courtesy browngrotta arts.
 
Tyler Professor of Printmaking Hester Stinnett remembers her colleague, fiber artist and Tyler Emerita Professor Adela Akers, who passed away August 9 after a long illness, as "a quiet and focused teacher and artist" whose impact was felt throughout the school during her two decades of teaching.
"Adela came to Tyler in the early 1970s to teach in the Crafts Department," said Dean Emerita Rochelle Toner, when the Tyler campus was located at the sprawling Elkins Park estate of its originator and namesake, Stella Elkins Tyler. "Over the years she built the fibers area at Tyler into a nationally recognized program in the field of woven textile and, especially, sculptural and fiber art."
"Adela was also a dedicated studio artist who exhibited regularly on a national scale. Her work was primarily in woven wall pieces that incorporated a variety of natural materials as well as such non-traditional materials as metal, painting and horsehair," she said.

Akers Portrait, Tyler Faculty Exhibition catalogue, 1983. Photo: Sally Ann Apfelbaum
Akers' career has been described as spanning the "whole history of modern fiber art," and her artistic impact on the field of textile art was clearly reflected during her tenure at Tyler, where as a professor and chair of the Fibers and Material Studies program (1972-1995) she was dedicated to introducing students to new ideas, materials and techniques.
Akers considered her work at Tyler as a way to create and sustain a continuous community, providing consistent feedback to students and colleagues, and supporting a robust visiting artists program to stay abreast of developments in the field. Her work will be featured in an upcoming exhibition at the Smithsonian American Art Museum's Renwick Gallery Subversive, Skilled, Sublime: Fiber Art by Women, May 31, 2024–January 5, 2025.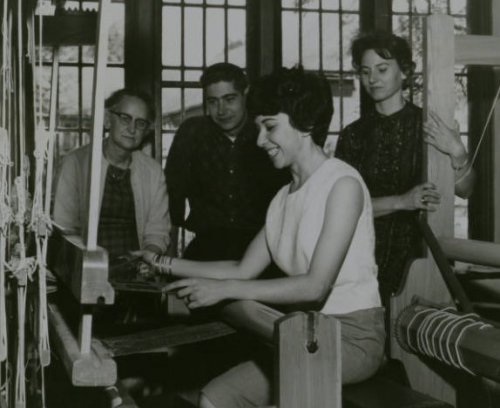 Akers was born in Santiago de Compostela, Spain in 1933, and grew up in Cuba after her family immigrated there to escape the Spanish Civil War.
As a young college student, Akers had an interest in biochemistry and graduated from the University of Havana with a degree in pharmacy but soon found the work uninteresting. She met a group of artists in Havana, Los Once (The Eleven), and started taking art classes at their encouragement.
By 1957, she had enrolled at the Art Institute of Chicago, where she was introduced to weaving. She went on to study at Cranbrook Academy of Art, where she graduated with a master's degree, and later completed a residency in weaving at Penland School of Crafts.
Traveling throughout North and South America and Europe over a lifetime strongly influenced the direction and evolution of her work. In particular, her travel to Peru as a weaving advisor in U.S. government programs led to transformative experiences.
As a Peace Corps volunteer, she was exposed to textiles of pre-Columbian Peruvian weavers and other early Indian weaving techniques. Her tapestries began to incorporate more subtle design elements, and take on greater scale. Indigenous styles of textile became an intrinsic part of the structure of her pieces, she said, because of their dependence on math and geometry.
Akers continued to discover new techniques during travels in Mexico, where she learned about 
alternative methods of dyeing and weaving as well as new materials such as sisal. This led Akers to study basketry and to begin using stiffer materials in her weavings, with a focus more on structure and texture and less on composition and color.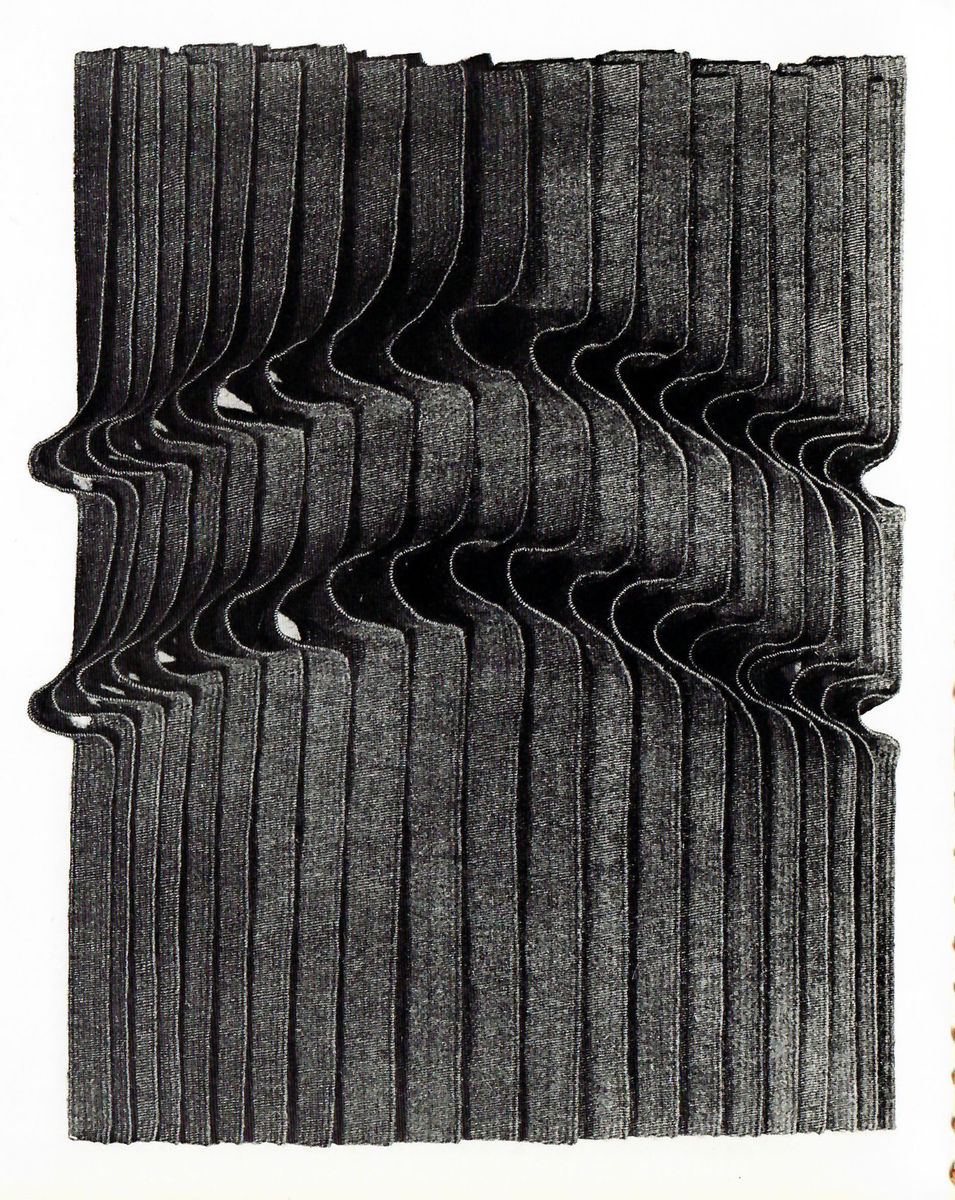 Throughout her career, Akers focused on process, developing a technique of wrapping warps with extra threads to provide more of a three-dimensional quality and adding color that was not in the warp itself. Using this double weave technique provided Akers with the possibility of having multiple layers and planes at the surface.
Akers has received awards from the National Endowment for the Arts (1947 and 1980) and the Pollock-Krasner Foundation (2008), and was an artist-in-residence at the de Young Museum in San Francisco in 2014. Adela Akers was elected a Fellow of the American Craft Council in 2008.
Her work is included in many private and public collections including the Smithsonian's Renwick Gallery, the Museum of Modern Art and the Museum of Art and Design. 
Learn more about Akers in this video from PBS affiliate KQED-TV in San Francisco.
Captions:  Akers at loom (undated), photo courtesy of the American Craft Council.
Artwork: Double Tide, handwoven sisal and linen tapestry, 79" X 61". Photo: William Liedlich