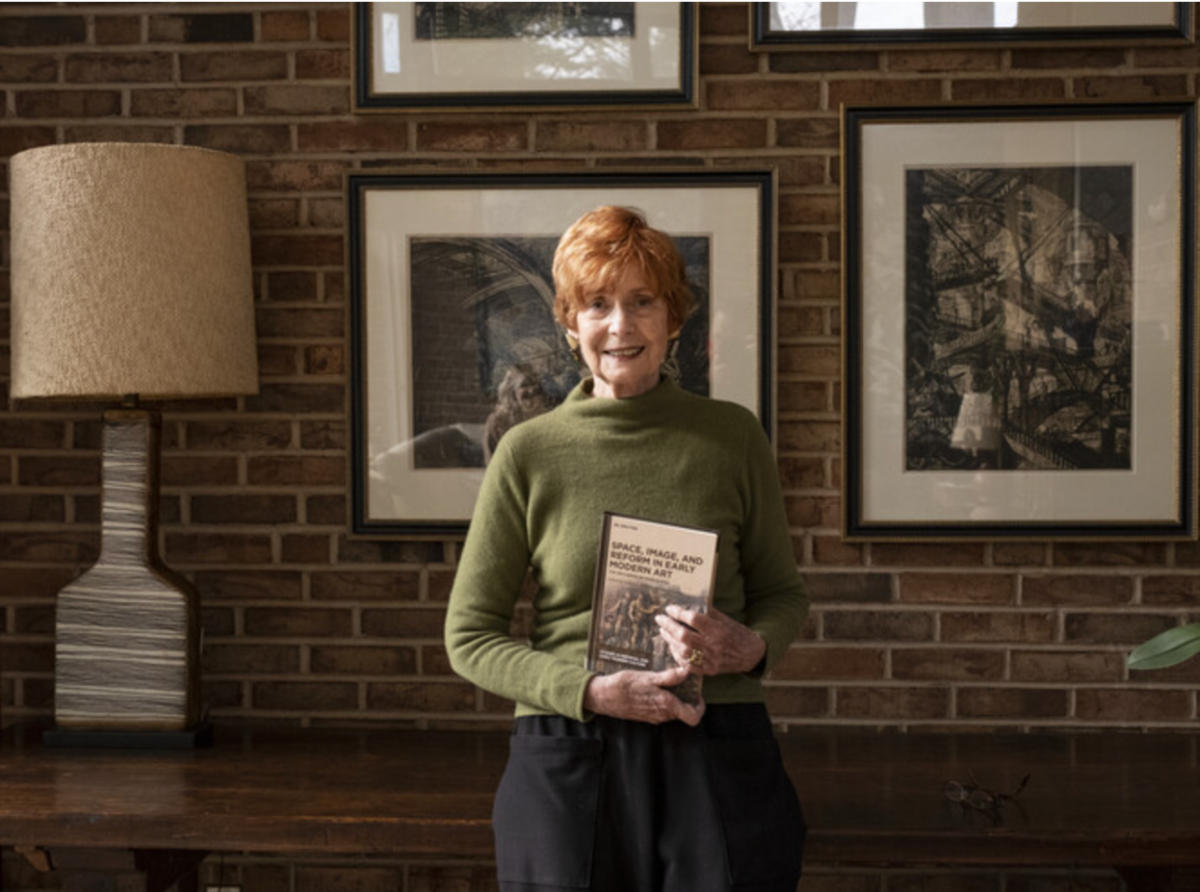 Esteemed Tyler Art History Professor Marcia Hall, PhD was recently honored with the announcement of the Marcia Hall Research Award Fund, created in part by a matching gift from one of Hall's first students, Maureen Pelta, PhD (BA '75, MA '78). The fund will support travel and research for Art History graduate students. 
Along with the fund announcement, Hall was presented during a celebration with the newly published scholarly book Space, Image, and Reform in Early Modern Art: The Influence of Marcia Hall, a collection of essays by Tyler Art History alumni and colleagues that build on Hall's seminal contributions to Renaissance studies. 
Hall, who has taught at Tyler for 49 years, is considered a cornerstone in the Renaissance Art world. She first traveled to Florence, Italy, in 1963 on a Fullbright Scholarship. She went back thereafter every summer for several years and believes that one cannot study art history without seeing foundational art pieces in person. Fully immersing yourself in a culture is the best way to understand the past, she says.  
When asked what the most inspiring and interesting part of her field of study is, Hall said, "Art as a lens to look at culture of the past, people of the past, is extremely valuable. It's a lens that I can see through. I call myself an art historian, but history is just half of it. By looking closely at objects of the past, we can see an interpretation of what's being done by artists today. It can be difficult to talk about contemporary art, but drawing on language to discuss sixth century art is an easy way to then translate contemporary pieces." 
Pelta, Professor of Art History and Curatorial Studies at Moore College of Art and Design, reflected on her time in Hall's earliest graduate classes at Tyler and credited Hall for the trajectory of her own career in art and higher education. "There were very few professors who walked students through how to look at a work of art the way Marcia did. In a Renaissance painting, form and content are everything. There's a very particular link between what artists are trying to express and how they're doing it. Students don't immediately know how to look at a work of art and how to make a piece talk to them. Art has a vocabulary. That's something that Marcia did that I try to bring into my own classroom," Pelta said. 
Pelta also emphasized what she calls her "extraordinary friendship" with Hall, and the amount of love and admiration in the room when she was presented with both a publication and a research fund in her name. "Marcia has always been great about maintaining relationships with former students and giving us room to grow as adult scholars."  
Joe Kopta, a current Art History graduate student, has also taken several classes with Hall, and noted that her teaching has informed much of his own work as a Medievalist. "Her scholarship sets a precedent. She herself was able to innovate such great scholarship because she was able to travel to the places where her study was. It's so appropriate to honor her with a publication and a research fund by allowing graduate students that same opportunity." 
A campaign to endow the Marcia Hall Research Award will run through March 31, 2022. Pelta, together with an anonymous donor, will match donations made before March 31 up to $20,000. Endowing the Marcia Hall Research Award will ensure perpetual support for Art History student research at Tyler. For more information or to make a gift to the Marcia Hall Research Award Fund, please visit giving.temple.edu/MarciaHallResearchAward 
Photo credit: Marcia Hall by Joseph V. Labolito